Next Yadkin CATT Fall Qualifier is this weekend Aug 16th at Lake Tillery!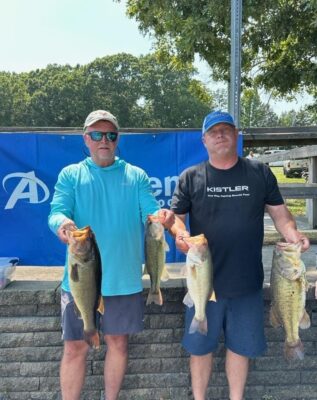 Maurice Freeze & Chad Poteat win High Rock with 5 bass weighing 20.60 lbs and they weighed in the Academy BF at 7.54 lbs! They earned $1,555.00!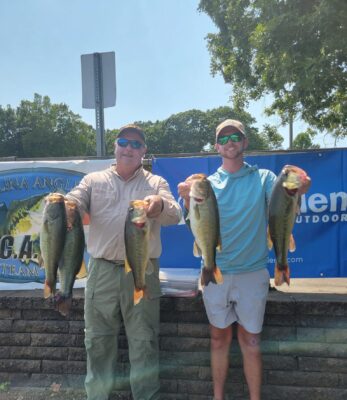 Ladd & Landon Whicker 2nd with 19.89 lbs!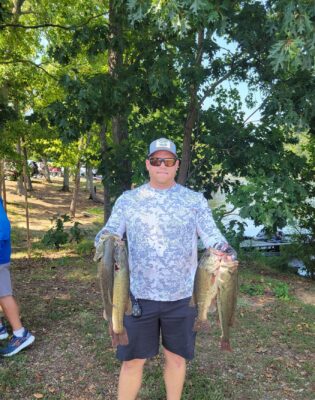 Austin Garland 3rd with 18.50 lbs!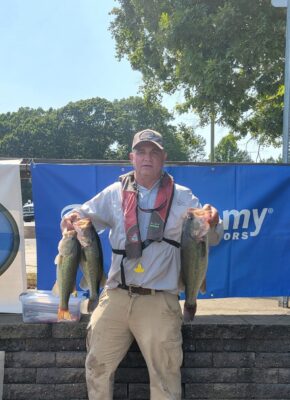 Alan Thompson & Mike Coey 4th with 18.02 lbs!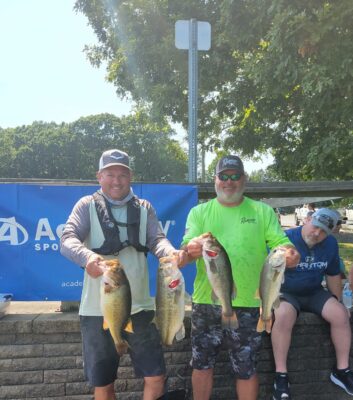 Herby Young & George Lambeth 5th with 16.52 lbs!
Travis Donaldson & Lee Endicott 6th with 16.19 lbs!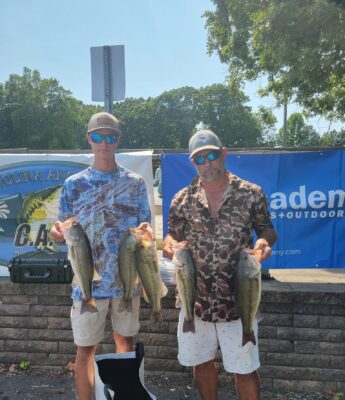 Wyatt & Bill Hill last Place money with 15.59 lbs!

| | | | | |
| --- | --- | --- | --- | --- |
| Team | BF | Weight | Winnings | Points |
| Chad Poteat – Maurice Freeze | 7.54 | 20.60 | $1,555.00 | 110 |
| Ladd Whicker – Landon Whicker | 4.32 | 19.89 | $555.00 | 109 |
| Austin Garland | 4.43 | 18.50 | $377.00 | 108 |
| Alan Thompson – Mike Coley | 5.18 | 18.02 | $200.00 | 107 |
| George Lambeth – Herby Young | 5.50 | 16.52 | $238.00 | 106 |
| Travis Donaldson – Lee Endicott | 4.84 | 16.19 | $110.00 | 105 |
| Bart Hill – Wyatt Hill | 4.47 | 15.59 | $100.00 | 104 |
| Tod Haynes – Jeremy Talbert | 4.84 | 14.97 | | 103 |
| Jason Smith | 0.00 | 14.63 | | 102 |
| Mike White – Tim West | 4.68 | 13.98 | | 101 |
| RM Parker – Coery Gibson | 0.00 | 12.94 | | 100 |
| David Cheek – Cody Walton | 2.61 | 12.41 | | 99 |
| Parrish Payne – Hayden Payne | 0.00 | 11.54 | | 98 |
| Billy Marshall – Alan McKinney | 0.00 | 11.17 | | 97 |
| Mike Kiser – Matt Stanley | 0.00 | 11.14 | | 96 |
| Mike Allen – Thomas Furr | 0.00 | 10.40 | | 95 |
| John Kistler – Rusty Melton | 0.00 | 9.49 | | 94 |
| Kevin Stowell Sr – Dakota Harvey | 0.00 | 9.31 | | 93 |
| Micah Speights – Chad Coley | 0.00 | 9.05 | | 92 |
| Lance Isenhour | 5.01 | 8.12 | | 91 |
| Tyler Currick – Greg Robertson | 0.00 | 7.55 | | 90 |
| Chris Passmore – Michael Gauldin | 0.00 | 4.91 | | 89 |
| Matt Blankinship – Cory Rosinsky | 0.00 | 4.57 | | 88 |
| Zach Schelsi | 0.00 | 3.59 | | 87 |
| Jason Riggs – Steve Sink | 0.00 | 0.00 | | 77 |
| Todd Butler – Jeffrey Furr | 0.00 | 0.00 | | 77 |
| Chris Brown | 0.00 | 0.00 | | 77 |
| Greg Skerven – Kyle Joyce | 0.00 | 0.00 | | 77 |
| Garey Ingram | 0.00 | 0.00 | | 77 |
| Robert Mixon – Darryl Carterette | 0.00 | 0.00 | | 77 |
| Shane Kennedy – Curt Lare | 0.00 | 0.00 | | 77 |
| Brendon Yeckbey – Alston Presson | 0.00 | 0.00 | | 77 |
| Bradley Culler – Cody Stegall | 0.00 | 0.00 | | 77 |
| Gary Freeze – Jarrett Freeze | 0.00 | 0.00 | | 77 |
| Bud Ratliff – Anthony Taylor | 0.00 | 0.00 | | 77 |
| Brian Robbins | 0.00 | 0.00 | | 77 |
| Total Entrys | | | $2,880.00 | |
| BONUS $ | | | $775.00 | |
| Total Paid At Ramp | | | $3,135.00 | |
| CATT | | | $50.00 | |
| 2023 Yadkin Fall Final Fund | | | $420.00 | |
| 2023 CATT Championship Fund | | | $50.00 | |
| 2023 Yadkin Fall Final Fund Total | | | $420.00 | |