We had a great start to the Fall Yadkin Trail with 27 teams entering! Come on out and join us! Next Yadkin Qualifier is Sept 16 Sun at Tamarac Marina on  High Rock!
Tony Foster and Steve Sink weighed in 5 bass at 24.95 lbs and took home 1st Place this past Saturday! Add in the 1st BF at 7.27 lbs and the 1st Place BONUS $ they took home $1,016.00!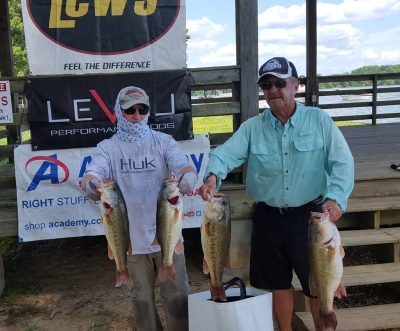 2nd went to Todd Haynes & Jeremy Talbert with 18.21 lbs worth $465.00!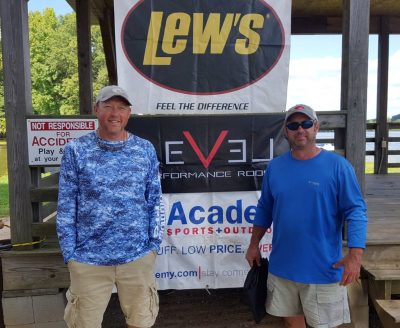 Check out the rest of the money winners plus we are paying the 1st team out of the money at each Yadkin event $50 sponsored by Wacky Riggers!
Remember guys $500 to the Yadkin Point winners!
| | | | | |
| --- | --- | --- | --- | --- |
| | Big | Total | Total | |
| Team | Fish | Weight | Winnings | Points |
| Steve Sink – Tony Foster  1st BF & BONUS $ | 7.27 | 24.95 | $1,016.00 | 110 |
| Todd Haynes — Jeremy Talbert | 4.98 | 18.21 | $465.00 | 109 |
| Roy Barrow – Marty Williams | 5.68 | 17.25 | $294.00 | 108 |
| Phillip Hedrick – Lucas Hedrick   2nd BF | 6.80 | 17.00 | $205.00 | 107 |
| Mack Lowe – Robert Walser | 5.98 | 16.94 | $100.00 | 106 |
| Darrell Crumbley – Tim Skeen | 4.55 | 15.31 | $50.00 | 105 |
| James Blankenship – Walker Blankinship | 3.32 | 14.40 | | 104 |
| Ladd & Landon Wicker | 3.98 | 14.37 | | 103 |
| Mike Love – Tim Norman | 0.00 | 13.84 | | 102 |
| Nathan Mcgeathy | 4.85 | 12.97 | | 101 |
| Chris Brown – Wayne Ingram | 3.14 | 12.70 | | 100 |
| George Lauster – CJ DeAddario | 3.49 | 11.96 | | 99 |
| Joel Ketchum – Myles Stewart | 3.67 | 11.56 | | 98 |
| Noah Beck – Ben Renas | 2.79 | 10.64 | | 97 |
| Steve Summer – Rick Summer | 4.30 | 9.33 | | 96 |
| Anthony Brooks – Brad Smith | 0.00 | 9.23 | | 95 |
| Mitchell Layall – Ethan Lyon | 0.00 | 7.85 | | 94 |
| Steve Gawthrop – Kenneth Martin | 3.76 | 7.60 | | 93 |
| John Carroll – Thomas Carol | 4.56 | 4.56 | | 92 |
| Jason Freddie – Keith Mullins | 0.00 | 3.40 | | 91 |
| Mike Ray – Orlando Giles | 0.00 | 0.00 | | 90 |
| Duke Denison | 0.00 | 0.00 | | 90 |
| Shane Kennedy – Devin Kenndey | 0.00 | 0.00 | | 90 |
| Scott Harmon – Kenneth Earnhardt | 0.00 | 0.00 | | 90 |
| Jerry Davis – Tony Tysinger | 0.00 | 0.00 | | 90 |
| Dusty Taylor – Jeff McQuiage | 0.00 | 0.00 | | 90 |
| Johnny Allen | 0.00 | 0.00 | | 90 |
| Total Entrys | | | $2,160.00 | |
| BONUS $ | | | $460.00 | |
| Total Paid At Ramp | | | $2,130.00 | |
| Yadkin 2018 Fall Final Fund | | | $490.00 | |
| 2019 CATT Championship Fund | | | $50.00 | |
| 2018 Yadkin Fall Final Fund Total | | | $490.00 | |
| 2019  CATT Championship Fund Total | | | $965.00 | |