Appreciate every one that fished with us this season and made it a success yet again. I truly have love in my heart for this group of individuals. I am appreciative to each and every one of you for your friendship and comradery. A huge thanks to Megsmeninc.com for providing the food for the weigh in today, again if you have home improvements needs….please check them out. Thank you, Erik, Carissa, and Kari for all that you do to help me out. Looking forward to seeing everyone in the fall.
What a Spring we had at the 2023 CATT Yadkin Spring Trail! We had 47 teams enter the Yadkin Spring Final this past weekend at High Rock! The total purse was $10,200.00! The Grand Total Payback for the 2023 Yadkin Spring CATT Trail was $25,665.00!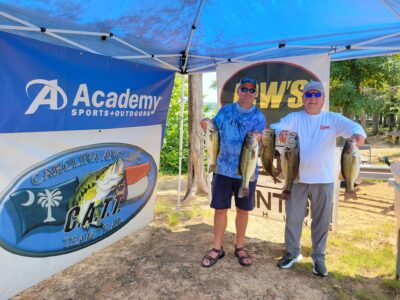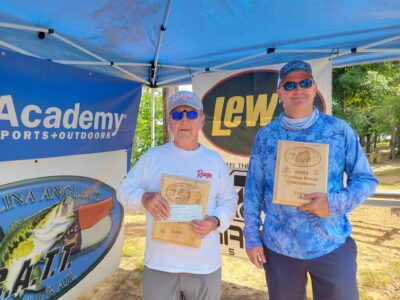 Steve Sink & Jason Riggs win the 2023 Yadkin Spring Final on High Rock Lake, NC with 5 bass weighing 22.05 lbs! They took home a total of $4,140.00! Great job guys!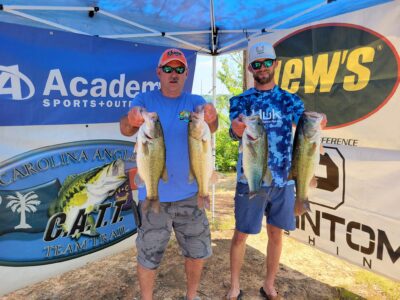 Scott & Hunter Harwood took 2nd Place with a limit weighing 19.44 lbs and earned $2,200.00!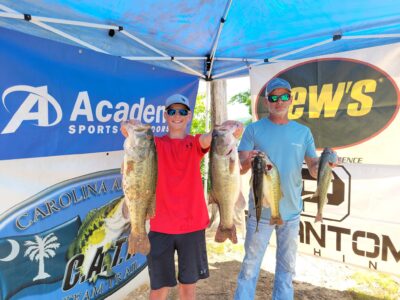 T-man with the Academy Sports big fish of the day weighing in a 6.09! Winning a $25 Academy Spirts gift card and an awesome trophy from Ultra-Tech Tool and Machine / CS Pro solutions. Memories for a lifetime! Congrats young man!
Gary & Traydun Freeze claimed 3rd place with 5 bass weighing 18.97 lbs anchored by the Academy BF at 6.09 lbs! Toatl winnings $1,682.00!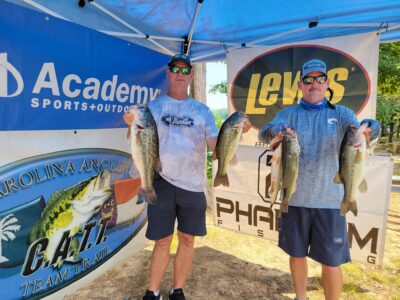 Todd Harris & Chris Brown claimed 4th with 17.76 lbs!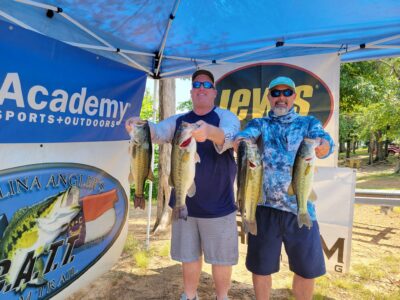 Jeffrey Furr & Marty Williams 5th with 17.34 lbs!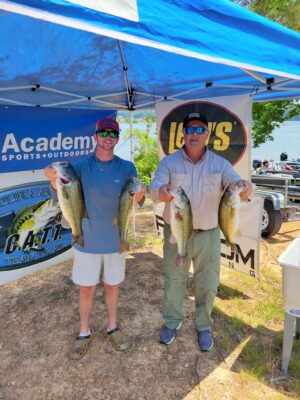 Landon & Ladd Whicker 6th with 16.74 lbs!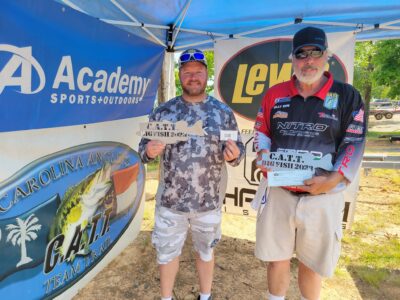 Jarred Pharr and Billy Sipe: 7th with 16.48. They Also won the spring big fish award provided by ultra tech tool and Machine/ CS Pro Solutions and a $100 Lews/ Strike King Gift card.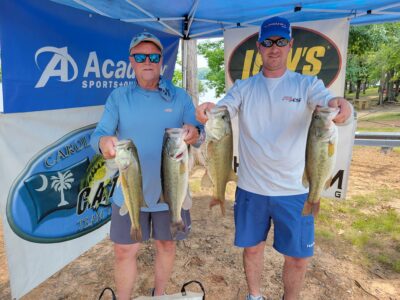 Maurice Freeze and Jason Barnes: 8th with 16.02 lbs!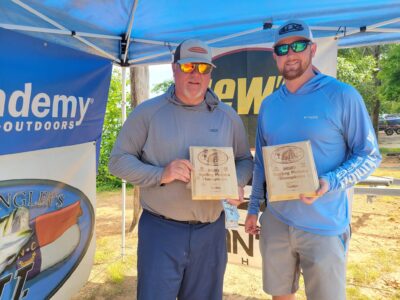 2023 Yadkin Spring Point winners Dusty Taylor & Kolton Hawks! They received $500.00!
| | | | |
| --- | --- | --- | --- |
| Team | BF | Weight | Winnings |
| Steve Sink – Jason Riggs | 5.60 | 22.05 | $4,140.00 |
| Hunter Harwood – Scott Harwood | 5.06 | 19.44 | $2,200.00 |
| Gary Freeze – Traydun Freeze | 6.09 | 18.97 | $1,682.00 |
| Christopher Brown – Todd Harris | 5.51 | 17.76 | $600.00 |
| Jeffrey Furr & Marty Williams | 5.02 | 17.34 | $500.00 |
| Ladd Whicker – Landon Whicker | 4.85 | 16.74 | $400.00 |
| Billy Sipe – Jarred Pharr | 0.00 | 16.48 | $250.00 |
| Jason Barnes – Maurice Freeze | 0.00 | 16.02 | $170.00 |
| Robert Mixon – Robert Lambert | 0.00 | 15.84 | $120.00 |
| John Kistler – Rusty Melton | 0.00 | 15.46 | |
| Brayden Mueller – Dustin Green | 5.25 | 15.16 | |
| Harrison McCall – Barry McCall | 0.00 | 14.90 | |
| Michael Kinard – Aaron Harwood | 6.08 | 14.86 | $138.00 |
| George Lambeth – Herby Young | 0.00 | 14.28 | |
| RM Parker – Brandon Gibson | 0.00 | 14.12 | |
| Robbie Walser – Mack Lowe | 0.00 | 14.10 | |
| Scott Faulkner – Tony Brewer | 0.00 | 14.02 | |
| Tanner Albright | 0.00 | 13.85 | |
| Shawn Knight – Ron Wolfarth | 0.00 | 13.83 | |
| Tony Foster – Chris Coleman | 0.00 | 12.60 | |
| Noah Beck – Brett Landon | 0.00 | 12.50 | |
| Alan Thompson – Mike Coley | 0.00 | 12.34 | |
| Mark Mohler – Graeham Bosch | 0.00 | 12.00 | |
| Rodney Thomas | 0.00 | 11.27 | |
| Jamie Benton – Scott Eggleton | 3.73 | 10.85 | |
| Scott Henley – Ray Furr | 0.00 | 9.80 | |
| Dusty Taylor – Kolton Hawks | 0.00 | 8.85 | |
| Zach Scelsi – Mashall Conrad | 0.00 | 8.84 | |
| Garey Ingram – Orlando Giles | 0.00 | 7.16 | |
| Nick Taylor -Levi Green | 4.41 | 7.08 | |
| Austin Garland | 0.00 | 5.11 | |
| Phillip Hedrick – Jack Vanderford | 0.00 | 0.00 | |
| Gregory Skerven – Kyle Joyce | 0.00 | 0.00 | |
| Zac Gooch – Derek Taylor | 0.00 | 0.00 | |
| Stan Turner – Greg Taylor | 0.00 | 0.00 | |
| Rodney Adams – Jarrett Freeze | 0.00 | 0.00 | |
| Perrish Payne – Bobby Matthews | 0.00 | 0.00 | |
| Nick Wiiliams – Hayden Strickland | 0.00 | 0.00 | |
| Nick Bashford – Brian File | 0.00 | 0.00 | |
| Bradley Culler – Cody Stegall | 0.00 | 0.00 | |
| Mike Allen – Thomas Furr | 0.00 | 0.00 | |
| Billy Marshall | 0.00 | 0.00 | |
| Duke Denison – Bobby Cline | 0.00 | 0.00 | |
| Kevin Stowell | 0.00 | 0.00 | |
| Alan Hawks – Keaton Hawks | 0.00 | 0.00 | |
| Josh Stafford – Tony Stafford | 0.00 | 0.00 | |
| Tom File – Thomas Ludwick | 0.00 | 0.00 | |
| Total Entrys | | | $5,520.00 |
| BONUS $ | | | $2,200.00 |
| Yadkin Spring Final Fund | | | $2,480.00 |
| Total Paid At Ramp | | | $10,200.00 |
| Total Paid Spring 2023 Yadkin | | | $25,665.00 |