We will have the 2021 Spring Yadkin Trail schedule posted soon! Keep checking in!
We had 40 of the 50 Qualified teams show at High Rock and the fishing was tough! If you have a rough day on the lake it's always good to have some great food waiting for you at the ramp! Mike and his crew came through and everyone left the ramp full and others with a pocket full of money!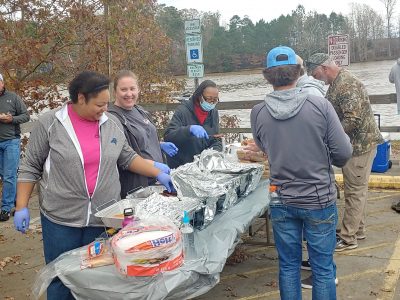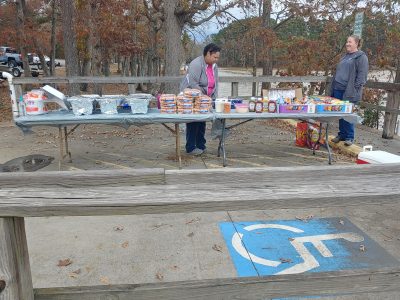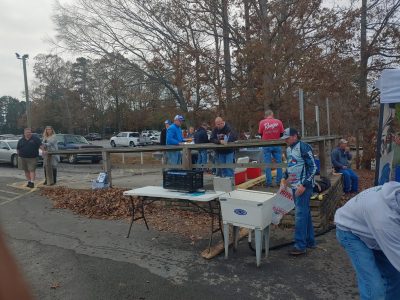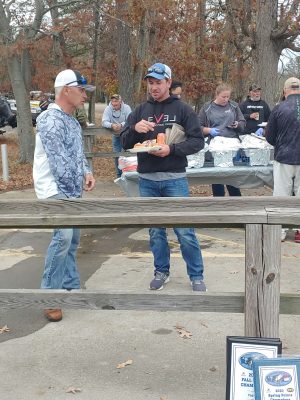 Steve Sink & Jason Riggs claimed the top spot with 5 bass weighing 15.43 lbs! They were fishing in a new Skeeter and will receive another $5,000.00 from the Skeeter Real Money Program! All total Steve & Jason took home $9,300.00!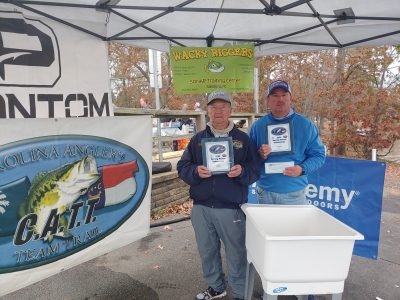 Ron Wolfarth & Shawn Knight finished 2nd with 15.11 lbs and collected $1,985.00!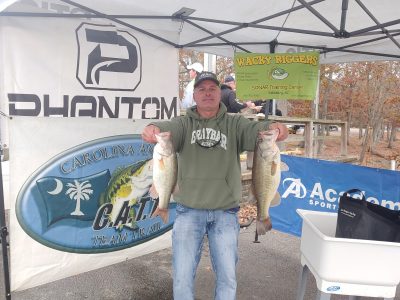 Ladd & Landon Wicker 3rd with 15.04 lbs! $985.00!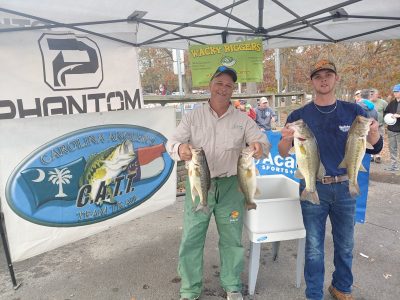 Randy Weddington & Ronnie Smith took 4th with 14.77 lbs! $600.00!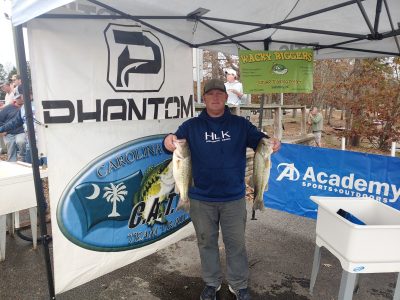 Wayne Ingram & Chris Brown 5th Place 13.77 lbs $500.00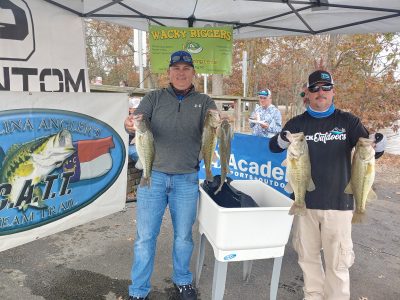 Cameron Andrews & Matt Stanley  6th 13.56 lbs! $300.00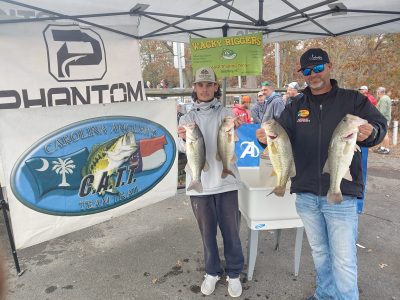 Tommy Jones & Rodney Bell took 7th 13.48 lbs!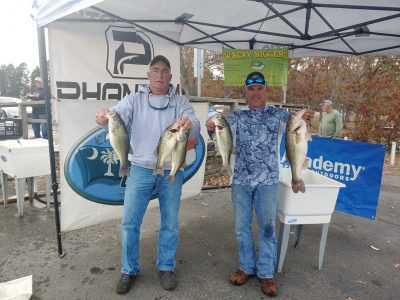 Rodney Bell with his Lews Baitcast Reel for bringing in the 1st BF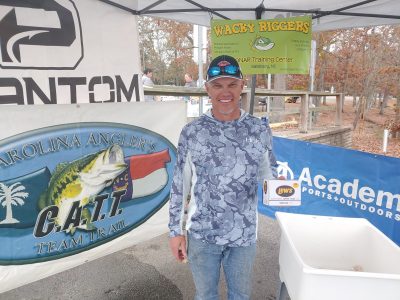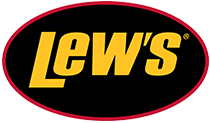 Micah Speights & Chad Coley 8th Place 13.43 lbs!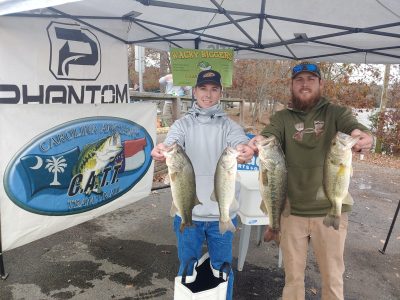 Alan Griffith & Kevin Chandler won the $50 Wacckyriggers.com award!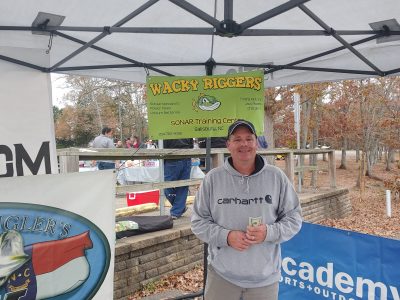 Rusty Melton & John Kistler win the Yadkin Points and take home $500.00!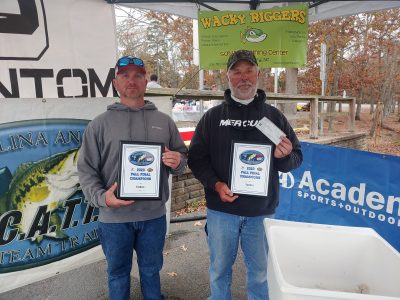 | | | | |
| --- | --- | --- | --- |
|                                         40 TEAMS |         BF |  WEIGHT | Winnings |
| Steve Sink & Jason Riggs | 4.33 | 15.43 | $9,300.00 |
| Ron Wolfarth & Shawn Knight | 4.72 | 15.11 | $1,985.00 |
| Ladd Whicker & Landon Whicker | 3.87 | 15.04 | $985.00 |
| Randy Weddington & Ronnie Smith | 3.78 | 14.77 | $600.00 |
| Wayne Ingram & Chris Brown | 3.63 | 13.77 | $500.00 |
| Matt Stanley & Cameron Andrews | 3.62 | 13.56 | $300.00 |
| Rodney Bell & Tommy Jones | 5.23 | 13.48 | $480.00 |
| Micah Speights & Chad Coley | 4.32 | 13.43 | $125.00 |
| Alan Griffin & Kevin Chandler | 0.00 | 12.97 | $150.00 |
| Brad Staley & Josh Stafford | 4.61 | 12.78 | |
| Chad Poteat & Jason Barnes | 0.00 | 11.87 | |
| Todd Harris & Lance Isenhour | 0.00 | 11.44 | |
| Derek Crumbly and Dylan Crumbly | 0.00 | 11.32 | |
| John Wagner & Bobby Bowers | 3.64 | 11.32 | |
| Alan Thompson & Michael Coley | 0.00 | 10.97 | |
| Jeremy Talbert & Todd Haynes | 3.60 | 10.85 | |
| Phillip Hedrick & lucas Hedrick | 3.71 | 10.69 | |
| David Cheek & Mike Kiser | 0.00 | 9.49 | |
| Andrew Wilson & Robert Branson | 0.00 | 9.15 | |
| John Kistler & Rusty Melton | 0.00 | 8.73 | |
| Todd Hammond & Tom File | 0.00 | 8.44 | |
| RM Parker | 3.85 | 6.69 | |
| David Lloyd & Daniel Lloyd | 0.00 | 4.97 | |
| Hunter Harwood & Scott Harwood | 2.97 | 4.73 | |
| Chris Murphy & Vince Murphy | 4.06 | 4.06 | |
| Brandon Shaver & Chad Cook | 0.00 | 0.00 | |
| Robin Collins & Ronnie White | 0.00 | 0.00 | |
| Mike Ray & Orlando Giles | 0.00 | 0.00 | |
| Jerry Bono & Marty Williams | 0.00 | 0.00 | |
| David Hunt & Darryl Crumbly | 0.00 | 0.00 | |
| Richard Quinn & John Buckner | 0.00 | 0.00 | |
| David Wright | 0.00 | 0.00 | |
| Mike Morgan & Steve Carlisle | 0.00 | 0.00 | |
| Dwayne Hughes & Adam Almo | 0.00 | 0.00 | |
| Scott Henley & Nick House | 0.00 | 0.00 | |
| Barry McCall & Harrison McCall | 0.00 | 0.00 | |
| Joel Ketchum & Myles Stewart | 0.00 | 0.00 | |
| Herby Young & George Lambeth | 0.00 | 0.00 | |
| Corey Gibson | 0.00 | 0.00 | |
| Robbie Walser & Mack Lowe | 0.00 | 0.00 | |