We had a Skeeter Real Money Winner at Tuckertown! Chad Poteat & Jason Barnes weighed in 16.94 lbs taking 1sdt Place and 6,520.00!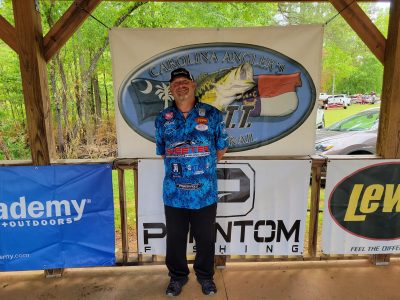 Michael Swaringen & CJ Johnson took 2nd with 13.34 lbs worth $545.00!

John Kistler & Rusty Melton 3rd with 13.19 lbs!

4th Place Lance Isenhour 12.87 lbs!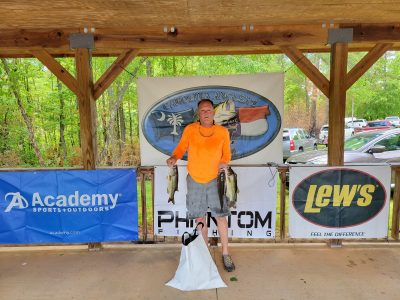 Josh & Daniel Griffin 2nd BF 4.24 lbs!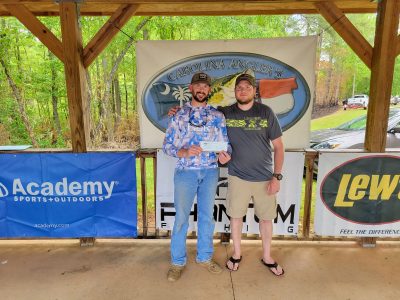 | | | | | |
| --- | --- | --- | --- | --- |
| Team | BF | Weight | Winnings | Points |
| Chad Poteat – Jason Barnes | 5.71 | 16.94 | $6,520.00 | 110 |
| Michael Swaringen – CJ Johnston | 3.84 | 13.34 | $545.00 | 109 |
| John Kistler – Rusty Melton | 0.00 | 13.19 | $372.00 | 108 |
| Lance Isenhour | 3.66 | 12.87 | $200.00 | 107 |
| Bud Ratcliff – Dustin Horn | 3.38 | 12.81 | $130.00 | 106 |
| Shawn Knight – Ron Wolfarth | 3.81 | 12.47 | $110.00 | 105 |
| Dwayne Saunders – Robert Parrish | 0.00 | 12.46 | $100.00 | 104 |
| Chris Scelsi  Zack Scelsi | 3.58 | 11.60 | | 103 |
| Mitch Drew – Kenny Drew | 3.11 | 11.38 | | 102 |
| Josh Griffin – Daniel Griffin | 4.24 | 11.05 | $108.00 | 101 |
| Hunter Harwood – Scott Harwood | 0.00 | 10.51 | | 100 |
| Brad Austin – Todd Rummage | 0.00 | 10.27 | | 99 |
| Ryan Drew – Butch Drew | 0.00 | 10.12 | | 98 |
| Scott Henley – Johnny Heaton | 0.00 | 9.79 | | 97 |
| Jacob Bridges – Brady Weisner | 3.51 | 6.84 | | 96 |
| Marty Smith – Mitchell Fredrick | 3.34 | 4.92 | | 95 |
| Shane Vaught – Dillon Kigor | 2.50 | 3.92 | | 94 |
| Austin Garland | 0.00 | 0.00 | | 84 |
| Zach Gooch – Greg Gooch | 0.00 | 0.00 | | 84 |
| Chris Walls – Cody Lambeth | 0.00 | 0.00 | | 84 |
| Carl Myers – Orlando Giles | 0.00 | 0.00 | | 84 |
| Curt Lare | 0.00 | 0.00 | | 84 |
| Mark Cannon – Frank Brinegar | 0.00 | 0.00 | | 84 |
| TJ Drew – Randall Drew | 0.00 | 0.00 | | 84 |
| Jason Riggs – Steve Sink | 0.00 | 0.00 | | 84 |
| Tanner Albright – Dillon Johnson | 0.00 | 0.00 | | 84 |
| Bobby Gill | 0.00 | 0.00 | | 84 |
| Brad Smith | 0.00 | 0.00 | | 84 |
| Bradley Newsome – Chase Cannon | 0.00 | 0.00 | | 84 |
| Cody Thompson – James Thompson | 0.00 | 0.00 | | 84 |
| Nick Bashford – Brian File | 0.00 | 0.00 | | 84 |
| Kyle Joyce – Greg Skirven | 0.00 | 0.00 | | 84 |
| Robert Brunson – Jeff Gordon | 0.00 | 0.00 | | 84 |
| Alan Griffin – Kevin Chandler | 0.00 | 0.00 | | 84 |
| Jason Klutz – Justin Klutz | 0.00 | 0.00 | | 84 |
| Scott Faulkner – Tony Brewer | 0.00 | 0.00 | | 84 |
| Total Entrys | | | $2,880.00 | |
| BONUS $ | | | $725.00 | |
| Total Paid At Ramp | | | $3,085.00 | |
| 2022 Yadkin Spring Final Fund | | | $420.00 | |
| 2022 CATT Championship Fund | | | $50.00 | |
| 2022 Yadkin Spring Final Fund Total | | | $1,745.00 | |