Next and last 2020 Yadkin Qualifier is November 15th at Badin Lake launching from Circle Drive!
1st Place at Tuckertown this past weekend went to Darrell Crumbley & David Hunt with 5 bass weighing 17.70 lbs! They weighed in the 1st BF at 6.05 lbs and took home $947.00!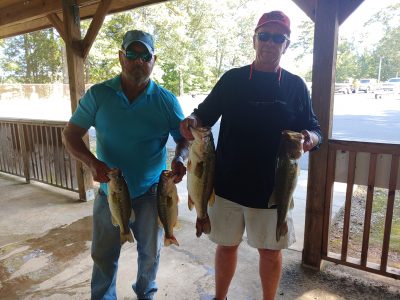 2nd went to Herby Young & George Lambeth with 17.64 lbs!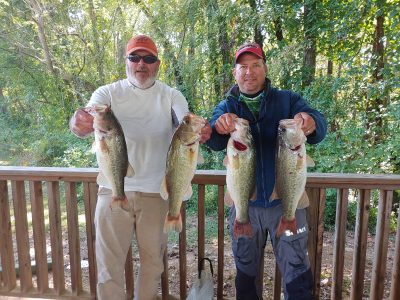 Brandon Shaver & Chad Cook with 14.65 lbs good enough for 3rd!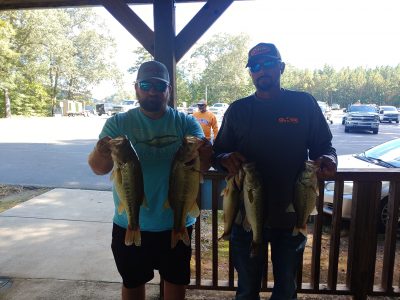 4th and still with the points lead John Kistler & Mike Allen!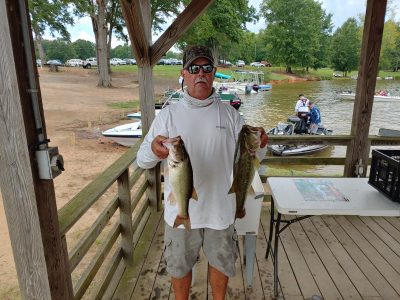 Wackyriggers $50 winners and Academy Gift Card also! Chris & Vince Murphy!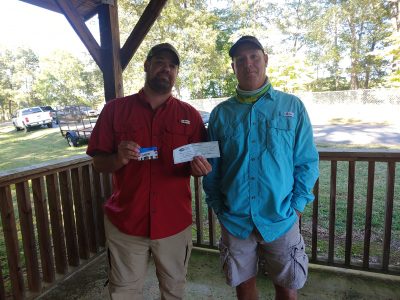 | | | | | |
| --- | --- | --- | --- | --- |
| 21 Teams | BF | Weight | Winnings | Points |
| David Hunt – Darrell Crumbley | 6.05 | 17.70 | $947.00 | 110 |
| Herby Young – George Lambeth | 4.27 | 17.64 | $425.00 | 109 |
| Brandon Shaver & Chad Cook | 4.27 | 14.65 | $150.00 | 108 |
| John Kistler & Mike Allen | 4.12 | 14.41 | $100.00 | 107 |
| Chris Murphy & Vince Murphy | 0.00 | 13.56 | | 106 |
| Mike Kiser | 0.00 | 12.86 | | 105 |
| Allen Thompson – Mike Coley | 5.18 | 8.90 | $63.00 | 104 |
| Scott Harwood – Hunter Harwood | 3.79 | 8.42 | | 103 |
| Micah Speights – Chad Coley | 0.00 | 7.54 | | 102 |
| Bo Russell – David Eichorn | 0.00 | 5.04 | | 101 |
| Joel Marcotte | 0.00 | 4.47 | | 100 |
| Tony Vernon & Jeff Wilson | 0.00 | 3.01 | | 99 |
| Mike Ray – Orlando Giles | 0.00 | 0.00 | | 98 |
| David Wright – Samuel Harris | 0.00 | 0.00 | | 98 |
| Richard Quinn – John Buckner | 0.00 | 0.00 | | 98 |
| Corey Gibson | 0.00 | 0.00 | | 98 |
| Zack Gooch – Greg Gooch | 0.00 | 0.00 | | 98 |
| Barry McCall – Harrsion McCall | 0.00 | 0.00 | | 98 |
| Joel Ketchum – Myles Stewart | 0.00 | 0.00 | | 98 |
| Duke Denison – Bobby Cline | 0.00 | 0.00 | | 98 |
| Shane Floyd – Dillon Floyd | 0.00 | 0.00 | | 98 |
| Total Entrys | | | $1,680.00 | |
| BONUS $ | | | $425.00 | |
| Total Paid At Ramp | | | $1,685.00 | |
| Yadkin Spring 2020 Final Fund | | | $320.00 | |
| 2020 CATT Championship Fund | | | $50.00 | |
| 2020 Yadkin Spring Final Fund Total | | | $2,155.00 | |
| 2020 CATT Championship Fund Total | | | $4,850.00 | |