Guys we are going to make this an annual event on Lake Norman each Spring! Next year will be much larger!
CATT is Honored to host the inaugural
Masonic Children's Home Benefit Tournament on Beautiful Lake Norman
This is an annual event that will be the 2nd Saturday in March a very big thank you to the fisherman and their support for such an awesome cause! Hope to see you next year 2020 Lake Norman
If you would like to sponsor an Adult Child or Husband Wife or a Senior Citizen or a Veterans team please let us know. Also we are looking for any and all sponsorship whether Monetary or Merchandise Please let us know
Thank You
Dwight & Scott Beattie take the win with 5 bass weighing 15.26 lbs! Great job guys!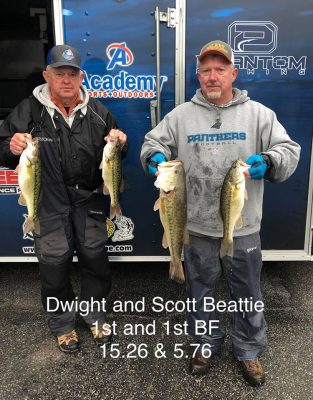 2nd Place Hank Cherry & Jerry Goble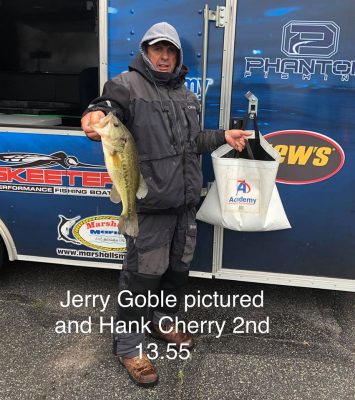 | | | | |
| --- | --- | --- | --- |
| | Big | Total | Total |
| Teams | Fish | Weight | Winnings |
| Scott Beattie & Scott Beattie | 5.76 | 15.26 | $980.00 |
| Hank Cherry – Jerry Goble | 3.46 | 13.55 | $210.00 |
| Wayne & Dwayne Baker | 2.81 | 12.04 | |
| Alfred Keisling Sr – Alfred Keisling Jr | 0.00 | 10.26 | |
| Michael Franklin – Jason Mulky | 5.16 | 8.66 | $90.00 |
| Mike Townsend – John Hendrix | 0.00 | 8.30 | |
| Tim Harrison – Doug Crump | 0.00 | 8.29 | |
| Travis Kilby – Doug Moore | 2.51 | 8.03 | |
| Todd Hammond – Greg Deal | 3.68 | 3.68 | |
| Daniel Guthrie | 0.00 | 0.00 | |
| Tony Nelson – Spencer Black | 0.00 | 0.00 | |
| Shane Sahrpe | 0.00 | 0.00 | |
| Matt Stout | 0.00 | 0.00 | |
| Kevin Farley – Lee Manning | 0.00 | 0.00 | |