183 teams entered the 2018 Academy Sports CATT Championship on Kerr Lake this past weekend and even though the fishing was tough it was very competitive! We plan to be back next year on Kerr and if we can't get a May date we will probably go again on the 1st weekend of June BUT we will blast off at 5:30 am with the 1st flight weighing in at 2 pm!
Scott Hamrick & Roger Hoover weighed in 10 bass over 2 days weighing up at 33.35 lbs to take 1st Place and the $10,000 1st place check! They also took the Platinum BONUS worth $5,400.00 and the $50 BONUS which was another $2,600.00! They were fishing out of Scott's Triton which earned them another $7,000 in Triton Gold Money! All total they left Kerr with $25,000.00! They also received 2 Level Performance Rods and 2 Academy Sports Gift Cards!
Thanks to Vance County Tourism in Henderson North Carolina for hosting the 2018 CATT Championship!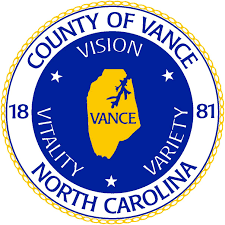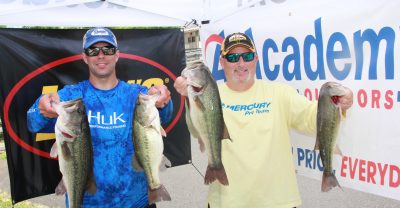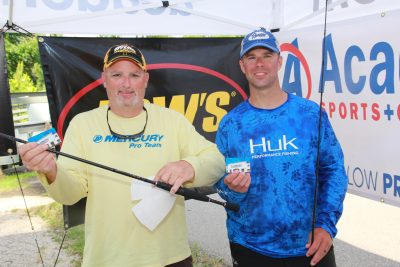 | | | | | | | |
| --- | --- | --- | --- | --- | --- | --- |
| 183 Teams! | 1st Day | 1st Day | 2nd Day  | 2nd Day | Total | Total |
| Team | Big Fish | Weight | Fish | Weight | Weight | Winnings |
| Scott Hamrick / Roger Hoover | 4.22 | 17.16 | 0.00 | 16.19 | 33.35 | $25,000.00 |
| Martin Villa / Tim Garner | 4.95 | 16.96 | 0.00 | 14.04 | 31.00 | $5,300.00 |
| Tony Stanley / Chase Stanley | 3.94 | 13.92 | 4.25 | 16.11 | 30.03 | $3,780.00 |
| Marty Williams / Jerry Bono | 4.15 | 14.08 | 0.00 | 15.51 | 29.59 | $3,040.00 |
| Heath Paint / Daniel Davis | 5.38 | 14.39 | 4.70 | 15.19 | 29.58 | $2,011.00 |
| Ronnie Thompson/Terry Gibbons | 0.00 | 13.17 | 5.62 | 15.89 | 29.06 | $2,718.00 |
| Bobby Crisman / J T Palamore | 0.00 | 15.58 | 0.00 | 13.42 | 29.00 | $1,250.00 |
| Corey Leonard / Paul Rigsbee | 0.00 | 14.74 | 0.00 | 14.15 | 28.89 | $1,150.00 |
| Randy Black / Mikey Anderson | 3.89 | 14.24 | 4.01 | 14.22 | 28.46 | $1,000.00 |
| Cullen Ports / Justin Bobbit | 0.00 | 12.47 | 4.07 | 15.67 | 28.14 | $800.00 |
| Brian Kirkpatrick / Eddie Fore | 0.00 | 13.71 | 5.07 | 13.92 | 27.63 | $750.00 |
| Robin Collins / Ronnie White | 0.00 | 10.97 | 5.04 | 16.44 | 27.41 | $650.00 |
| Cavin Young / Rob Wells | 0.00 | 12.83 | 0.00 | 14.30 | 27.13 | $600.00 |
| Ray Griffin / Francis Martin | 0.00 | 12.90 | 0.00 | 14.22 | 27.12 | $550.00 |
| Michael Chlomodis/Marty Warren | 0.00 | 10.90 | 0.00 | 16.14 | 27.04 | $500.00 |
| Wesley Cashwell/Shane Doughtie | 0.00 | 12.21 | 4.54 | 14.45 | 26.66 | $450.00 |
| Powell Kemp / Scooter Lilly | 0.00 | 14.21 | 0.00 | 12.33 | 26.54 | $425.00 |
| Mack Lowe / Robert Walser | 0.00 | 12.69 | 0.00 | 13.79 | 26.48 | $400.00 |
| John Parker / Randy Moss | 4.76 | 16.97 | 0.00 | 9.46 | 26.43 | $375.00 |
| Nathan Dellinger / Travis Kilby | 0.00 | 13.51 | 0.00 | 12.81 | 26.32 | $345.00 |
| Robert Perkins / Eric Royster | 0.00 | 14.05 | 0.00 | 12.19 | 26.24 | $330.00 |
| Chris Savage / Michael Campbell | 5.38 | 14.22 | 0.00 | 11.89 | 26.11 | $576.00 |
| Clay Ausley / Ken McNeil | 0.00 | 13.08 | 0.00 | 13.01 | 26.09 | $295.00 |
| William Hubbard/Brian Calloway | 4.22 | 13.66 | 0.00 | 12.43 | 26.09 | $295.00 |
| Chuck Murray / Randy Groves | 4.44 | 13.94 | 0.00 | 12.13 | 26.07 | $275.00 |
| Maurice Freeze / Rick Poplin | 0.00 | 11.10 | 4.57 | 14.95 | 26.05 | $260.00 |
| Mark Winn / Mike Nichols | 0.00 | 13.85 | 0.00 | 12.06 | 25.91 | $245.00 |
| Walt Bowen / Joseph Sharpe | 0.00 | 11.52 | 4.20 | 14.38 | 25.90 | $230.00 |
| Danny Moss / Ryan Harrell | 0.00 | 14.72 | 5.01 | 11.10 | 25.82 | $215.00 |
| Bryan Cottrell / Ellis Jones | 0.00 | 12.00 | 0.00 | 13.73 | 25.73 | $200.00 |
| Danny & Petey Bost | 0.00 | 15.15 | 0.00 | 10.53 | 25.68 | |
| Eddie Griggs / Bryan Elrod | 0.00 | 12.58 | 0.00 | 13.04 | 25.62 | |
| Wally Szuba / Tony Woodall | 0.00 | 13.22 | 0.00 | 12.31 | 25.53 | |
| David Wright / Jeff Coble | 0.00 | 13.46 | 0.00 | 12.05 | 25.51 | |
| Flash Butts / Shawn Hmmack | 4.56 | 15.97 | 0.00 | 9.49 | 25.46 | |
| Dave Allen / Clayton Mullins | 5.18 | 13.68 | 0.00 | 11.76 | 25.44 | |
| Mark Cooper / Steve Roberts | 0.00 | 11.81 | 0.00 | 13.48 | 25.29 | |
| Jesse Wise / Ashley Ivey | 0.00 | 11.75 | 0.00 | 13.51 | 25.26 | |
| Gordon Griffin / Jerry Criswell | 0.00 | 12.10 | 0.00 | 13.11 | 25.21 | |
| Paul Worthington/Zack Davenport | 4.02 | 12.14 | 0.00 | 12.93 | 25.07 | |
| Brendon Schneider/Kyle James | 0.00 | 13.56 | 0.00 | 11.45 | 25.01 | |
| Rick Dunstan / Josh Huff | 4.39 | 12.74 | 0.00 | 12.18 | 24.92 | |
| Tim Wiltfong / Jay Fuhr | 0.00 | 12.28 | 0.00 | 12.56 | 24.84 | |
| Thomas Simmerson / Doug Young | 0.00 | 12.49 | 0.00 | 12.28 | 24.77 | |
| Thomas Vickers / Brian Huskins | 0.00 | 11.89 | 0.00 | 12.86 | 24.75 | |
| Billy Bledsoe/Brian McDonald | 0.00 | 10.73 | 4.35 | 13.91 | 24.64 | |
| Roger Clary / Justin Rhew | 0.00 | 11.73 | 0.00 | 12.85 | 24.58 | |
| Eddy Glascock / Billy Dunn | 0.00 | 11.29 | 0.00 | 13.23 | 24.52 | |
| Scott Moser / Tony Milliam | 0.00 | 11.83 | 0.00 | 12.67 | 24.50 | |
| Todd Farris / Phil Rogers | 0.00 | 12.89 | 0.00 | 11.44 | 24.33 | |
| David Wilson / Hal Blackwelder | 0.00 | 12.76 | 0.00 | 11.53 | 24.29 | |
| Marcus Leech / Tim Chapman | 0.00 | 13.49 | 0.00 | 10.76 | 24.25 | |
| Alex King / Matt Noras | 0.00 | 11.65 | 0.00 | 12.55 | 24.20 | |
| Jason Suggs / Britten Oquin | 0.00 | 11.73 | 0.00 | 12.37 | 24.10 | |
| Hal Caldwell / Larry Gunn | 0.00 | 10.43 | 0.00 | 13.65 | 24.08 | |
| Derrick Bowden / Matthew Little | 3.35 | 13.26 | 0.00 | 10.78 | 24.04 | |
| Randy Weddington/Ronnie Smith | 0.00 | 13.19 | 0.00 | 10.84 | 24.03 | |
| Robert Mixon / Scott Henley | 4.33 | 11.21 | 0.00 | 12.76 | 23.97 | |
| Jamey Caldwell / Seth Ellis | 0.00 | 12.25 | 0.00 | 11.55 | 23.80 | |
| Steve Griggs / Tim Parker | 0.00 | 10.59 | 0.00 | 13.19 | 23.78 | |
| Josh Queen / Mike Queen | 0.00 | 13.48 | 0.00 | 10.12 | 23.60 | |
| Dennis Reedy / Tommy Marrow | 0.00 | 12.01 | 0.00 | 11.42 | 23.43 | |
| Ray Hogge / Kevin Whitehurst | 0.00 | 10.43 | 0.00 | 12.98 | 23.41 | |
| Joe Smith / Raeford Faircloth | 0.00 | 11.44 | 4.96 | 11.93 | 23.37 | |
| Barry Davis / Robbie Burr | 0.00 | 12.70 | 0.00 | 10.33 | 23.03 | |
| Mike King / Chris Crawford | 0.00 | 13.02 | 0.00 | 9.65 | 22.67 | |
| Wayne Skipworth / Don Sprinkle | 0.00 | 11.55 | 0.00 | 11.08 | 22.63 | |
| Scott Golden / Jesse Medlin | 0.00 | 13.62 | 0.00 | 8.94 | 22.56 | |
| Mark Whitman / J J Stowers | 0.00 | 14.11 | 0.00 | 8.40 | 22.51 | |
| Jason Dew / Tom Elliott | 0.00 | 13.66 | 0.00 | 8.85 | 22.51 | |
| David Enos / Carl Enos | 0.00 | 8.66 | 0.00 | 13.73 | 22.39 | |
| Charles Stewart / Matthew Dean | 0.00 | 11.08 | 0.00 | 11.28 | 22.36 | |
| Scott Woodson / Tony Staker | 0.00 | 10.26 | 0.00 | 11.94 | 22.20 | |
| Gary Horsley / David Dehart | 0.00 | 10.41 | 0.00 | 11.76 | 22.17 | |
| Jason Thomas Dusty Taylor | 0.00 | 15.46 | 0.00 | 6.61 | 22.07 | |
| Anthony Shawler / Scott Davies | 0.00 | 8.23 | 4.66 | 13.83 | 22.06 | |
| Tim Penhollow/ Kay Chooskal | 0.00 | 8.00 | 0.00 | 13.73 | 21.73 | |
| Kevin Cheatham / Johnny Wilder | 0.00 | 12.89 | 0.00 | 8.73 | 21.62 | |
| Terry Easter / Dave Farrington | 0.00 | 10.87 | 0.00 | 10.67 | 21.54 | |
| Rodney Bell /Tommy Jones | 0.00 | 10.56 | 0.00 | 10.93 | 21.49 | |
| Dewayne Bingman / Alex Michaux | 0.00 | 10.09 | 0.00 | 11.30 | 21.39 | |
| Tyler Purcell / Clay Samples | 0.00 | 11.55 | 0.00 | 9.79 | 21.34 | |
| BubbaHaywood / David Frey | 0.00 | 9.37 | 0.00 | 11.92 | 21.29 | |
| Chad Poteat / George Lambeth | 0.00 | 13.77 | 0.00 | 7.33 | 21.10 | |
| Mark Inman / Bryan Welch | 0.00 | 10.74 | 0.00 | 10.23 | 20.97 | |
| Stump Bledsoe / Glen Elliott | 0.00 | 8.38 | 0.00 | 12.55 | 20.93 | |
| Bryson Reed / Jonathan Jones | 0.00 | 8.73 | 0.00 | 11.94 | 20.67 | |
| Christian Garrell / Eric Buie | 0.00 | 6.72 | 4.38 | 13.89 | 20.61 | |
| Rich Hartman / Mark Brown | 0.00 | 10.18 | 0.00 | 10.22 | 20.40 | |
| Steve Summers / Danny Nifong | 0.00 | 10.71 | 0.00 | 9.60 | 20.31 | |
| John Koren / Joe Westfall | 0.00 | 10.58 | 0.00 | 9.68 | 20.26 | |
| Larry Inman / Ron Wolfarth | 0.00 | 10.44 | 0.00 | 9.78 | 20.22 | |
| Sam Terry / Jacob Lee | 0.00 | 8.13 | 0.00 | 12.09 | 20.22 | |
| Gerald Beck / Rodney Sorrell | 0.00 | 10.81 | 0.00 | 9.36 | 20.17 | |
| Bradley McLaurin/Mike Marchant | 0.00 | 9.55 | 0.00 | 10.49 | 20.04 | |
| Dennis Allen / Keith Allen | 0.00 | 11.70 | 0.00 | 8.29 | 19.99 | |
| Casey Logan / Keaton Logan | 0.00 | 8.43 | 0.00 | 11.55 | 19.98 | |
| Joey Dawson / Kevin Dawson | 0.00 | 12.45 | 0.00 | 7.46 | 19.91 | |
| Kevin Poley / Richard Hall | 0.00 | 9.87 | 0.00 | 10.00 | 19.87 | |
| Jeff Edwards/Brandon Slaughter | 0.00 | 11.30 | 0.00 | 8.81 | 19.86 | |
| James Davis / Deloris Davis | 0.00 | 11.00 | 0.00 | 8.84 | 19.80 | |
| Vern Fleming / Glenn Long | 0.00 | 11.30 | 0.00 | 8.45 | 19.79 | |
| Michael Garner / Ryan Brown | 0.00 | 10.10 | 0.00 | 9.56 | 19.61 | |
| Ladd Wicker / Landon Wicker | 0.00 | 7.59 | 0.00 | 12.21 | 19.55 | |
| Denny Gilbert / Charlie Reed | 0.00 | 10.50 | 0.00 | 9.29 | 19.54 | |
| Brain Green / Jeff Parrish | 4.11 | 12.00 | 0.00 | 7.42 | 19.37 | |
| Brandon Hendricks/Gene Griffin | 0.00 | 5.45 | 0.00 | 13.89 | 19.34 | |
| Dakota Roberts / Eric Myers | 0.00 | 7.66 | 0.00 | 11.64 | 19.30 | |
| Cody Aman / Colin Ford | 0.00 | 6.83 | 0.00 | 11.83 | 18.66 | |
| Adam & Gene Richardson | 0.00 | 9.59 | 0.00 | 8.96 | 18.55 | |
| Will Howard / Bryce McClenney | 0.00 | 9.71 | 0.00 | 8.88 | 18.44 | |
| Mark Lowe / Cliff Swan | 0.00 | 8.70 | 0.00 | 9.73 | 18.43 | |
| Bob Hinds Jr. / David Cole | 0.00 | 11.30 | 0.00 | 7.13 | 18.40 | |
| Scott Williams / Robbie English | 0.00 | 8.62 | 0.00 | 9.71 | 18.08 | |
| Allen White / Mike Vaughen | 0.00 | 10.90 | 0.00 | 7.03 | 18.00 | |
| Jim Freeland | 0.00 | 8.09 | 0.00 | 9.69 | 17.78 | |
| Monte Aleman / Kevin Aleman | 0.00 | 8.66 | 0.00 | 9.04 | 17.70 | |
| Stacey Richards / Doug Sawyer | 4.94 | 11.80 | 0.00 | 5.69 | 17.44 | |
| Harvey Reese/Anthony Weithers | 0.00 | 6.73 | 0.00 | 10.72 | 17.20 | |
| Eric Bozeman / Max Shuman | 0.00 | 10.80 | 0.00 | 6.00 | 16.76 | |
| John Yager / Mike Rohr | 0.00 | 9.83 | 4.60 | 6.70 | 6.53 | |
| Eugene Carter / John Doyle | 0.00 | 8.89 | 0.00 | 7.64 | 16.28 | |
| Will Vickery / Dee Kidd | 0.00 | 4.64 | 0.00 | 11.62 | 16.26 | |
| Donna Wilson / Mike Whitehurst | 0.00 | 5.02 | 0.00 | 10.84 | 15.86 | |
| Mike Cole / Vinson Nettles | 0.00 | 4.31 | 0.00 | 11.25 | 15.56 | |
| James & Jimmy Condrey | 0.00 | 9.69 | 0.00 | 5.69 | 14.63 | |
| Evan Fleming / Matt Furh | 0.00 | 4.94 | 0.00 | 9.67 | 14.61 | |
| Andy Semonco / Wayne Andrews | 0.00 | 6.92 | 0.00 | 7.52 | 14.43 | |
| Duke Denison / Bobbie Cline | 0.00 | 8.54 | 0.00 | 5.68 | 14.22 | |
| Grady Lee / Jimmy Murphy | 0.00 | 9.43 | 0.00 | 3.04 | 12.47 | |
| Daniel Jenkins / Jason Kopp | 0.00 | 4.26 | 0.00 | 8.04 | 12.30 | |
| Kevin Farley / David Ford | 0.00 | 8.95 | 0.00 | 3.27 | 12.22 | |
| Jesse Stanley / Rex Watson | 0.00 | 11.70 | 0.00 | 0.00 | 11.70 | |
| Doug Parker | 3.38 | 11.52 | 0.00 | 0.00 | 11.52 | |
| Tony Foster / Steve Sink | 0.00 | 11.49 | 0.00 | 0.00 | 11.49 | |
| Rich Szczerealla/Storm Rutcho | 0.00 | 11.43 | 0.00 | 0.00 | 11.43 | |
| Everett Rigsbee / Clint Johnson | 0.00 | 11.12 | 0.00 | 0.00 | 11.12 | |
| Dan Jackson / Manley Jones | 0.00 | 10.95 | 0.00 | 0.00 | 10.95 | |
| George Lauster | 3.98 | 10.51 | 0.00 | 0.00 | 10.51 | |
| Chris McDuffie / Greg Creech | 0.00 | 10.19 | 0.00 | 0.00 | 10.19 | |
| Bradley Chandler | 0.00 | 10.02 | 0.00 | 0.00 | 10.02 | |
| Darryl Crumbley / Tim Skeen | 0.00 | 9.96 | 0.00 | 0.00 | 9.96 | |
| Dexter Andrews / Mike Birr | 0.00 | 9.88 | 0.00 | 0.00 | 9.88 | |
| Steve Vann / Richard Lewis | 0.00 | 9.80 | 0.00 | 0.00 | 9.80 | |
| Richard Cooper / Tim Grien | 0.00 | 9.64 | 0.00 | 0.00 | 9.64 | |
| Tyler & Ricky Trent | 0.00 | 9.51 | 0.00 | 0.00 | 9.51 | |
| Scott Canady / Jamie Pate | 0.00 | 9.36 | 0.00 | 0.00 | 9.36 | |
| Greg Taylor / Adam Haithcock | 0.00 | 9.34 | 0.00 | 0.00 | 9.34 | |
| Mark Robertson / Keith Joyce | 0.00 | 9.14 | 0.00 | 0.00 | 9.14 | |
| Johnny Howard / William Howard | 0.00 | 8.95 | 0.00 | 0.00 | 8.95 | |
| Mark Antonelli / Chris Inscoe | 0.00 | 8.39 | 0.00 | 0.00 | 8.39 | |
| Dave & Cody Heavenridge | 0.00 | 8.33 | 0.00 | 0.00 | 8.33 | |
| Matt Pulley | 0.00 | 8.32 | 0.00 | 0.00 | 8.32 | |
| Trip Emmerson / Kevin Hyler | 0.00 | 7.99 | 0.00 | 0.00 | 7.99 | |
| Norwood Ligon / Darrell Peele | 0.00 | 7.85 | 0.00 | 0.00 | 7.85 | |
| Jacob Lloyd | 0.00 | 8.10 | 0.00 | 0.00 | 8.10 | |
| Donnie Avant / Randy Waterman | 0.00 | 7.54 | 0.00 | 0.00 | 7.54 | |
| Jerry Davis / Tony Tysinger | 0.00 | 6.70 | 0.00 | 0.00 | 6.70 | |
| James Ashton / Burley Langford | 0.00 | 6.20 | 0.00 | 0.00 | 6.20 | |
| Daniel Wood / Trampus Stafford | 0.00 | 6.00 | 0.00 | 0.00 | 6.00 | |
| Jeremy Sullivan | 0.00 | 4.72 | 0.00 | 0.00 | 4.72 | |
| Alan Aufderhar / Ryan Story | 0.00 | 4.60 | 0.00 | 0.00 | 4.60 | |
| Roby Wyatt / Mike Prytula | 0.00 | 4.51 | 0.00 | 0.00 | 4.51 | |
| Bart Gore / Dylan Gore | 0.00 | 4.46 | 0.00 | 0.00 | 4.46 | |
| Dennis Duncan / Garth Joyce | 0.00 | 4.42 | 0.00 | 0.00 | 4.42 | |
| Paul Watson / Melissa Watson | 0.00 | 4.11 | 0.00 | 0.00 | 4.11 | |
| Ron Brown / Robert Brown | 0.00 | 2.40 | 0.00 | 0.00 | 2.40 | |
| Travis Priest / James Sutton | 0.00 | 0.00 | 0.00 | 0.00 | 0.00 | |
| David Bullock / Jimmy Henderson | 0.00 | 0.00 | 0.00 | 0.00 | 0.00 | |
| Aaron Johnson / Charles Napier | 0.00 | 0.00 | 0.00 | 0.00 | 0.00 | |
| Chris Richey / George Bost | 0.00 | 0.00 | 0.00 | 0.00 | 0.00 | |
| Dan Funderburke / Butch Drew | 0.00 | 0.00 | 0.00 | 0.00 | 0.00 | |
| Dylan Gauldin / AustinCarter | 0.00 | 0.00 | 0.00 | 0.00 | 0.00 | |
| Ray Horrocks | 0.00 | 0.00 | 0.00 | 0.00 | 0.00 | |
| David Leonard / Brian Davis | 0.00 | 0.00 | 0.00 | 0.00 | 0.00 | |
| John McCleland / Eric Shell | 0.00 | 0.00 | 0.00 | 0.00 | 0.00 | |
| Todd Haynes / Jerry Talbert | 0.00 | 0.00 | 0.00 | 0.00 | 0.00 | |
| Terry Aman / Bryce Owens | 0.00 | 0.00 | 0.00 | 0.00 | 0.00 | |
| Joey Talbott / Michael Deen | 0.00 | 0.00 | 0.00 | 0.00 | 0.00 | |
| Jeff McQuaique / Eric Moser | 0.00 | 0.00 | 0.00 | 0.00 | 0.00 | |
| Scott Faulkner / Tony Brewer | 0.00 | 0.00 | 0.00 | 0.00 | 0.00 | |
| Dempsey Carter / Ted Mobley | 0.00 | 0.00 | 0.00 | 0.00 | 0.00 | |
| Chase Robison / Robert Matress | 0.00 | 0.00 | 0.00 | 0.00 | 0.00 | |