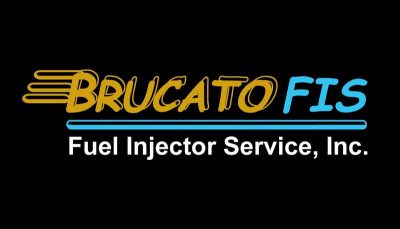 Fuel Injection Cleaning& Calibration! Click on the Link!
The Next Wateree Open is Feb 23rd at Clearwater $100 entry Optional $25 Side Pot!
Must enter 6 Opens to be eligible to enter the Open Final
Enter 10 Opens and fish the Open Final Free
Safe Daylight – Weigh in Determined at Ramp
$100 Entry    Optional $25 side pot at each event!
Lews Product awarded at Final! 
1st Points       Fish 2020 Wateree Opens Free      
2nd Points      $550         3rd Points      $350                                                                     
4th Points      $250          5th Points      $200
6th Points      $150
A cold and windy day made for some tough fishing but a few of the teams figured em out! Wateree bass look to be fat and happy! Water temp was as high as 53 in some creeks and bait fish are in huge balls. If you're a Striper fisherman as well as a bass fisherman you can have some great days on Wateree chasing Stripers in the next couple of weeks!
Scott Williams & Robbie English win the 1st 2019 Wateree Open with 5 bass weighing 19.19 lbs! $600.00 1st Place & $475.00 BONUS $ $1,075.00 Total!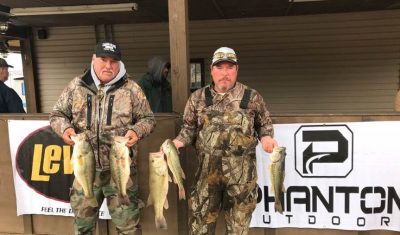 2nd went to Shane Cantley & Michael Richardson with 18.00 lbs!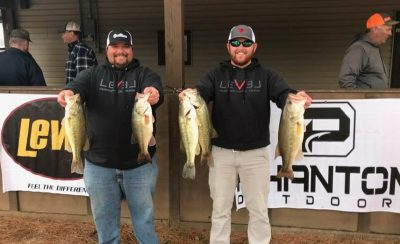 Ronnie Craps & Scott Peavy took 3rd with 17.94 lbs!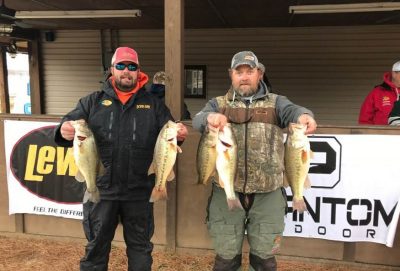 4th Jared Upchurch & Jason Byrd 15.33 lbs!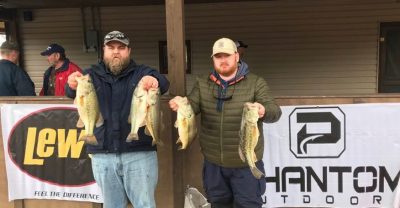 5th Rob Blackmon & Matt Nettles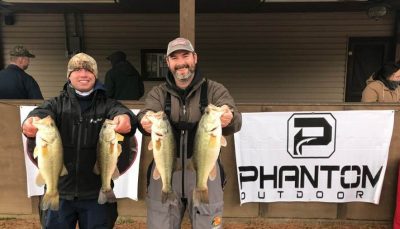 1st BF David Land David F Canupp 5.84 lbs!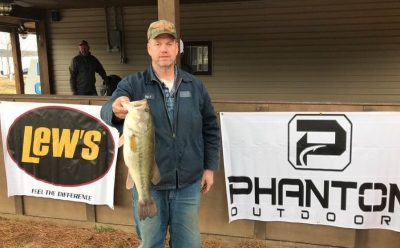 2nd BF Ella Keltner & Jacob Norris 5.73 lbs!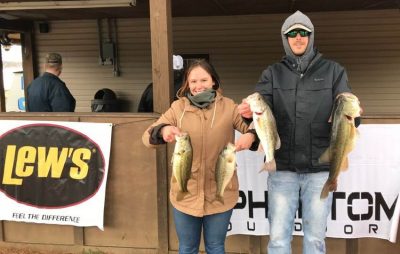 | | | | | |
| --- | --- | --- | --- | --- |
| | Big | Total | Total | |
| 22 Teams | Fish | Weight | Winnings | Points |
| Scott Williams – Robbie English | 5.01 | 19.19 | $1,075.00 | 110 |
| Shane Cantley – Michael Richardson | 5.20 | 18.00 | $330.00 | 109 |
| Scott Peavy – Ronnie Crapps | 4.43 | 17.94 | $175.00 | 108 |
| Jared Upchurch – Jason Byrd | 4.02 | 15.33 | $130.00 | 107 |
| Matt Nettles – Rob Blackmon | 4.63 | 13.63 | | 106 |
| Jacob Norris – Ella Keltner | 5.73 | 13.18 | $63.00 | 105 |
| Craig Haven – Paul Haven | 3.90 | 12.78 | | 104 |
| Sam Dowey – Tommy Moak | 0.00 | 10.53 | | 103 |
| Butch Williams – Sonny Beam | 0.00 | 10.48 | | 102 |
| Alan Fletcher – Donald Hinson ** | 3.11 | 7.32 | | 101 |
| Chase Mount – Caden Bramlett | 3.25 | 6.10 | | 100 |
| David Canupp & David Canupp | 5.84 | 5.84 | $147.00 | 99 |
| Scott Floyd – Greg Corvin | 3.38 | 3.38 | | 98 |
| Brad Petway – Brett Collins | 0.00 | 0.00 | | 97 |
| Hunter Williams – Dylon Cox | 0.00 | 0.00 | | 97 |
| Chad Gainey – Mack Kitchens | 0.00 | 0.00 | | 97 |
| Max Price – Brent Neal | 0.00 | 0.00 | | 97 |
| Thomas Richmond | 0.00 | 0.00 | | 97 |
| Jeff Reynolds – Scott Robinson | 0.00 | 0.00 | | 97 |
| Jerry Freezon – Kareem White | 0.00 | 0.00 | | 97 |
| Jason Bateman – Steve Phillips | 0.00 | 0.00 | | 97 |
| Jimmy McFarland – Calvin Griggs | 0.00 | 0.00 | | 97 |
| 2019 Wateree Open Final Fund | | | $315.00 | |
| 2019 Wateree Open Final Fund Total | | | $315.00 | |
| 2019 Wateree Open Point Fund | | | $100.00 | |
| **2018 Point Winners Free Entry | | | | |
| 2019 Pt Winners Receive Free Entry 2019 | | | | |
| Teams 2-6 In Points Receive $$ | | | | |