Next CATT Cooper River Fall Qualifier is Oct 9th at Cypress Gardens!
We had a great crowd this past Saturday with 32 teams entering the 2nd Cooper River Fall Qualifier! Will Smith & Bill Holmes came out on top with a fat sack of Cooper River Bass weighing up at 19.12 lbs! They also weighed in the Academy BF at 5.75 lbs and took home a total of $1,235.00!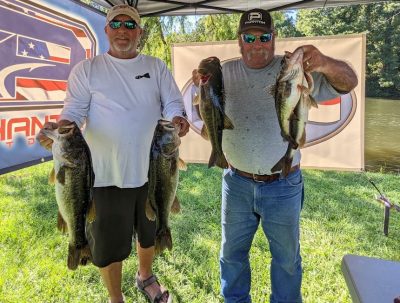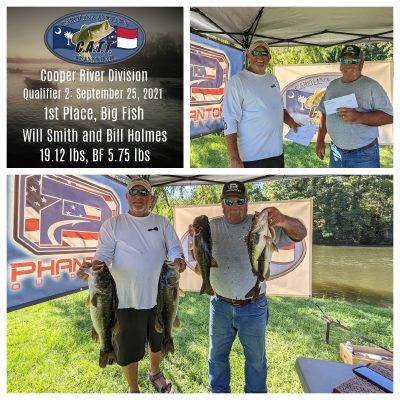 2nd Place went to Kyle Welch & James Fender with 16.63 lbs!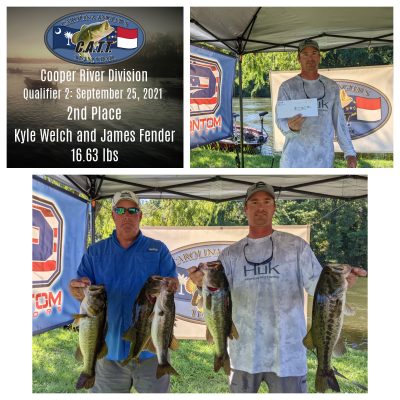 3rd Place John Campbell 14.04 lbs!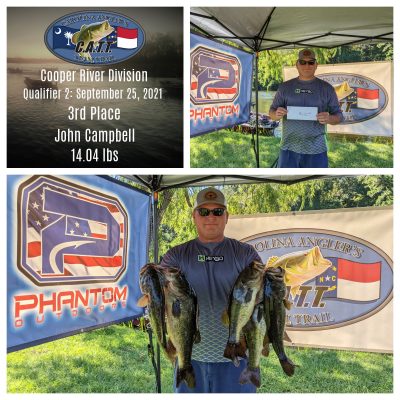 4th Place Michael Craven & Justin Craven 13.32 lbs!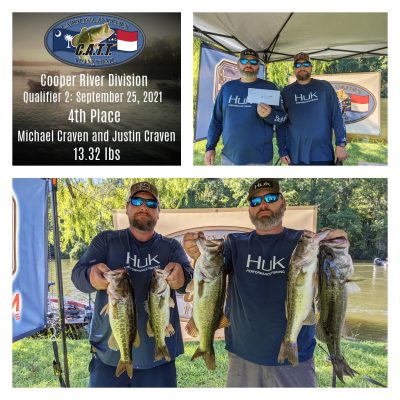 Jonathan Brindle & Justin Harvey claimed 5th with 12.13 lbs!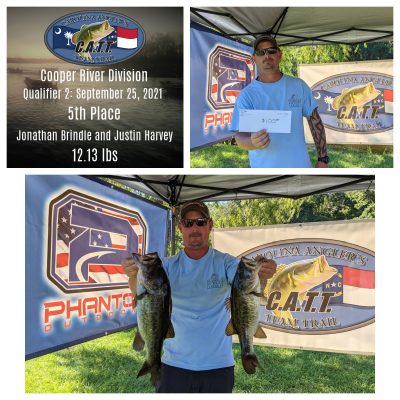 Last money paying place went to James Skelton with 11.80 lbs!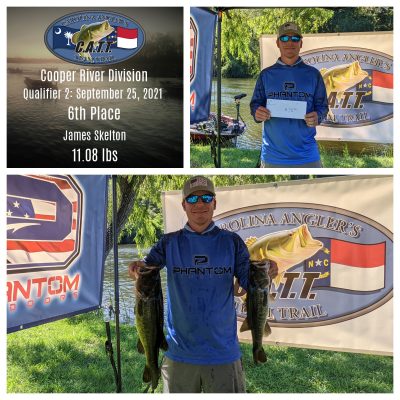 | | | | | |
| --- | --- | --- | --- | --- |
| Team | BF | Weight | Winnings | Points |
| Will Smith Bill Holmes | 5.75 | 19.12 | $1,235.00 | 110 |
| James Fender Kyle Welch | 0.00 | 16.63 | $285.00 | 109 |
| John Campbell | 0.00 | 14.04 | $180.00 | 108 |
| Michael Craven Justin Craven | 0.00 | 13.32 | $135.00 | 107 |
| Jonathan Brindle Justin Harvey | 0.00 | 12.13 | $100.00 | 106 |
| James Skelton | 0.00 | 11.80 | $75.00 | 105 |
| Joe Joseph Giampa | 0.00 | 11.39 | | 104 |
| David Driggers Darrell Glenn | 0.00 | 10.87 | | 103 |
| Clay Kolb Jeffrey Peralta | 0.00 | 10.58 | | 102 |
| Shawn Hanna Dale Hanna | 0.00 | 10.47 | | 101 |
| David Murdaugh Sr. | 0.00 | 10.37 | | 100 |
| Brian Surowiec Walt Cumbie | 0.00 | 9.22 | | 99 |
| Edward Punchak Michael Dibello | 0.00 | 9.04 | | 98 |
| Chris McCabe Jacob Hatcher | 0.00 | 9.03 | | 97 |
| Johnny Watkins Aaron Watkins | 0.00 | 8.55 | | 96 |
| Chris Blanchette Shawn Callihan | 0.00 | 8.49 | | 95 |
| Matt Baker Charlie Baker | 0.00 | 7.78 | | 94 |
| Glen Garner Ervin Garner | 0.00 | 7.68 | | 93 |
| Mike Ard Jeff Parsons | 0.00 | 7.63 | | 92 |
| Jeffery Mixson | 0.00 | 7.60 | | 91 |
| Randy Gibson Bubba Dennis | 0.00 | 6.95 | | 90 |
| Andy Rutledge | 0.00 | 6.76 | | 89 |
| Charlene Leach Casey Leach | 0.00 | 6.29 | | 88 |
| Chris Weaver Phillip Write | 0.00 | 4.81 | | 87 |
| James Roy Jr Robison William Gregory | 0.00 | 0.00 | | 77 |
| Willie Weatherford Carlos Canals | 0.00 | 0.00 | | 77 |
| Paul Gaskins | 0.00 | 0.00 | | 77 |
| Terry Silliman Mitchell Bowers | 0.00 | 0.00 | | 77 |
| Matt Judy Danny Snider | 0.00 | 0.00 | | 77 |
| Billy Brunson | 0.00 | 0.00 | | 77 |
| Travis Gatlin Grant Powell | 0.00 | 0.00 | | 77 |
| Total Entrys | | | $1,600.00 | |
| BONUS $ | | | $575.00 | |
| Total Paid At Ramp | | | $2,010.00 | |
| Cooper River 2021 Fall Final Fund | | | $155.00 | |
| 2022 CATT Championship Fund | | | $10.00 | |
| Cooper River 2021 Fall Final Fund Total | | | $265.00 | |
| 2022 CATT Championship Fund | | | $0.00 | |