The next Old North Spring Qualifier is April 29th at Jordan Lake launching from Farrington Point!
The Makeup date for the Falls Qualifier that was postponed April 8 will be May 7th at Ledgerock!
We have 4 Old North Spring Qualifiers left! Old North Spring Final
$8,000

1st Place GUARANTEED!
Only enter 4 Old North Spring Qualifiers to be eligible to enter the Old North Spring Final on Falls!
David Farmer – Matt Deese are our Point Leaders after the Kerr event! 2023 Old North Point Winners fish the 2024 Old North Qualifiers FREE!
We started off with a lot of fog Saturday morning but somehow at 6:45 we were ready to go! The water was risen but the fishing was tough as far as finding the big bite!
Check out our top 3 winners paychecks guys! We had 62 teams enter!
1st – $3,536.00! 2nd – $1.920.00 – 3rd $1,614.00 – (All were in Side Pot 1st & 2nd BF)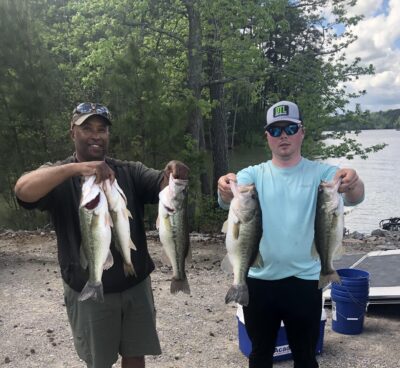 Glenn Eskins & Joseph Sharpe won a close one! Taking 1st Place with 16.60 lb PLUS the 2nd BF at 4.65 lbs, they beat out the 2nd Place team by .02 and took home a total of $3,536.00!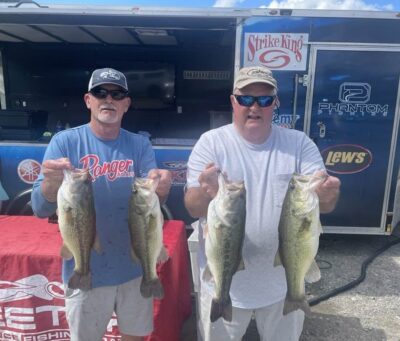 Chuck Byrd & Jerry Marshburn claimed 2nd with 5 bass weighing 16.58 lbs! They took home $1,920.00!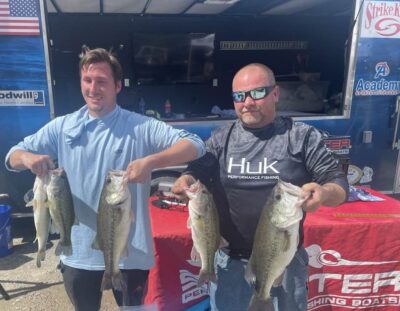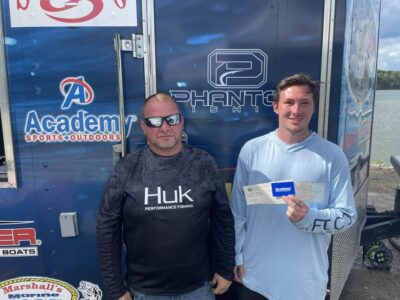 Tyler & James Richmond finished 3rd with 15.38 lbs and weighed in the Academy BF at 4.87 lbs! They took home a total of $1,614.00 PLUS a $25 Academy Gift Card!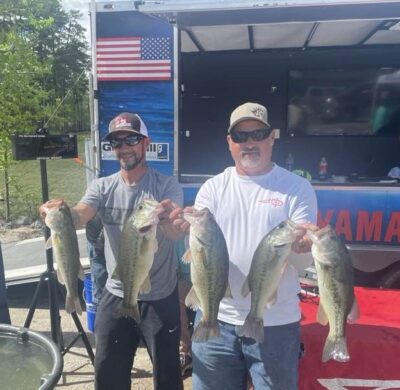 Jeremy Moody & Licas Lobaugh claimed the 4th place spot with 14.85 lbs!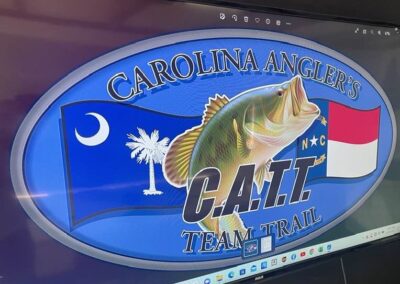 | | | | | |
| --- | --- | --- | --- | --- |
| Team | BF | Weight | Winnings | Points |
| Joseph Sharpe – Glenn Eskin | 4.65 | 16.60 | $3,536.00 | 110 |
| Jerry Marshburn – Chuck Byrd | 3.91 | 16.58 | $1,920.00 | 109 |
| James Richmond – Tyler Richmond | 4.87 | 15.38 | $1,614.00 | 108 |
| Jacob Moore – Austin Woody | 3.37 | 14.91 | $600.00 | 107 |
| Lucas Lobaugh – Jeremy Moody | 3.86 | 14.85 | $435.00 | 106 |
| David Farmer – Matt Deese | 3.35 | 14.56 | $335.00 | 105 |
| Jeff Beasley – Park Beasley | 3.60 | 14.47 | $300.00 | 104 |
| Vincent Jones – Cleton Barber | 3.51 | 14.34 | $230.00 | 103 |
| Mike Eggers – Mark Willis | 4.50 | 14.21 | $200.00 | 102 |
| Joe Osbourne – John Pilcher | 4.08 | 14.08 | $175.00 | 101 |
| Cullen Ports – Hunter Woodlief | 3.70 | 13.76 | $165.00 | 100 |
| Todd Sumner – Rich Z | 3.73 | 13.32 | $150.00 | 99 |
| Johnny Howard – William Howard | 2.93 | 13.32 | | 98 |
| Eric Schell – Todd Smith | 2.92 | 13.30 | | 97 |
| Justin Ingle – Lee Gay | 3.47 | 13.19 | | 96 |
| Mike & Jonathan Rhew | 2.94 | 13.13 | | 95 |
| James Davis – Deloris Davis | 4.16 | 13.11 | | 94 |
| Billy West – Curtis Vaughn | 3.39 | 13.00 | | 93 |
| Allen White – Mike Vaughan | 3.38 | 12.98 | | 92 |
| David Walton – Justin Young | 3.48 | 12.94 | | 91 |
| Chris Inscoe – Landon Inscoe | 2.92 | 12.65 | | 90 |
| Eric Christian – Matt Harrison | 4.20 | 12.50 | | 89 |
| Eddy Glascock – Billy Dunn | 2.68 | 12.43 | | 88 |
| Johnny Wood – Zack Holland | 3.00 | 12.29 | | 87 |
| Scott Smith | 3.40 | 12.26 | | 86 |
| Bud Whitt – Spencer Moody | 2.83 | 12.24 | | 85 |
| Tim Nobles – Kevin Hayslett | 2.91 | 12.04 | | 84 |
| Calton Hall – Jason Suggs | 3.97 | 11.97 | | 83 |
| Dennis Allen – Keith Allen | 3.64 | 11.88 | | 82 |
| Matthew Little – Derek Bowden | 3.06 | 11.79 | | 81 |
| Tyler Sessoms – Kyle Hunnicutt | 2.93 | 11.63 | | 80 |
| Alec Lower – Richard Lower | 0.00 | 11.58 | | 79 |
| Justin Rhew – Roger Clary | 2.93 | 11.51 | | 78 |
| Mike Marchant – Bradley McLaurin | 0.00 | 11.39 | | 77 |
| Terry Amen – Casey Johnson | 3.37 | 11.31 | | 76 |
| Donald Coleman – Bryan Cockrell | 2.62 | 11.26 | | 75 |
| Travis Watson – Shannon Stewart | 0.00 | 10.99 | | 74 |
| Brian Benish – Ashley Ivey | 2.57 | 10.83 | | 73 |
| Mark Herndon – Bobby Houser | 0.00 | 10.64 | | 72 |
| Ronnie Britt – Dillon Britt | 0.00 | 10.62 | | 71 |
| Mark Williams – Tim Goad | 2.70 | 10.59 | | 70 |
| Jay Fogleman | 0.00 | 10.55 | | 69 |
| Rick Dunstan – Mike Farrell | 2.61 | 10.35 | | 68 |
| DJ Myslinski- Dean Myslinski | 0.00 | 10.25 | | 67 |
| Larry Hipps – Dean Larison | 0.00 | 10.10 | | 66 |
| Michael Maull | 0.00 | 10.09 | | 65 |
| Jonathan Holloway – Brian West | 0.00 | 10.02 | | 64 |
| David Bullock – Jimmy Henderson | 0.00 | 9.19 | | 63 |
| Jason Garrett – Sam Snipes | 0.00 | 9.08 | | 62 |
| Scott Woodson – Nathan Reeves | 0.00 | 8.97 | | 61 |
| Joshua Lanaville – Timothy Davis | 0.00 | 8.26 | | 60 |
| Timmy Ferrell – Howard Bohannon | 0.00 | 7.92 | | 59 |
| Geno McCree – Phillip Johnson | 0.00 | 7.53 | | 58 |
| Michael Britt – Heath Britt | 0.00 | 6.22 | | 57 |
| Dale Delaney Jr – Mike Salguero | 2.45 | 5.13 | | 56 |
| John McClelland – Larry Godfrey | 0.00 | 0.00 | | 46 |
| Greg Lahr – Jackson Lahr | 0.00 | 0.00 | | 46 |
| Jerry Dean – Robert Dean | 0.00 | 0.00 | | 46 |
| Hal Caldwell | 0.00 | 0.00 | | 46 |
| Chris Daniels – William Johnson | 0.00 | 0.00 | | 46 |
| Stump Bledsoe – Glenn Elliott | 0.00 | 0.00 | | 46 |
| Chris McDuffie – Greg Creech | 0.00 | 0.00 | | 46 |
| Total Entrys | | | $8,540.00 | |
| BONUS $ | | | $2,250.00 | |
| Total Paid At Ramp | | | $9,660.00 | |
| Old North 2023 Spring Final Fund | | | $1,000.00 | |
| CATT | | | $50.00 | |
| 2023 CATT Championship Fund | | | $50.00 | |
| 2023 Old North Spring Final Fund Total | | | $3,100.00 | |