Next Tidewater CATT Qualifier is April 9 at Edenton Bay launching from the Pembroke Ramp!
Mother nature turned the fan on high for our tournament on the Perquimans today! 44 boats put it in the wind this morning and did there best to bring 5 fish to the scales. The big fish were a bit scarce today. There were a couple teams that separated themselves from the field and things got tight after those teams.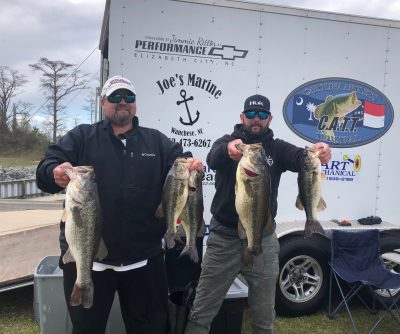 Big Congrats to the team of Gary Debrito and Derek(hop along) Goodman for overcoming some injuries to take home the first place money totaling $2,695.00  for a 19.32 bag that included a 7.75lb big fish!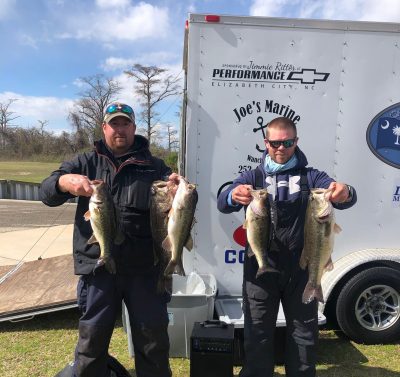 The team of Josh Powell and Eric Rountree didn't let a suicidal deer on the way to the ramp this morning stop them from showing up and weighing in a 18.92 lb limit for a second place finish.
3rd Tyler Jones/Kevin Jones 17.69 lbs
4th Mike Chlomoudis/Gage Chlomoudis 14.36lbs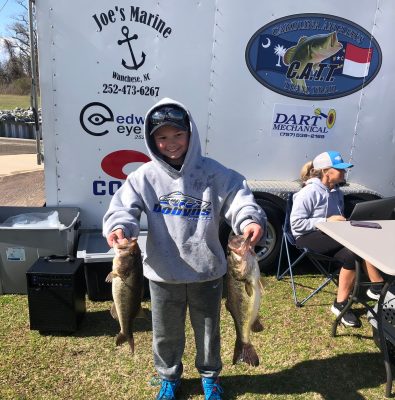 5th Kirk Nixon/Trent Nixon 13.47lbs
6th David Shaffer/Scott Shaffer 13.30 lbs
7th Zach Warner/David Tatem 13.22 lbs
8th Brian Cooper/ Mike Evans 13.15 lbs
| | | | | |
| --- | --- | --- | --- | --- |
| Team | BF | Weight | Winnings | Points |
| Derek Gordman/ Gary Debrito | | 19.32 | $2,695.00 | 110 |
| Eric Rountree/ Josh Powell | 5.33 | 18.92 | $825.00 | 109 |
| Tyler Jones/ Kevin Jones | 5.34 | 17.69 | $525.00 | 108 |
| Mike Chlomoudis/ Gage Chlomoudis | 5.01 | 14.36 | $400.00 | 107 |
| Kirk Nixon/ Trent Nixon | 0.00 | 13.47 | $300.00 | 106 |
| Scott Shaffer/ David Shaffer | 3.84 | 13.30 | $225.00 | 105 |
| Zachary Warner/ David Tatem | 4.80 | 13.22 | $180.00 | 104 |
| Brian Cooper/ Mike Evans | 0.00 | 13.15 | $140.00 | 103 |
| Jordan Sanderlin/ Andrew George | | 12.59 | | 102 |
| Rick Plemmons/ Chris Pike | 3.45 | 12.28 | | 101 |
| Russell Gammon | 4.27 | 12.19 | | 100 |
| Joe Glazebrook/ Chris Carmel | 4.26 | 11.72 | | 99 |
| Brandon Johnson/ Eugene Foushee | 2.74 | 11.50 | | 98 |
| Nick Meek/ Kyle Verkuilen | 0.00 | 11.49 | | 97 |
| Ray Cobb/ Mark Moritz | | 11.42 | | 96 |
| Al Biagioni/ John LaRock | 4.62 | 11.32 | | 95 |
| Tommy Houlroyd/ Darren Saunders | 3.28 | 11.26 | | 94 |
| JP Scott/ Mike Scott | 3.55 | 10.95 | | 93 |
| Scott Rock/ Jaden Rock | 0.00 | 9.90 | | 92 |
| Tommy Banks/ Bubba Banks | 2.29 | 9.69 | | 91 |
| Brian Richardson/ David Buchanan | 0.00 | 9.39 | | 90 |
| Brent Thomas/ Ethan Thomas | 5.06 | 9.32 | | 89 |
| Billy Saunders/ Brian Jackson | 4.38 | 9.29 | | 88 |
| Larry Barefoot/Roy Acey | 4.52 | 9.25 | | 87 |
| Zach Boslau/ Jimmie Ritter | 3.05 | 8.75 | | 86 |
| Steve Brickhouse/ James Williams | 0.00 | 8.71 | | 85 |
| Mark Ingram/Bob Clarkson | 0.00 | 7.90 | | 84 |
| Doug Larson/ Susan Griffin | 0.00 | 6.73 | | 83 |
| Ronnie Ketchum/ Bennie Hendricks | | 6.54 | | 82 |
| Bob Gomez/ Eddie Tipton | 0.00 | 5.85 | | 81 |
| Jim Dick/ Greg Dick | 0.00 | 5.04 | | 80 |
| Jason Law/ Terry Lovell | | 4.32 | | 79 |
| Keith Jennings/ Scott Hickman | 0.00 | 4.17 | | 78 |
| Matthew Anderson | 0.00 | 2.57 | | 77 |
| Andy Morath/ Wayne Hayes | 2.30 | 2.30 | | 76 |
| Tony Baker | 0.00 | 1.87 | | 75 |
| Mike Knapp/ Ben Knapp | 0.00 | 0.00 | | 65 |
| Chris Turner/ Quintin Chapell | 0.00 | 0.00 | | 65 |
| Douglas Hewitt/ William Heighter | | 0.00 | | 65 |
| David Ward/ Vern Townsend | 0.00 | 0.00 | | 65 |
| Gerald Murray/ Spencer Murray | 0.00 | 0.00 | | 65 |
| Jeremy Gatewood/ Charlie Reed | | 0.00 | | 65 |
| Richard Griswold | 0.00 | 0.00 | | 65 |
| Nate Kilgore | | 0.00 | | 65 |
| John Robertson/ Patrick Robertson | 0.00 | 0.00 | | 65 |
| Total Entrys | | | | |
| BONUS $ | | | $575.00 | |
| Total Paid At Ramp | | | $5,290.00 | |
| 2022 Tidewater Final Fund | | | $425.00 | |
| 2022 CATT Championship Fund | | | $90.00 | |
| 2022 Tidewater Final Fund Total | | | $865.00 | |