The 1st CATT Clarks Hill Qualifier kicked off November 18th at Wildwood Park with 18 teams entering! Big thanks go to the good people at Greenfish Tackle for bring the CATT Trail to Clarks Hill! Next Clarks Hill Qualifier is December 9th at Willdwood. Remember guys we hold back a portion of each Clarks Hill Qualifier that goes into the Clarks Hill Final Fund….you can view the total at the bottom of the results sheet! At the Clarks Hill Final we add the Final Fund and Final entries together to make a larger payback at the Final!
Jon Hair & Chris Rodwell brought in a nice 5 bass limit totaling up to 17.45 lbs good enough for 1st Place. They also weighed in the 2nd BF at 5.38 lbs and took home $554.00!
2nd went to Speedy Gambrell & Bart Blackburn with 5 bass weighing 14.98 lbs and they earned $225.00!
Ray Fitzgerald & Mike Whitaker finished 3rd with a limit weighing 13.40 lbs. They received $100.00.
1st BF was weighed in by John Gutierrez & Jason Fletcher at 5.68 lbs and they took home $126.00!
---
| | | | | |
| --- | --- | --- | --- | --- |
| Team | Big Fish | Weight | Winnings | Points |
| Chris Rodwell – Jon Hair   2nd BF | 5.38 | 17.45 | $554.00 | 110 |
| Speedy Gambrell – Bart Blackburn | 3.99 | 14.98 | $225.00 | 109 |
| Ray Fitzgerald – Mike Whitaker | 4.34 | 13.40 | $100.00 | 108 |
| Donald Miller – Marty Quesada | 3.25 | 12.65 | | 107 |
| Hampton Roland – Brad Collins | 3.40 | 12.41 | | 106 |
| John Gutierez – Jason Fletcher    1st BF | 5.68 | 12.31 | $126.00 | 105 |
| Rodney Tapp – Bill McKie | 4.24 | 12.04 | | 104 |
| Shannon Jordan – Shawn Jordan | 4.18 | 11.81 | | 103 |
| Paula  Alexander – Jimmy Redd | 3.46 | 10.72 | | 102 |
| Reno Reasoner – Keith Willamson | 0.00 | 9.71 | | 101 |
| David Whyte – JC Whyte | 0.00 | 7.81 | | 100 |
| Steve Debord – Barry Thames | 4.68 | 7.43 | | 99 |
| Brent Boatwright | 0.00 | 7.41 | | 98 |
| Nathan Lively – Duane Lively | 0.00 | 0.00 | | 97 |
| Steve Story | 0.00 | 0.00 | | 97 |
| Tony Harpstrite – Charlie Doyle | 0.00 | 0.00 | | 97 |
| William Hooker – Oneal Johnson | 0.00 | 0.00 | | 97 |
| Jack Nelson – Casey Johnston | 0.00 | 0.00 | | 97 |
| Total Entrys | | | $1,440.00 | |
| BONUS $ | | | $0.00 | |
| Total Paid At Ramp | | | $1,005.00 | |
| Clarks Hill 2017 Fall Final Fund | | | $385.00 | |
| 2018 CATT Championship Fund | | | $50.00 | |
| | | | | |
| 2017 Clarks Hill Fall Final Fund Total | | | $385.00 | |
| 2018  CATT Championship Fund Total | | | $1,970.00 | |
---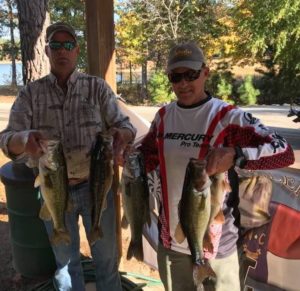 2nd Place Bart Blackburn – Speedy Gambrell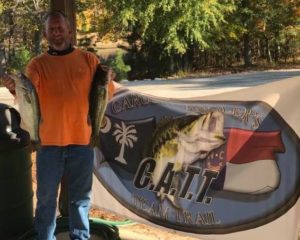 3rd Ray Fitzgerald – Mike Whitaker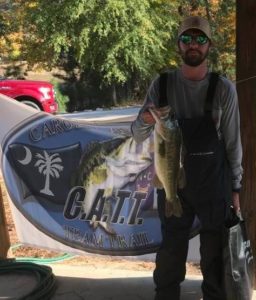 1st BF 5.68 lbs  Jason Fletcher – John Gutierez