We're off to a great start at the CATT Murray Fall Trail with 19 boats entering the 1st Qualifier this past Saturday at Dreher Island! Fishing is good so come on out and join us! Next Murray CATT is December 2nd at Dreher Island!
Johnny Mayer & Scott Roton took 1st Place with 5 bass weighing 16.26 lbs barely edging out the 2nd Place team! They weighed the 1st BF and took home the BONUS $ All total Johnny & Scott took home $973.00!
2nd went to Neil & Tim Huffstetler with a limit weighing 16.18 lbs and weighed the 2nd BF at 4.52 lb. They earned $332.00!
Last money paying place went to Joey Sabbagha & Dalton Dowdy with a limit weighing 15.49 lbs and they took home $125.00!
| | | | | |
| --- | --- | --- | --- | --- |
| | Big Fish | Weight | Winnings | Points |
| Johnny Mayer – Scott Roton   BONUS $ & 1st BF | 4.60 | 16.26 | $973.00 | 110 |
| Neil Huffstetler – Tim Huffstetler   2nd BF | 4.52 | 16.18 | $332.00 | 109 |
| Joey Sabbagha – Dalton Dowdy | 3.74 | 15.49 | $125.00 | 108 |
| Daniel Howell – George Berry | 3.17 | 14.37 | | 107 |
| Andy Wicker – Steve Wicker | 3.71 | 13.79 | | 106 |
| Tommy King – Clayton King | 3.00 | 12.34 | | 105 |
| Doug Lown – Rhett Manus | 3.12 | 11.96 | | 104 |
| Howard Stephens – Paul Hamm | 2.62 | 10.31 | | 103 |
| Dean Chapman | 2.38 | 8.74 | | 102 |
| Bernie Dreher – CB Dreher | 3.34 | 7.37 | | 101 |
| Jody Wright – Jay Wright | 4.04 | 7.27 | | 100 |
| Rager Farr – David Farr | 0.00 | 5.00 | | 99 |
| William Beard – Carl Horn | 0.00 | 4.45 | | 98 |
| Greg Lovelace – Mike Seawright | 0.00 | 0.00 | | 97 |
| Clay Riddle – Dave Franklin | 0.00 | 0.00 | | 97 |
| Ronnie Mueller – Vernie Haltiwanger | 0.00 | 0.00 | | 97 |
| Matt Mallohan – Josh Peace | 0.00 | 0.00 | | 97 |
| Troy Lytle – Justin Ware | 0.00 | 0.00 | | 97 |
| Phil Morris | 0.00 | 0.00 | | 97 |
| Total Entrys | | | $1,520.00 | |
| BONUS $ | | | $340.00 | |
| Total Paid At Ramp | | | $1,430.00 | |
| Murray 2017 Fall Final Fund | | | $380.00 | |
| 2018 CATT Championship Fund | | | $50.00 | |
| | | | | |
| 2017 Kerr Fall Final Fund Total | | | $380.00 | |
| 2018  CATT Championship Fund Total | | | $1,920.00 | |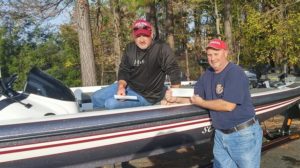 2nd Place Neil & Tim Huffstetler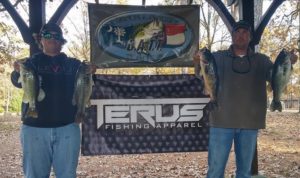 3rd Place Dalton Dowdy & Joey Sabbagha