Todd Butler & Jeff Furr takes home the Stratos 2x money this past Saturday at Robinson with a limit weighing 11.78 lbs! Add in the BONUS $ and the 1st BF at 3.70 lbs and they earned $1,370.00!
Jimmy McFarland & Calvin Griggs claimed 2nd with 8.00 lbs even and took home $260.00!
2nd BF went to Kyle McElveen & Cleve Yarborough with a 2.38 lb bass worth $40.00!
Next Robinson Qualifier is December 2nd!
| | | | | |
| --- | --- | --- | --- | --- |
| Team | Big Fish | Weight | Winnings | Points |
| Todd Butler/Jeff Furr   1st BF/Bonus$/Stratos 2x | 3.70 | 11.78 | $1,380.00 | 110 |
| Jimmy Mac/ Calvin Griggs  2nd Bonus $ | 0.00 | 8.00 | $260.00 | 109 |
| Kyle McElveen/Cleve Yarborough   2nd BF | 2.38 | 6.86 | $40.00 | 108 |
| Shon Fales/Andrew Campbell | 2.20 | 6.50 | | 107 |
| Ken/Jonny Lawhorn | 1.38 | 6.19 | | 106 |
| Roby Wyatt/Mike Prytula | 0.00 | 5.48 | | 105 |
| Ryan West | 0.00 | 5.22 | | 104 |
| Don Hall/Don Ostrander | 0.00 | 4.04 | | 103 |
| Steve Walker | 0.00 | 4.02 | | 102 |
| Shawn Gathings | 0.00 | 3.44 | | 101 |
| Mike Pastches | 0.00 | 1.82 | | 100 |
| Tanner Fletcher/Von McCoy | 0.00 | 0.00 | | 99 |
| James Johnson/Clay Hosteller | 0.00 | 0.00 | | 99 |
| Charlie Tanner/Dusty Richardson | 0.00 | 0.00 | | 99 |
| Total Entrys | | | $1,120.00 | |
| BONUS $ | | | $200.00 | |
| Total Paid At Ramp | | | $1,690.00 | |
| Robinson 2017 Fall Final Fund | | | $300.00 | |
| 2017 NC CATT Championship Fund | | | $30.00 | |
| | | | | |
| 2017 Robinson Fall Final Fund Total | | | $600.00 | |
| 2018 CATT Championship Fund Total | | | $2,000.00 | |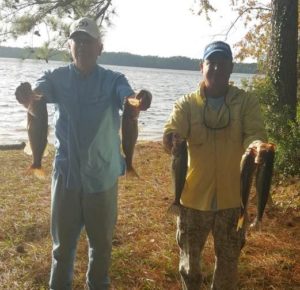 2nd Place Jimmy McFarland & Calvin Griggs