Guys, we will plan to hold the SML Phantom Outdoors Invitational again in the Fall of 2022! Thanks for fishing with us!
Brandon & Ben Reynolds make it 2 in a row with 5 bass weighing 21.20 lbs! All total they took home $3,515.00!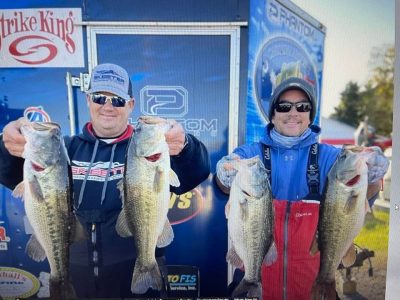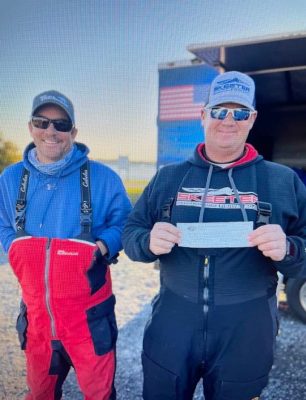 Billy Khols & Will Petty took 2nd with 5 bass weighing 17.46 lbs worth $2,120.00! They brought in the BIG Largemouth at 6.81 lbs! Billy & Will received a $100 Lews Strike King Gift Card as well!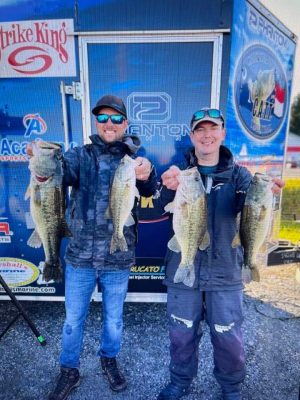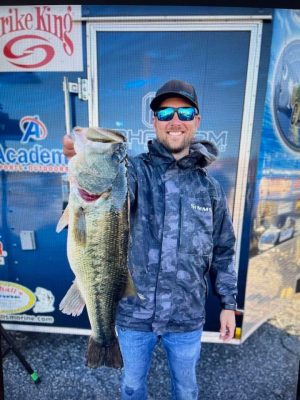 Kevin & Joey Dawson collected $890.00 for their 3rd place finish with 13.77 lbs!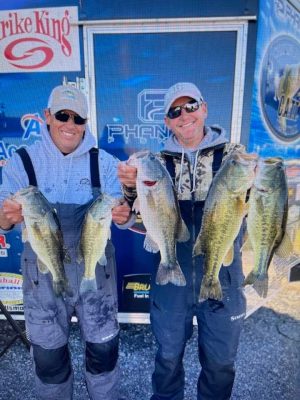 4th went to Brian Calloway & Tony Toombs with 13.38 lbs!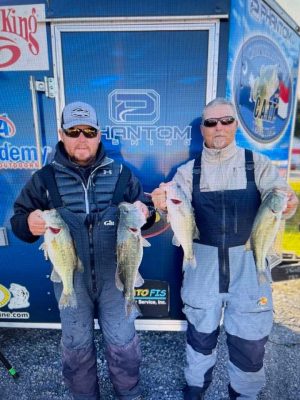 | | | | |
| --- | --- | --- | --- |
| Team Names | BF | Weight | Winnings |
| Ben & Brandon Reynolds | 4.88lg | 21.20 | $3,515.00 |
| Billy Khols / Will Petty | 6.81jg | 17.46 | $2,120.00 |
| Kevin & Joey Dawson | 3.89lg | 13.77 | $890.00 |
| Brian Calloway / Tony Toombs | 5.25lg | 13.38 | $200.00 |
| Tim Thurman / Thomas Jarrell | 3.95lg | 13.17 | |
| Steve Crist / Dennis Stump | 6.40lg | 12.75 | |
| Charlie Davis | 2.57sm | 12.32 | $250.00 |
| John Cole / Jay Nicely | 3.22lg | 11.94 | |
| Brandon Pritchett / Robert Parker | 3.13lg | 11.81 | |
| William Johnson / Robert Ford | 1.16sm | 11.74 | |
| Elliott & Chad Pilson | 0.00 | 10.66 | |
| Hunter Weilke / Andrew Thomasson | 0.00 | 8.02 | |
| Ryan & Wayne Mace | 0.00 | 7.96 | |
| Kenneth Sterne / Brett Will | 5.15lg | 7.18 | |
| Matt Harmon / Bryan Harlow | 0.00 | 5.03 | |
| Joey Talbot / Matt Lawson | 4.83lg | 4.83 | |
| Ryan Parnell / Chip Woody | 0.00 | 4.39 | |
| Mark Winn / Mike Nichols | 0.00 | 0.00 | |
| Robert Barton / Randy Smith | 0.00 | 0.00 | |
| Brian Vascovich | 0.00 | 0.00 | |
| Clayton Harvey / Larry Witt | 0.00 | 0.00 | |
| Shannon Breeding / Jake Flournoy | 0.00 | 0.00 | |
| Scott Stiltner / Wasena Muse | 0.00 | 0.00 | |
| Justin Mediros / Matt Powwers | 0.00 | 0.00 | |
| Dylan Gauldin / Tyler Calloway | 0.00 | 0.00 | |