We had another great crowd at the 2nd Phantom Outdoors Invitational on Santee Cooper, SC! Loads of bass over 6 pounds were brought in with 25 bags over 20 lbs! We want to especially think the Clarendon County Chamber of Commerce for hosting the 2022 Santee Cooper Phantom Outdoor Invitational! Visit their Facebook page and check out the many attractions in Clarendon County! Tap on the Clarendon County logo and take a look!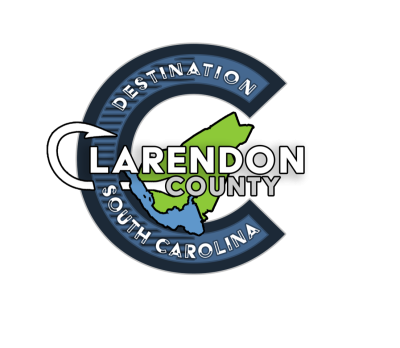 104 teams were treated some good food! We plan to have some food for the next Phantom event on Santee! Thanks to Johnny Houser & Robert Hall!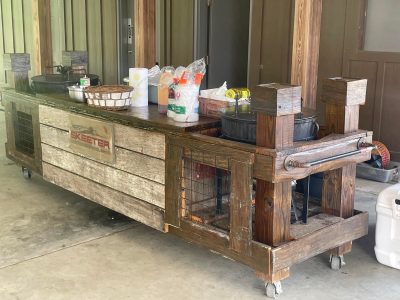 Santee Cooper showed what she could put out! It took over 20 lbs just to brake in the top 25 lbs! The top 25 teams alone weighed in 550 lbs of bass! Multiple bass over 6 lbs were weighed in! What a special place in the bass fishing world!
Nathan Burgess & Brent Riley brought in hefty sack of Santee Cooper bass weighing up at 32.56 lb to earn 1st Place! They received the $10,000.00 1st Place prize plus another $5,000.00 in Side Pot money for a total of $15,000.00!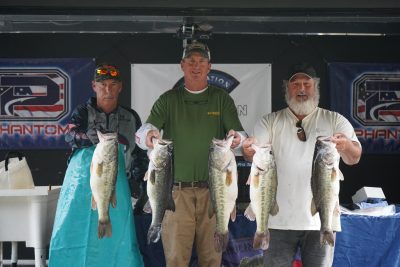 2nd Place went to Chris Marshall & Jody Wright with 5 bass weighing up at 29.44 lbs! They earned $2,000.00 for 2nd Pace Plus another $2,800.00 in side pot money pushing their total winnings to $4,800.00!
Koby Harvey & Bryan Cook took 3rd Place with 5 bass weighing 26.50 lbs! They claimed a $1,500.00  check for 3rd plus another $1,350.00 in side pot money for a total of $2,850.00!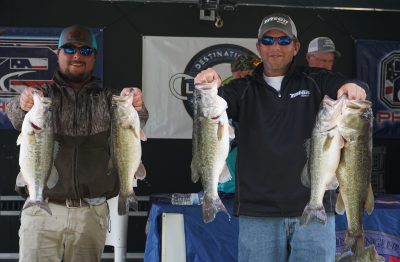 Craig McFadden & Mike Watson came in 4th with 25.88 lbs plus they weighed the 2nd BF at 8.10 lbs! Craig & Mike took home $1,315.00!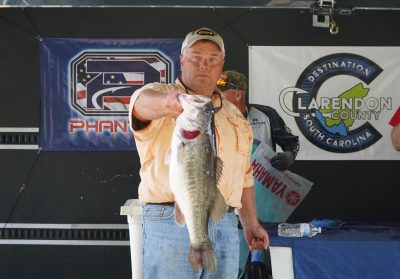 Brian Scott fishing solo claimed 5th with 25.66 lbs worth $800.00!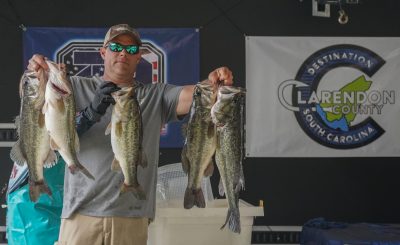 6th Place Sandy & Earnest Montgomery with 25.61 lbs! They won $700.00!

7th Place Patrick & Reese Williams with 25.21 lbs! $600.00!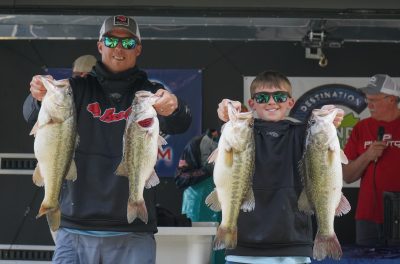 Mark Hutson 8th with 25.00 lbs!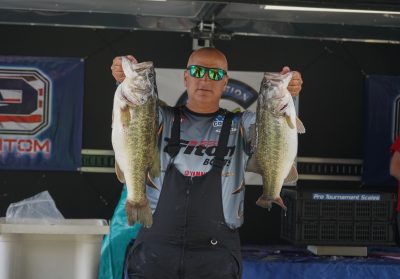 Frank & Tanner Shultz weighed in the Academy BF at 8.34 lbs worth $725.00 PLUS 2 $25 Academy Gift Cards!

Thanks for fishing guys! Check out the rest of the pictures from this past weekend!
| | | | |
| --- | --- | --- | --- |
| 104 Teams | BF | Weight | Winnings |
| Brent Riley – Nathan Burgess | 7.91 | 32.56 | $15,000.00 |
| Jody Wright – Chris Marshall | 7.23 | 29.44 | $4,800.00 |
| Bryan Cook – Koby Harvey | 7.82 | 26.50 | $2,850.00 |
| Craig McFadden – Mike Watson | 8.10 | 25.88 | $1,3150.00 |
| Brian Scott | 6.71 | 25.66 | $800.00 |
| Sandy Montgomery – Earnest Montgomery | 7.60 | 25.61 | $700.00 |
| Patrick Williams – Reece Williams | 6.30 | 25.21 | $600.00 |
| Mark Hutson | 7.29 | 25.00 | $500.00 |
| Sean Anderson – Daniel Howell | 0.00 | 24.90 | $450.00 |
| Shane Cantley – Chris Joyner | 0.00 | 23.95 | $425.00 |
| Will Timmons – Bennett Lawshe | 6.27 | 23.75 | $400.00 |
| Freddie Gamble – Quinne York | 6.42 | 23.65 | $350.00 |
| Jamie Glasscock – Max Terry | 0.00 | 22.72 | $300.00 |
| Todd Olds – Brian Maxwell | 7.05 | 22.11 | $250.00 |
| Chuck Howard – Ken Ellis | 0.00 | 21.80 | |
| Jordan Marlowe – Justin Marlowe | 0.00 | 21.76 | |
| Bill Holmes – Will Smith | 0.00 | 21.75 | |
| Rod Wren – Hunter Hackworth | 0.00 | 21.73 | |
| Scott – Brandon Spittle | 8.06 | 21.41 | |
| Pug Clements – Bryce Matthews | 0.00 | 21.09 | |
| Joseph Buddin – Joe Buddin | 0.00 | 20.96 | |
| Mike Davis – Jeff Fitts | 0.00 | 20.38 | |
| Ryan Bowles – Jason Riley | 0.00 | 20.24 | |
| Jay Adams | 5.78 | 20.21 | |
| Billy Willis – Glenn Porter | 0.00 | 20.04 | |
| John Willocks – David Murdaugh | 5.73 | 19.46 | |
| Brian – Austin Miller | 6.54 | 19.16 | |
| Randall – Wesley Barrineau | 0.00 | 19.09 | |
| Perry Holloway – Danny Lowery | 0.00 | 18.60 | |
| Lonnie Jones – Robert Clarke | 0.00 | 18.54 | |
| Wade Grooms | 0.00 | 18.48 | |
| Cooper Hopkins – Joel Hopkins | 0.00 | 18.41 | |
| Ed Paul – Nelson Walker | 6.59 | 18.41 | |
| Gary Elsey – Cecil Wolf | 0.00 | 18.33 | |
| Casey Warren – Reed Heard | 0.00 | 18.30 | |
| Ross Burn – Scott Farmer | 7.52 | 18.19 | |
| Alan Fletcher – Tanner Fletcher | 0.00 | 18.16 | |
| Tim Richardon – Gerard Kelly | 0.00 | 18.12 | |
| Robin Rodgers- Brad Shindledecker | 6.52 | 17.56 | |
| Mario Colangelo – Reid Colangelo | 0.00 | 17.47 | |
| Michael Craven – Randy Gibson | 0.00 | 17.25 | |
| JW Smith – Ben Nye | 6.35 | 16.80 | |
| Grayson Cook – Tim Chadwick | 0.00 | 16.76 | |
| Kenny Drew – Mitch Drew | 6.61 | 16.74 | |
| Shawn Benton – Greg Benton | 0.00 | 16.41 | |
| Walter Capps | 0.00 | 16.23 | |
| Brian Peagler – Jaydea Bazzle | 0.00 | 16.16 | |
| Mac Altman – Randall Miller | 0.00 | 16.05 | |
| Justin Cromer – Mark Barnes | 0.00 | 15.72 | |
| Gabriel Pearson – Robbie Drake | 5.19 | 15.53 | |
| Craig Jurgonski – Ben Deitzel | 6.94 | 15.25 | |
| Jamie Partee – Jay McCutchen | 0.00 | 14.62 | |
| Chad – Tony Cook | 0.00 | 14.55 | |
| Nick Thliveros – Ava Lowery | 0.00 | 14.25 | |
| Mack – Patrick Cook | 0.00 | 13.97 | |
| Horace Lee Scott Jr – Gordan Owens | 6.26 | 13.48 | |
| Brian Brunson – Chris Wrenn | 0.00 | 13.16 | |
| Timothy Oliver – J Weinberg | 6.89 | 13.07 | |
| Taylor Bond – Joe Hutchinson | 0.00 | 12.68 | |
| Timothy Moore – Ronnie Wilson | 0.00 | 12.41 | |
| Bobby Cox – Chase Marshall | 0.00 | 12.30 | |
| Hunter Solberg | 0.00 | 12.06 | |
| Jason Perrego – Bob Masher | 0.00 | 11.94 | |
| Frank – Tanner Shultz    | 8.34 | 11.26 | $725.00 |
| Danny – Anthony Shanz | 0.00 | 11.01 | |
| Mark Curry – Blake Thompson | 0.00 | 8.99 | |
| Kyle McElveen – Chris Edge | 0.00 | 6.53 | |
| Trey Locklair – Jackson Locklair | 0.00 | 6.39 | |
| Charles Bailey – Lisa Bailey | 0.00 | 5.95 | |
| Rusty Bullard – Eric Martin | 5.54 | 5.54 | |
| Jonathan Songer – Joey Timmerman | 5.34 | 5.34 | |
| Xan Costas – Lex Costas | 0.00 | 0.00 | |
| John Wilson – Cody Armstrong | 0.00 | 0.00 | |
| Mack Altman – Randall Miller | 0.00 | 0.00 | |
| Skeeter Wayne Crosby – Chris McDonald | 0.00 | 0.00 | |
| Robbie Murdaugh – Chandler Crosby | 0.00 | 0.00 | |
| Mason Miles – Andrew McLeod | 0.00 | 0.00 | |
| Ryan Drew – Butch Drew | 0.00 | 0.00 | |
| Bunn Tyson – Thad Driggers | 0.00 | 0.00 | |
| Eric Glenn – Kevin Fann | 0.00 | 0.00 | |
| Nathan Griffith – Jard Griffith | 0.00 | 0.00 | |
| Brett Fields – Randal Drew | 0.00 | 0.00 | |
| Clark Gibbs – Freddie Gibbs | 0.00 | 0.00 | |
| Donnie Levister – Brad Thompson | 0.00 | 0.00 | |
| Dustin Blair – Zach Blair | 0.00 | 0.00 | |
| Bucky DeBerry – Dennis Cox | 0.00 | 0.00 | |
| Micah Brown | 0.00 | 0.00 | |
| Austin Jernigen – Justin Williby | 0.00 | 0.00 | |
| James Gibbons | 0.00 | 0.00 | |
| Jamie Blackburn – Dale Carter | 0.00 | 0.00 | |
| Cal Marsh – James Thaxton | 0.00 | 0.00 | |
| Elvis Peagler – Jessica Diesel | 0.00 | 0.00 | |
| Trez Wienges – Josh Miller | 0.00 | 0.00 | |
| TJ Bancroft – Jimmy Bihlar | 0.00 | 0.00 | |
| Matt Murphy – Todd Smith | 0.00 | 0.00 | |
| Curt Causey – Bill Park | 0.00 | 0.00 | |
| Micah Bennett | 0.00 | 0.00 | |
| Ed Burnett – Freddie Edmunds | 0.00 | 0.00 | |
| Trey – Jamie Bryan | 0.00 | 0.00 | |
| Tim Hilton – Bucky Clark | 0.00 | 0.00 | |
| Jeff Canty – Henry McFadden | 0.00 | 0.00 | |
| Jason Barrett – Jason Miles | 0.00 | 0.00 | |
| Blake Morris – Tony McCallum | 0.00 | 0.00 | |
| Mark Cummings – Joel Richardson | 0.00 | 0.00 | |