Thanks to everyone who came out to support this great cause! The event was a huge success! Thanks to the Fishing Legends Live Crew helping out when someone is need! Check out their Podcast on Facebook Fishing Legends Live! Thanks to Anthony Williams with CATT who ran the weigh in!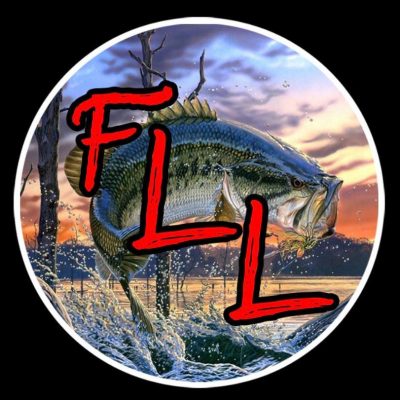 Roger Hoover & Chuck Poovey took 1st place with 5 bas weighing 16.84 lbs and they weighed in the BF at 5.95 lbs! All total Roger & Chuck took home $5,000.00! Great job guys!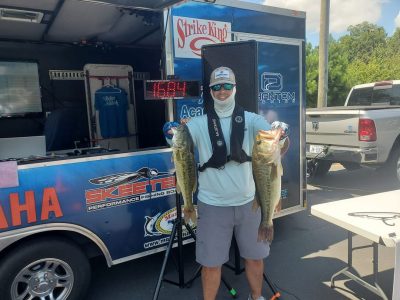 A total of 84 teams competed for a total purse of $11,750.00!
| | | | | | | | |
| --- | --- | --- | --- | --- | --- | --- | --- |
| Team Names | # FISH | # PEN | PEN | BF | WT | TTL Wt | |
| Roger Hoover / Chuck Poovey | 5 | 0.00 | 0.00 | 5.92 | 16.84 | 16.84 | $5,000.00 |
| Trace Bigelow / Mark Silverthorne | 5 | 0.00 | 0.00 | 4.31 | 14.21 | 14.21 | $2,000.00 |
| Rob & Aaron Digh | 5 | 0.00 | 0.00 | 3.02 | 13.82 | 13.82 | $1,000.00 |
| George Lauster / Austin Wike | 5 | 0.00 | 0.00 | 3.57 | 13.64 | 13.64 | $750.00 |
| Chuck Doughit | 5 | 0.00 | 0.00 | 3.63 | 13.29 | 13.29 | $650.00 |
| Mike Seawright / Steve Addington | 5 | 1.00 | 0.25 | 2.61 | 13.21 | 12.96 | $550.00 |
| Maurice Freeze / Chad Poteat | 5 | 0.00 | 0.00 | 3.70 | 12.86 | 12.86 | $450.00 |
| Daniel Cook / Matt McBee "TATER HOG" | 5 | 0.00 | 0.00 | 3.38 | 12.59 | 12.59 | $350.00 |
| David Hedrick / Sidney Reynolds | 5 | 0.00 | 0.00 | 3.43 | 12.51 | 12.51 | Prize Pack |
| Kaden Buchmann / Chase Wodzinski Mooresville HS | 5 | 0.00 | 0.00 | 2.87 | 12.25 | 12.25 | $1,000.00 |
| Stacy Gains / Billy Rochester | 5 | 1.00 | 0.25 | 3.45 | 12.44 | 12.19 | |
| Jeff & KJ Queen | 5 | 0.00 | 0.00 | 3.35 | 12.09 | 12.09 | |
| Lance Eckford / Kevin Thomas | 5 | 0.00 | 0.00 | 3.17 | 11.99 | 11.99 | |
| Steve Austin / Roger Wood | 5 | 0.00 | 0.00 | 4.40 | 11.92 | 11.92 | |
| Roger Pope / Michael Smith | 5 | 0.00 | 0.00 | 3.68 | 11.85 | 11.85 | |
| Chad Midkiff | 5 | 0.00 | 0.00 | 2.77 | 11.85 | 11.85 | |
| Dale Surrett / Brian Morgan | 5 | 1.00 | 0.25 | 2.76 | 12.06 | 11.81 | |
| Jessie Smith / Patrick Houpe | 5 | 0.00 | 0.00 | 3.69 | 11.26 | 11.26 | |
| Chris Carnes / Mike Stevens | 5 | 0.00 | 0.00 | 2.68 | 11.17 | 11.17 | |
| Mitch Burgin | 5 | 0.00 | 0.00 | 2.71 | 11.16 | 11.16 | |
| Hank Cherry / Norn Lowe | 5 | 0.00 | 0.00 | 3.10 | 11.00 | 11.00 | |
| Adam Parker / Tyler Black | 5 | 0.00 | 0.00 | 0.00 | 10.93 | 10.93 | |
| David Winters / Shane Lineberger | 5 | 0.00 | 0.00 | 3.84 | 10.92 | 10.92 | |
| Stephen & Cole Hicks A/C | 5 | 0.00 | 0.00 | 2.98 | 10.77 | 10.77 | $100.00 |
| Jonathan & Jon Luc Foster A/C | 5 | 0.00 | 0.00 | 2.45 | 10.38 | 10.38 | |
| Todd Farris / Michael Barber | 5 | 1.00 | 0.25 | 3.68 | 10.61 | 10.36 | |
| Jason Wilson / Kelly Logan | 5 | 0.00 | 0.00 | 2.51 | 10.19 | 10.19 | |
| David Lynch / JJ Morse | 5 | 0.00 | 0.00 | 2.74 | 10.05 | 10.05 | |
| Edward Louthen / Mark Gallinger | 5 | 0.00 | 0.00 | 2.84 | 9.78 | 9.78 | |
| Jonathan Carter / Matt Campbell | 5 | 0.00 | 0.00 | 3.26 | 9.43 | 9.43 | |
| Michael & Matt Peerlock | 4 | 0.00 | 0.00 | 0.00 | 9.05 | 9.05 | |
| Joe Mitchell / Ben Robertson | 4 | 0.00 | 0.00 | 3.75 | 8.89 | 8.89 | |
| Stephen Sutton / Chad Bagwell | 5 | 0.00 | 0.00 | 2.45 | 8.89 | 8.89 | |
| Alvin Shaw / Brent White | 5 | 0.00 | 0.00 | 0.00 | 8.45 | 8.45 | |
| Josuua & Maggie Queen A/C | 4 | 0.00 | 0.00 | 2.80 | 8.00 | 8.00 | |
| Jody Jones / Randy Childress | 4 | 0.00 | 0.00 | 0.00 | 7.90 | 7.90 | |
| Chris Dover / Chad Lail | 5 | 2.00 | 0.50 | 0.00 | 8.37 | 7.87 | |
| Joey Sabbagha / Dalton Dowdy | 5 | 0.00 | 0.00 | 0.00 | 7.83 | 7.83 | |
| Cody Furr / Dave Robowski | 4 | 0.00 | 0.00 | 0.00 | 7.81 | 7.81 | |
| Lucas Clark / Mark Chapman | 5 | 0.00 | 0.00 | 0.00 | 7.30 | 7.30 | |
| Hunter Alexander / Harrison McCall  Rowan HS | 4 | 0.00 | 0.00 | 0.00 | 7.08 | 7.08 | $600.00 |
| Steven Stone / Trey Holt | 3 | 0.00 | 0.00 | 0.00 | 7.06 | 7.06 | |
| Beau Winn / Cal Austin York Co. HS | 4 | 1.00 | 0.25 | 0.00 | 6.12 | 5.87 | $400.00 |
| Eric & Gavin Rumley A/C | 3 | 0.00 | 0.00 | 0.00 | 5.02 | 5.02 | |
| Kayson McDaniel / Jonathon Watson | 3 | 0.00 | 0.00 | 0.00 | 4.92 | 4.92 | |
| Mike & Lori Lankford | 1 | 0.00 | 0.00 | 4.86 | 4.86 | 4.86 | |
| Hayden Hammond / Drake Sturgill York Co. HS | 3 | 0.00 | 0.00 | 0.00 | 4.21 | 4.21 | |
| Tim Jolly / Shane Hartman | 1 | 0.00 | 0.00 | 3.91 | 3.91 | 3.91 | |
| Jay & Jaythan Carr A/C | 1 | 0.00 | 0.00 | 3.75 | 3.75 | 3.75 | |
| Dick & Gary  Reeger | 2 | 0.00 | 0.00 | 0.00 | 3.35 | 3.35 | |
| Michael & Will Sprouse A/C | 1 | 0.00 | 0.00 | 2.97 | 2.97 | 2.97 | |
| Joshua Howell / Michael Moore | 1 | 0.00 | 0.00 | 1.20 | 1.20 | 1.20 | |
| Vince & Mark Parker | 0 | 0.00 | 0.00 | 0.00 | 0.00 | 0.00 | |
| David & Andrew Burris | 0 | 0.00 | 0.00 | 0.00 | 0.00 | 0.00 | |
| Jason Land / Bryson Garland | 0 | 0.00 | 0.00 | 0.00 | 0.00 | 0.00 | |
| Conrad Pogorzelski / Russell Griggs | 0 | 0.00 | 0.00 | 0.00 | 0.00 | 0.00 | |
| Joel Cerv / Tim Harrington | 0 | 0.00 | 0.00 | 0.00 | 0.00 | 0.00 | |
| Austin Garland | 0 | 0.00 | 0.00 | 0.00 | 0.00 | 0.00 | |
| Scott & Dwight P-NUT Beattie | 0 | 0.00 | 0.00 | 0.00 | 0.00 | 0.00 | |
| Alex Rhoney / Garrett Buchannon | 0 | 0.00 | 0.00 | 0.00 | 0.00 | 0.00 | |
| Kirk & Zack McCraw | 0 | 0.00 | 0.00 | 0.00 | 0.00 | 0.00 | |
| Christian Johnson | 0 | 0.00 | 0.00 | 0.00 | 0.00 | 0.00 | |
| Rob & Noah Nicholson | 0 | 0.00 | 0.00 | 0.00 | 0.00 | 0.00 | |
| Johnny Thronburg / Rick Carson | 0 | 0.00 | 0.00 | 0.00 | 0.00 | 0.00 | |
| Joel Wilkins / Roger Childress | 0 | 0.00 | 0.00 | 0.00 | 0.00 | 0.00 | |
| Jeffery & Jacob Reese | 0 | 0.00 | 0.00 | 0.00 | 0.00 | 0.00 | |
| Bernie Davis / Conrad Manual | 0 | 0.00 | 0.00 | 0.00 | 0.00 | 0.00 | |
| Russell Hoyle | 0 | 0.00 | 0.00 | 0.00 | 0.00 | 0.00 | |
| Chad Salyer / Nate Bell York Co. HS | 1 | 0.00 | 0.00 | 1.31 | 0.00 | 1.31 | |
| David & Kenny Beard | 0 | 0.00 | 0.00 | 0.00 | 0.00 | 0.00 | |
| Derrick Greer / Caleb Dover | 0 | 0.00 | 0.00 | 0.00 | 0.00 | 0.00 | |
| Will Mitchell / Shane Sharpe | 0 | 0.00 | 0.00 | 0.00 | 0.00 | 0.00 | |
| Anthony Johnson | 0 | 0.00 | 0.00 | 0.00 | 0.00 | 0.00 | |
| Brent Davis / Eric Hess | 0 | 0.00 | 0.00 | 0.00 | 0.00 | 0.00 | |
| Jacob Smith | 0 | 0.00 | 0.00 | 0.00 | 0.00 | 0.00 | |
| Caleb Propst / Scott McGinnis | 0 | 0.00 | 0.00 | 0.00 | 0.00 | 0.00 | |
| Steven Brody Cox / Jacob Adams | 0 | 0.00 | 0.00 | 0.00 | 0.00 | 0.00 | |
| Bibb Wylie / Tony Talford | 0 | 0.00 | 0.00 | 0.00 | 0.00 | 0.00 | |
| Doug Hudgens / Scott Roberson | 0 | 0.00 | 0.00 | 0.00 | 0.00 | 0.00 | |
| Larry Fleeman | 0 | 0.00 | 0.00 | 0.00 | 0.00 | 0.00 | |
| Alan & Tanner Fletcher | 0 | 0.00 | 0.00 | 0.00 | 0.00 | 0.00 | |
| Jake Monti / Logan Anderson | 0 | 0.00 | 0.00 | 0.00 | 0.00 | 0.00 | |
| Matt Stout | 0 | 0.00 | 0.00 | 0.00 | 0.00 | 0.00 | |
| Jeff Johnson / Jerry Goble | 0 | 0.00 | 0.00 | 0.00 | 0.00 | 0.00 | |
| | | | | | | | |
| 5 High School Teams $1,000 $600 $400 | | | | | | | |
| 6 Adult Child Teams  $100.00 | | | | | | | |