Santee Cooper has been great this year and this has been our best Fall by far! The 2018 Spring CATT Santee Cooper Trail is posted so come on out! We had a record year in 2017 and 2018 is looking good!
Tim Hilton & Bucky Clarke took the win this past Saturday with 5 bass weighing 18.92 lbs and claimed the BONUS $. Add in the 2nd BF at 7.24 lbs and they took home $1,385.00!
Don Pendoris & Lee Taylor finished 2nd with 5 bass weighing 17.37 lbs and took home 475.00!
Mac Cook and Patrick Cook claimed 3rd with 17.12 lbs along with the 1st BF at 7.41 lbs. They collected $347.00! Mac & Patrick also took the Points win and will fish the Final Free!
Last money paying place went to Robert Clarke with 16.83 lbs and he took home $140.00!
Next up is the Santee Cooper Fall Final Dec 19th!
Team
Big Fish
Weight
Winnings
Points
Tim Hilton – Bucky Clarke
7.24
18.92
$1,385.00
220
Don Pendoris – Lee taylor
6.71
17.37
$475.00
218
Mac Cook – Patrick Cook
7.41
17.12
$347.00
216
Robert Clarke
4.05
16.83
$140.00
214
Ken Ellis – Chuck Howard
0.00
15.12
212
Chris Scott – Bucky DeBerry
0.00
13.83
210
Brad Beatson – Brian Scott
0.00
12.93
208
Clint Postell – Hayden Postell
0.00
12.13
206
Nelson Walker – Chris Brunson
0.00
11.96
204
Josh McGregor – Randall Driggers
0.00
11.63
202
Chad Crosby – Keith Britt
0.00
11.60
200
Bruce Peavy – Pee Wee Geddings
0.00
10.42
198
James McCutchen – Jamie Blackburn
0.00
10.04
196
Brad Swartz – Bryan Miller
0.00
7.38
194
Bunn Tyson – Thad Driggers
0.00
0.00
192
Thomas L & Thomas R. Mouzon
0.00
0.00
192
James Partee – Mathew Bradham
0.00
0.00
192
Jimmy Bass
0.00
0.00
192
Lonnie Jones – Johnny Buck
0.00
0.00
192
David Strickland – Sammie Grier
0.00
0.00
192
Danny Shanz – Cole Drummond
0.00
0.00
192
Total Entrys
$2,520.00
BONUS $
$320.00
Total Paid At Ramp
$2,345.00
Santee Cooper 2017 Fall Final Fund
$435.00
2018 CATT Championship Fund
$60.00
2017 Santee Cooper Fall Final Fund Total
$1,305.00
2018 CATT Championship Fund Total
$2,060.00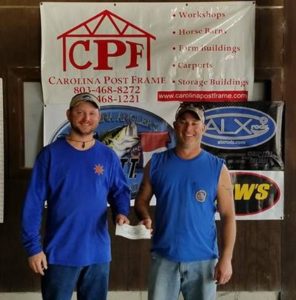 2nd Don Pendoris & Lee taylor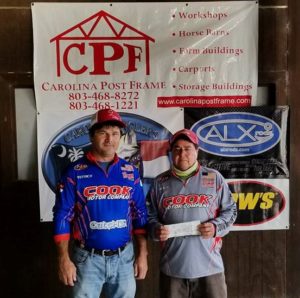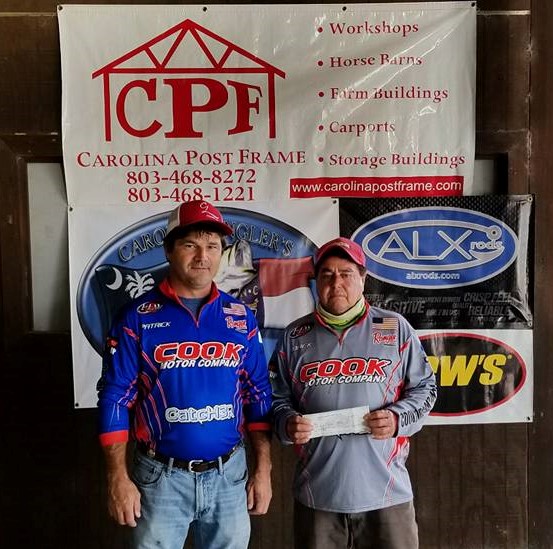 3rd Patrick & Mack Cook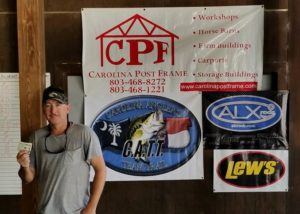 4th Robert Clarke