COLD!!! We've moved the Jan 6th SML Final to Jan 20th! Hopefully by then we will get a break from these temperatures!
Brian Calloway & William Hubbard finished the season off with a win weighing in 5 bass at 21.68 lbs!
They took the BONUS $ and weighed n the largest Largemouth at 6.58 lbs! All total they took home $715.00!
2nd went to Brandon & Ben Reynolds with 5 bass weighing 16.07 lbs and they took home $120.00! They also won the points and will fish the Final Free!
The largest Smallmouth was weighed in by Dennie Gilbert & Landon Siggers weighing  up at 4.09 lbs and they earned $35.00!
| | | | | |
| --- | --- | --- | --- | --- |
| Place | Big Fish | Weight | Winnings | Points |
| Brian Calloway and William Hubbard   BLM | 6.58 | 21.68 | $715.00 | 220 |
| Brandon & Ben Reynolds | 0.00 | 16.07 | $120.00 | 218 |
| Dennie Gilbert and Landon Siggers  BSM | 4.09 | 15.22 | $35.00 | 216 |
| Chad Pilson and Elliot Pilson | 0.00 | 12.28 | | 214 |
| Joey Talbot & Michael Dean | 0.00 | 0.00 | | 212 |
| Harold Olsen and Scott Heath  Big LM | 0.00 | 0.00 | | 212 |
| Gary Horsley and David Dehart    Big SM | 0.00 | 0.00 | | 212 |
| Total Entrys |   |   | $840.00 |   |
| BONUS $ |   |   | $180.00 |   |
| Total Paid At Ramp |   |   | $870.00 |   |
| SML 2017 Fall Final Fund |   |   | $110.00 |   |
| 2018 CATT Championship Fund |   |   | $75.00 |   |
| 2017 SML Fall Final Fund Total |   |   | $625.00 |   |
| 2018 CATT Championship Fund Total |   |   | $2,295.00 |   |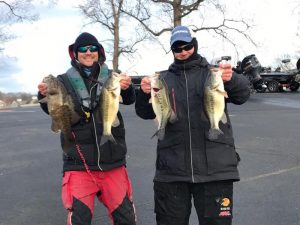 Ben & Brandon Reynolds 2nd Place