Bart Blackburn & Stewart Gambrell weighed in a fat sack of Clarks Hill bass at the 3rd Clarks Hill Fall Qualifier Jan 13th! Their 5 bass limit weighed up at 21.04 lbs good enough for $500.00
2nd went to Paul Gettys & Russell Clark with a limit weighing 20.14 lbs and they earned $415.00!
Jon Hair & Chris Rodwell took 3rd with 19.12 lbs and claimed $185.00!
Last money paying place went to Hamp Roland & Brad Collins with 19.02 lbs worth $100.00!


Name
Big Fish
Weight
Winnings
Points
Bart Blackburn – Stewart Gambrell
5.08
21.04
$500.00
110
Paul Gettys – Russell Clark
6.02
20.14
$415.00
109
Jon Hair – Chris Rodwell
6.02
19.12
$185.00
108
Hamp Roland – Brad Collins
6.02
19.02
$100.00
107
Charlie Doyle – Chris Toole
0.00
15.11
106
Steve Story
0.00
14.12
105
Chris Hadden – Mark B
0.00
14.02
104
John Guiterez – Jason Fletcher
5.11
11.08
103
Keith Williamson – Reno Reasoner
0.00
10.07
102
Duane Houk – Kevin McKee
0.00
10.07
101
Jeff Murray
0.00
0.00
100
Marty Quesada – Donald Miller
0.00
0.00
100
Matt Deufel – Nick Voss
0.00
0.00
100
Steve Debord – Barry Thames
0.00
0.00
100
Chad Hamm
0.00
0.00
100
Mike Whitaker – Ray Fitzgerald
0.00
0.00
100
Nick Kirkland – Robiie Mills
0.00
0.00
100
Casey Johnson – jack Melson
0.00
0.00
100
David Whyte – Bobby Gaston
0.00
0.00
100
Bill Mckie – Rodney Tapp
0.00
0.00
100
Eric Mora
0.00
0.00
100
Total Entrys
$1,600.00
BONUS $
$0.00
Total Paid At Ramp
$1,200.00
Clarks Hill 2017 Fall Final Fund
$350.00
2018 CATT Championship Fund
$50.00
2017 Clarks Hill Fall Final Fund Total
$1,035.00
2018  CATT Championship Fund Total
$2,365.00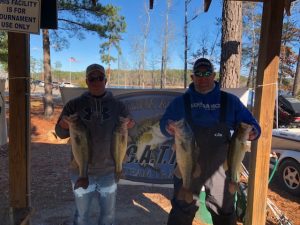 2nd Place Russell Clark & Paul Gettys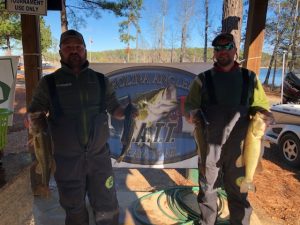 3rd Jon Hair & Chris Rodwell