Kyle Welch & John Campbell took 1st Place at the Cooper River Qualifier Saturday out of Cypress Landing! They brought in 5 bass weighing 24.50 lbs and the BF at 7.32 lbs. They took home $1,100.00 with the BONUS added in!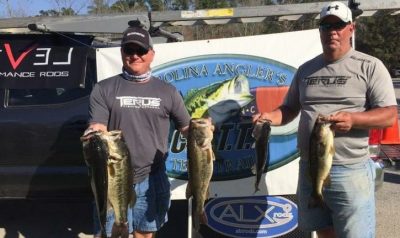 John & Kyle
2nd went to Travis Gatlin & Grant Powell with 5 bass weighing 21.33 lbs.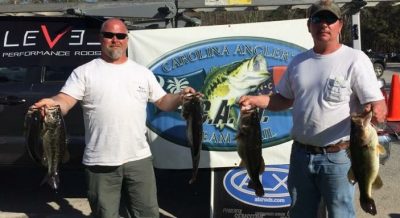 Travis & Grant
Next Cooper River CATT is March 10th at Cypress Gardens! We're looking to get close to 40 so come on out and join us!
| | | | | | |
| --- | --- | --- | --- | --- | --- |
|   |   | Big |   |   |   |
| Place | Team | Fish | Weight | Winnings | Points |
| 1 | Kyle Welch/John Campbell  BF & BONUS $ | 7.32 | 24.50 | $1,100.00 | 110 |
| 2 | Travis Gatlin/Grant Powell | 6.65 | 21.33 | $260.00 | 109 |
| 3 | Johnny Brinson/James White | 6.15 | 17.71 | $150.00 | 108 |
| 4 | Will Thompson | 5.56 | 16.59 | $110.00 | 107 |
| 5 | Jeremy Hewitt/Bill Lawshe | 0.00 | 15.82 | $90.00 | 106 |
| 6 | James Robison/William Gregory | 0.00 | 15.50 | | 105 |
| 7 | Matt Baker/Andrew Baker | 0.00 | 14.81 | | 104 |
| 8 | Greg Benton/Logan Benton | 0.00 | 14.58 | | 103 |
| 9 | Brett Fields/Randal Drew | 0.00 | 14.26 | | 102 |
| 10 | Kevin Powell/Jimmy McCants | 0.00 | 13.10 | | 101 |
| 11 | Corey Casey | 0.00 | 12.94 | | 100 |
| 12 | Dylan McConnell/Dave McConnell | 0.00 | 12.64 | | 99 |
| 13 | Randy Gibson/Bubba Dennis | 0.00 | 12.55 | | 98 |
| 14 | Robbie Powell/Josh Timmons | 0.00 | 10.46 | | 97 |
| 15 | Leah Bowzard/Allen Bowzard | 0.00 | 10.26 | | 96 |
| 16 | Joe Giampa/Gene Youngs | 0.00 | 10.15 | | 95 |
| 17 | Anthony Galloway/Ken Anderson | 0.00 | 10.00 | | 94 |
| 18 | Dale Lovelace | 0.00 | 9.49 | | 93 |
| 19 | Joe Hutchinson/Elvis Black | 0.00 | 9.43 | | 92 |
| 20 | Johnathan Singletary/Anthony Amerson | 0.00 | 8.66 | | 91 |
| 21 | Heath Hunter/Bruce Wheeler | 0.00 | 8.22 | | 90 |
| 22 | David Kelly/Kenny Clark | 0.00 | 7.86 | | 89 |
| 23 | Wesley Ragland/Chandler Ackermann | 0.00 | 7.72 | | 88 |
| 24 | Cody Carter/William Minus | 0.00 | 7.57 | | 87 |
| 25 | Kyle Howard/Josh Wilson | 0.00 | 2.53 | | 86 |
| 26 | Winston Martin/Neil Martin | 0.00 | 1.41 | | 85 |
| 27 | Tyler Black/Alex Altman | 0.00 | 0.00 | | 84 |
| 28 | Huner Hackworth/Brent Shuler | 0.00 | 0.00 | | 84 |
| | Total Entrys |   |   | $1,400.00 | |
| | BONUS $ |   |   | $460.00 | |
| | Total Paid At Ramp |   |   | $1,710.00 | |
| | Cooper River 2018 Spring Final Fund |   |   | $150.00 | |
| | 2018 CATT Championship Fund |   |   | 0.00 | |
| |   |   |   |   | |
| | Cooper River 2018 Spring Final Fund Total |   |   | $150.00 | |
| | 2018 CATT Championship Fund |   |   | $2,725.00 | |