We had 31 teams enter the 2nd Cooper River Spring Qualifier this past Saturday! Make plans to be at the next one as we continue to grow on the Cooper River! The 3rd Cooper River Qualifier is Mar 24th!
Will Smith & Tom Bancroft took the win with 5 bass weighing 25.92 lbs! They also took the BONUS $ and received a $1,000.00 check!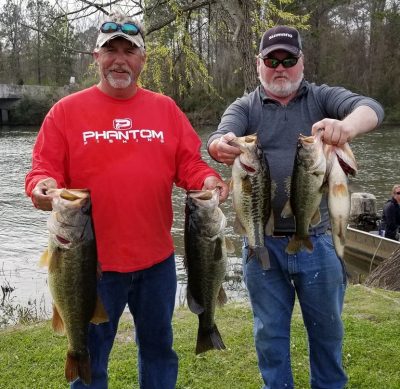 Will & Tom!
2nd went to Matt & Andrew baker with 5 bass weighing 21.40 lbs and they took home $280.00
Randy Gibson & Bubba Dennis took 3rd with 20.07 lbs and weighed the BF at 8.44 lbs. They collected $330.00.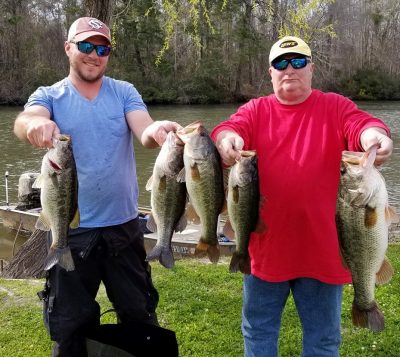 Buck Black & Carl Harrington finished 4th with 18.87 lbs worth $130.00!
5th went to Greg Benton & Logan Benton with 18.36 lbs and they collected $100.00.
6th and $75 went to John Campbell & Kyle Welch with 16.64 lbs!
| | | | | | |
| --- | --- | --- | --- | --- | --- |
|   |   | Big | Total |   |   |
| Place | Team | Fish | Weight | Winnings | Points |
| 1 | Will Smith/Tom Bancroft  BONUS $ | 8.13 | 25.92 | $1,000.00 | 110 |
| 2 | Matt Baker/Andrew Baker | 7.88 | 21.40 | $280.00 | 109 |
| 3 | Randy Gibson/Bubba Dennis  BF | 8.44 | 20.07 | $330.00 | 108 |
| 4 | Buck Black/Carl Harrington | 4.54 | 18.87 | $130.00 | 107 |
| 5 | Greg Benton/Logan Benton | 5.74 | 18.36 | $100.00 | 106 |
| 6 | John Campbell/Kyle Welch | 4.15 | 16.64 | $75.00 | 105 |
| 7 | Adam Rodenhouse/Ryan Arron | 0.00 | 16.10 | | 104 |
| 8 | Sid Fowler/Jason Riley | 5.73 | 15.85 | | 103 |
| 9 | Brian Beoddy/Corey Tolppa | 5.39 | 14.82 | | 102 |
| 10 | Travis Gatlin/Grant Powell | 0.00 | 14.47 | | 101 |
| 11 | Kevin Powell/Jimmy McCants | 4.69 | 14.47 | | 100 |
| 12 | Bob Letizi/Brian Harper (Sub) | 0.00 | 14.35 | | 99 |
| 13 | Jermey Hewitt/Bill Lawshe | 0.00 | 13.63 | | 98 |
| 14 | Dave McConnell/Dylan Mcconell | 0.00 | 12.99 | | 97 |
| 15 | Jimmy Bihlear/James Bihlear | 0.00 | 11.06 | | 96 |
| 16 | Joe Hutchinson/Elvis Black | 0.00 | 10.96 | | 95 |
| 17 | Will Thompson/Doug Roberia | 4.10 | 10.12 | | 94 |
| 18 | Robbie Powell/Josh Timmons | 0.00 | 9.85 | | 93 |
| 19 | Ryan Romesberg/Bernnan Gunther | 0.00 | 9.64 | | 92 |
| 20 | David Kelly/Kenny Clark | 0.00 | 9.42 | | 91 |
| 21 | Anthony Galloway/Ken Anderson | 0.00 | 9.34 | | 90 |
| 22 | Leah Bowzard/Allen Bowzard | 0.00 | 9.02 | | 89 |
| 23 | Joe Giampa/Gene Youngs | 0.00 | 8.62 | | 88 |
| 24 | Casey Leach | 0.00 | 8.05 | | 87 |
| 25 | James Robinson/William Gregory | 0.00 | 6.63 | | 86 |
| 26 | Johnny Brinson/James White | 0.00 | 5.53 | | 85 |
| 27 | Fred Cruise | 0.00 | 5.46 | | 84 |
| 28 | Brett Fields/Randal Drew | 0.00 | 0.00 | | 83 |
| 29 | Cody Carter/William Minus | 0.00 | 0.00 | | 83 |
| 30 | Tyler Black/Benjamin Crosby | 0.00 | 0.00 | | 83 |
| 31 | Wesley Ragland/Chandler Ackermann | 0.00 | 0.00 | | 83 |
| | Total Entrys |   |   | $1,550.00 | |
| | BONUS $ |   |   | $500.00 | |
| | Total Paid At Ramp |   |   | $1,915.00 | |
| | Cooper River 2018 Spring Final Fund |   |   | $105.00 | |
| | 2018 CATT Championship Fund |   |   | $30.00 | |
| |   |   |   |   | |
| | Cooper River 2018 Spring Final Fund Total |   |   | $255.00 | |
| | 2018 CATT Championship Fund |   |   | $3,200.00 | |