Next Cooper River CATT is April 6 at Cypress Gardens!

Use this code PHANTOMCATT15 at check out and receive 15% off your next order!
Will Thompson & Doug Robertson weigh in 4 bass @ 19.48 lbs to take 1st Place on the Cooper River! They weighed on the BF at 8.86 lbs!
2nd Place Dave & Dylan McConnell!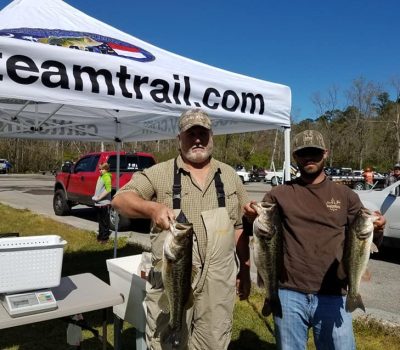 3rd Place Randall & Ryan Drew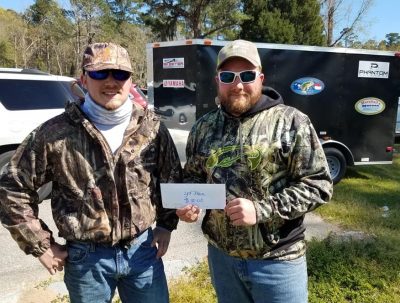 Johnny Brinson & James White 4th Place!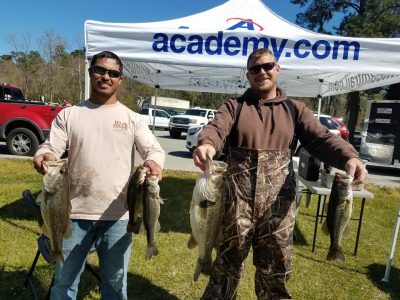 | | | | | |
| --- | --- | --- | --- | --- |
| | Big | Total | Total | |
| 20 Teams | Fish | Weight | Winnings | Points |
| Will Thompson – Doug Robertson  | 8.86 | 19.48 | $940.00 | 110 |
| Dave McConnell – Dylan Mcconnell | 0.00 | 14.86 | $215.00 | 109 |
| Ryan Drew -Randall Drew | 0.00 | 14.69 | $110.00 | 108 |
| Johnny Brinson James White | 0.00 | 14.03 | $60.00 | 107 |
| Joseph Giampa Gene Youngs | 0.00 | 13.34 | | 106 |
| Matt Baker Andrew Baker | 0.00 | 11.94 | | 105 |
| Jimmy Mccants Kevin Powell | 0.00 | 11.00 | | 104 |
| Dale Lovelace John Wood | 0.00 | 10.80 | | 103 |
| Bubba Dennis Randy Gibson | 0.00 | 10.73 | | 102 |
| Jimmy Bihlear James Bihlear Sr. | 0.00 | 10.26 | | 101 |
| Travis Gatlin Grant Powell | 0.00 | 8.94 | | 100 |
| Wayne Clifton Kyle Welch | 0.00 | 8.89 | | 99 |
| Casey Leach Charlene Leach | 0.00 | 8.86 | | 98 |
| Winky Winkey Watford | 0.00 | 8.84 | | 97 |
| Bill Lawshe – Jeremy Hewitt | 0.00 | 7.55 | | 96 |
| Benjamin Smith Jimmy Hall | 0.00 | 7.42 | | 95 |
| James Roy Jr Robison William Gregory | 0.00 | 6.31 | | 94 |
| John Campbell Grace Campbell | 0.00 | 3.73 | | 93 |
| Brent Bartman Jazlyn Darling | 0.00 | 0.00 | | 92 |
| Jeff Moyers – James Holloway | 0.00 | 0.00 | | 92 |
| Total Entrys | | | $1,000.00 | |
| BONUS $ | | | $450.00 | |
| Total Paid At Ramp | | | $1,325.00 | |
| Cooper River 2019 Spring Final Fund | | | $105.00 | |
| 2019 CATT Championship Fund | | | $10.00 | |
| Cooper River 2019 Spring Final Fund Total | | | $205.00 | |
| 2019 CATT Championship Fund | | | $3,955.00 | |