We had a record crowd for the Cooper River Trail with 38 teams entering! Thanks for the support and thanks to Ferric Jennings for running a great trail! Next up is the Cooper River Spring Final April 23rd! If you entered 1 2-22 Cooper River Spring Qualifier you're eligible to enter!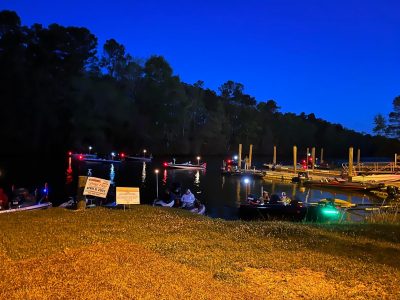 Travis Gatlin & Grant Powell take the win with 5 bass weighing 16.00 lbs even! With the Side Pot added in they took home $1,45.00!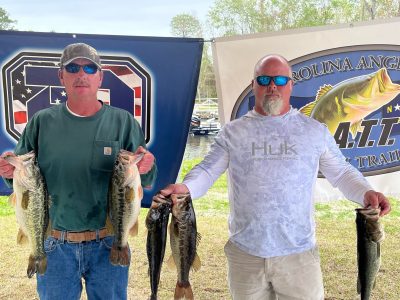 Michael Ard & Jeff Pawsons finished 2nd with 15.61 lbs!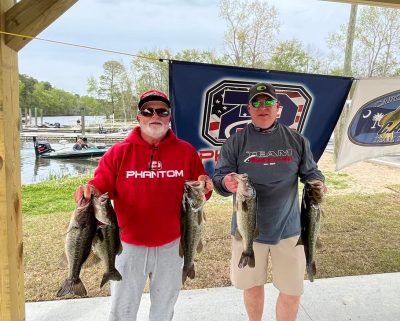 Greg Walker & Scott Perrine 3rd with 12.74 lbs!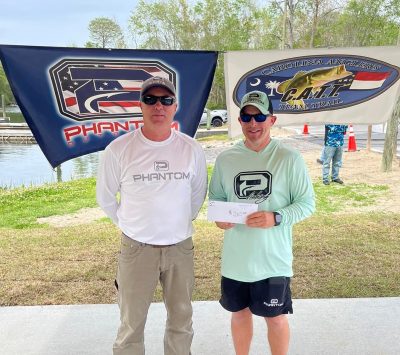 Crystal Brinson & Johnny Brinson 4th with 12.63 lbs!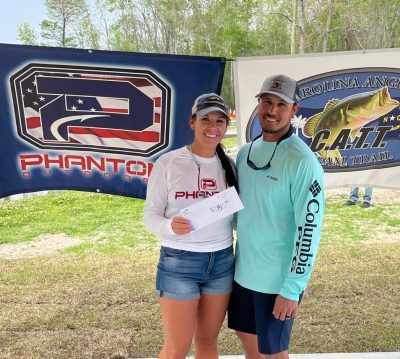 5th went to Chris Peirano with 12.57 lbs!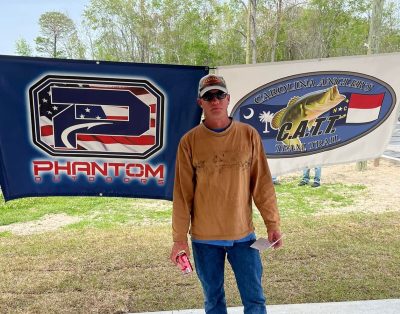 Fred & Sam Cruise brought in 11.98 for 6th and they weighed in the BF at 7.20 lbs!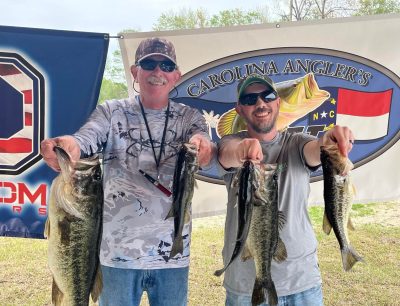 Jonathan Brindel & Justin Harvey claimed 7th with 11.72 lbs and won the Spring Points! They will fish the Final Free!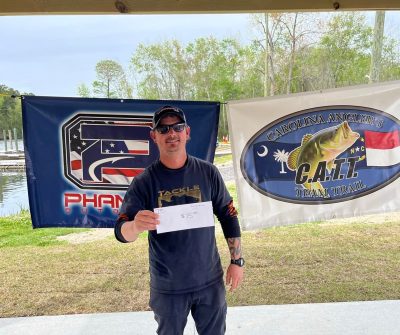 | | | | | |
| --- | --- | --- | --- | --- |
| Team | BF | Weight | Winnings | Points |
| Grant Powell – Travis Gatlin | 0.00 | 16.00 | $1,145.00 | 110 |
| Michael Ard – Jeff Pawsons | 0.00 | 15.61 | $310.00 | 109 |
| Scott Perrine – Greg Walker | 0.00 | 12.67 | $210.00 | 108 |
| Johnny Brinson – Crystal Brinson | 0.00 | 12.63 | $180.00 | 107 |
| Chris Peirano | 0.00 | 12.57 | $135.00 | 106 |
| Fred Cruise – Sam Cruise | 7.20 | 11.98 | $290.00 | 105 |
| Jonathan Brindel Justin Harvey | 0.00 | 11.72 | $75.00 | 104 |
| Matt Baker James Skelton | 0.00 | 11.60 | | 103 |
| Bob Letizi – Derrick Nixon | 0.00 | 11.36 | | 102 |
| Brian Suroweic – Walter Cumbee | 0.00 | 10.93 | | 101 |
| Erwin Garner Glenn Varner | 0.00 | 10.27 | | 100 |
| Christopher Thrust Nigel Goewey | 0.00 | 10.17 | | 99 |
| Dale Lovelace | 0.00 | 9.93 | | 98 |
| Ira Lewis Ricky Badger | 0.00 | 9.61 | | 97 |
| Winky Watford Scottie Nixon | 0.00 | 9.42 | | 96 |
| Paul Pagnato | 0.00 | 9.12 | | 95 |
| Todd Peter Jeff Shelton | 0.00 | 9.10 | | 94 |
| Todd Thompson Jimmy King | 0.00 | 8.93 | | 93 |
| Landy Filyaw Jr. Chris Weaver | 0.00 | 8.70 | | 92 |
| Gavin Miles | 0.00 | 8.67 | | 91 |
| Johnny Watkins Aaron Watkins | 0.00 | 8.58 | | 90 |
| Sean McElhaney | 0.00 | 8.12 | | 89 |
| Bubba Dennis Jay Ayer's | 0.00 | 8.07 | | 88 |
| Will Thompson Doug Roberson | 0.00 | 7.42 | | 87 |
| Edward Punchak Michael DiBello | 0.00 | 7.39 | | 86 |
| Dewayne Reine | 0.00 | 7.31 | | 85 |
| Wendell Lampkin Jayden Lampkin | 0.00 | 6.75 | | 84 |
| Darrel Knies | 0.00 | 6.73 | | 83 |
| Randy Gibson Jeremey Hernedez | 0.00 | 6.22 | | 82 |
| Willie Weatherford Wyatt Weatherford | 0.00 | 5.68 | | 81 |
| Shawn Hanna Dale Hanna | 0.00 | 5.61 | | 80 |
| Frank Crawford Matt Crawford | 0.00 | 4.08 | | 79 |
| Chance Powell Lane Powell | 0.00 | 0.00 | | 69 |
| Kyle Howard Dustin Bass | 0.00 | 0.00 | | 69 |
| Clay Kolb Jeffrey Peralta | 0.00 | 0.00 | | 69 |
| Howard Singletary | 0.00 | 0.00 | | 69 |
| Kyle Welch James Fender | 0.00 | 0.00 | | 69 |
| David Driggers Darrel Glenn | 0.00 | 0.00 | | 69 |
| Total Entrys | | | $1,900.00 | |
| BONUS $ | | | $625.00 | |
| Total Paid At Ramp | | | $2,345.00 | |
| Cooper River 2022 Spring Final Fund | | | $115.00 | |
| 2022 CATT Championship Fund | | | $25.00 | |
| Cooper River 2022 Spring Final Fund Total | | | $660.00 | |