Next Cooper River CATT is March 9 at Cypress Gardens!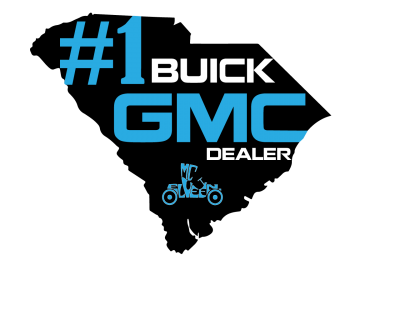 Visit McElveen GMC Buick in Summerville!
Kyle Welch takes 1st Place at the Cooper River with 5 bass weighing 16.78 lbs!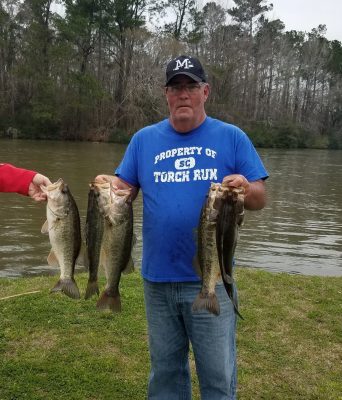 2nd went to Jeremy Hewitt with 14.86 lbs and 2nd BF at 4.47 lbs!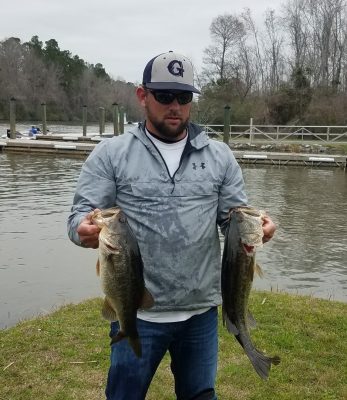 3rd with 13.01 lbs and 1st BF 5.23 lbs! Matt & Andrew Baker!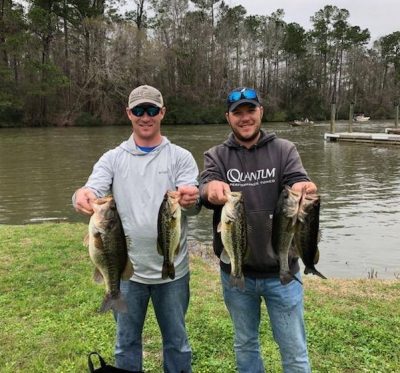 | | | | | |
| --- | --- | --- | --- | --- |
| | Big | Total | Total | |
| 16 Teams | Fish | Weight | Winnings | Points |
| Kyle Welch | 0.00 | 16.78 | $310.00 | 110 |
| Jeremy Hewitt | 4.47 | 14.86 | $180.00 | 109 |
| Matt Baker/Andrew Baker | 5.23 | 13.01 | $80.00 | 108 |
| Bruce Wheeler/Heath Hunter | 0.00 | 11.36 | | 107 |
| James Robison Jr/William Gregory | 0.00 | 9.57 | $80.00 | 106 |
| Carl Harrington/Bucky Black | 0.00 | 9.41 | | 105 |
| Joe Giampa/Gene Youngs | 0.00 | 8.69 | | 104 |
| Bubba Dennis/Cole Garrick | 0.00 | 7.96 | | 103 |
| Casey Leach/Charlene Leach | 0.00 | 7.02 | | 102 |
| Travis Gatilin/Grant Powell | 0.00 | 6.69 | | 101 |
| Randall Drew/Ryan Drew | 5.38 | 6.57 | | 100 |
| Dave McConnell/Dillion McConnell | 0.00 | 6.52 | | 99 |
| Johnny Brinson/James White | 0.00 | 5.65 | | 98 |
| John Campbell/Grace Campbell | 0.00 | 3.15 | | 97 |
| Jimmy McCants/Ted Smith | 0.00 | 1.42 | | 96 |
| Brandon Riley/Kyle Austin | 0.00 | 0.00 | | 95 |
| Total Entrys | | | $800.00 | |
| BONUS $ | | | $325.00 | |
| Total Paid At Ramp | | | $975.00 | |
| Cooper River 2019 Spring Final Fund | | | $110.00 | |
| 2019 CATT Championship Fund | | | $10.00 | |
| Cooper River 2019 Spring Final Fund Total | | | $110.00 | |
| 2019 CATT Championship Fund | | | $3,010.00 | |