Next Cooper River CATT is March 19th at Cypress Gardens!
The Cooper River CATT continues to have a great crowd as 31 teams showed up Saturday to battle it out! Winky Watford and Scotty Mixon took 1st Place with 5 bass weighing 20.60 lbs worth $1,020.00!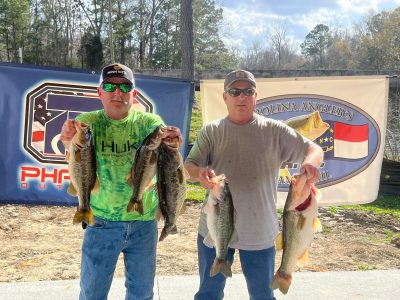 Randy Gibson & Jeremy Henedez brought in 18.45 lbs for 2nd! Their BF weighed up at 11.71 lbs! This is the largest bass weighed a CATT Event since we started in 1997!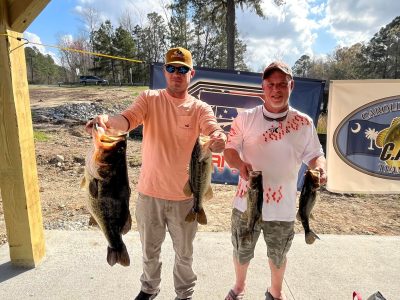 Justin Harvey & Dawson Harvey brought in 15.10 lbs for 3rd!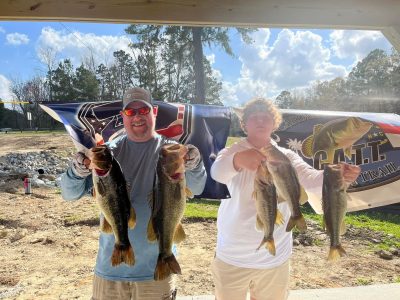 JW Smith & Ben Nye 4th 14.75 lbs!
5th went to James Skelton with 13.71 lbs!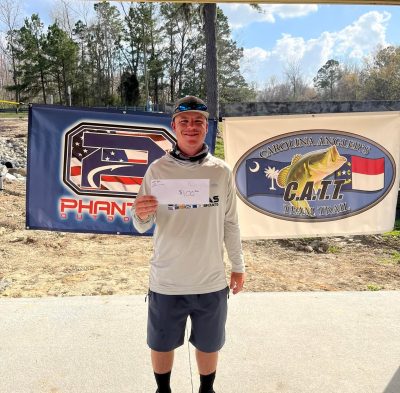 Sam & Fred Cruise 6th 12.73 lbs!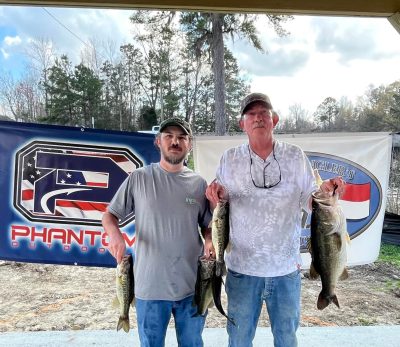 | | | | | |
| --- | --- | --- | --- | --- |
| Team | BF | Weight | Winnings | Points |
| Winky Watford Scotty Mixon | 0.00 | 20.60 | $1,050.00 | 110 |
| Randy Gibson Jeremy Hernedez | 11.71 | 18.45 | $435.00 | 109 |
| Justin Harvey Dawson Harvey | 0.00 | 15.10 | $175.00 | 108 |
| JW J.W. Smith Ben Nye | 0.00 | 14.75 | $130.00 | 107 |
| James Skelton | 0.00 | 13.71 | $100.00 | 106 |
| Fred Cruise Sam Cruise | 0.00 | 12.73 | $75.00 | 105 |
| Todd Thompson Jimmy King | 0.00 | 12.57 | | 104 |
| Brian Suroweic Walter Cumbee | 0.00 | 11.95 | | 103 |
| Landy Filyaw Jr. Chris Weaver | 0.00 | 10.23 | | 102 |
| Kyle Welch James Fender | 0.00 | 9.80 | | 101 |
| Kyle Howard Timmy Vereen | 0.00 | 9.20 | | 100 |
| Grant Powell Travis Gatlin | 0.00 | 8.84 | | 99 |
| Dewayne Reine | 0.00 | 8.61 | | 98 |
| James Roy Robison Jr William Gregory | 0.00 | 7.58 | | 97 |
| Jeff Shelton Tyler Peters | 0.00 | 7.44 | | 96 |
| Howard Singletary | 0.00 | 7.31 | | 95 |
| Wendell Lampkin Jayden Lampkin | 0.00 | 7.13 | | 94 |
| Ira Lewis | 0.00 | 6.71 | | 93 |
| Nate Johnson Cody Donady | 0.00 | 6.69 | | 92 |
| Michael DiBello Edward Punchak | 0.00 | 5.77 | | 91 |
| Craig Jurgiski Ben Dietzi | 0.00 | 5.37 | | 90 |
| Johnny Watkins Aaron Watkins | 0.00 | 5.12 | | 89 |
| Willie Weatherford Wyatt Weatherford | 0.00 | 4.84 | | 88 |
| Joshua Coyle | 0.00 | 2.87 | | 87 |
| Matt Baker Andrew Baker | 0.00 | 0.95 | | 86 |
| John Campbell | 0.00 | 0.00 | | 76 |
| Terry Silliman Mitchell Bowers | 0.00 | 0.00 | | 76 |
| Clay Kolb Jeffrey Peralta | 0.00 | 0.00 | | 76 |
| Chris Peirano Jesse Stanly | 0.00 | 0.00 | | 76 |
| Will Thompson – Doug Robertson | 0.00 | 0.00 | | 76 |
| Paul Pagnato | 0.00 | 0.00 | | 76 |
| Total Entrys | | | $1,550.00 | |
| BONUS $ | | | $550.00 | |
| Total Paid At Ramp | | | $1,965.00 | |
| Cooper River 2022 Spring Final Fund | | | $125.00 | |
| 2022 CATT Championship Fund | | | $10.00 | |
| Cooper River 2022 Spring Final Fund Total | | | $390.00 | |