We wrapped another great year on the Cooper River! Thanks for fishing with us and a big shout out to Ferris Jennings for all his work to make the CATT Cooper River Trail what it is today!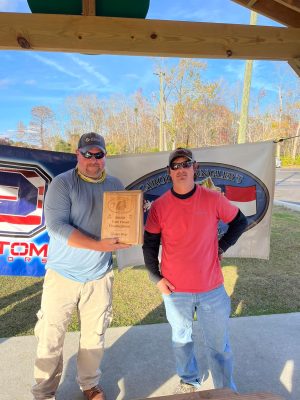 Johnathan Brindle – Justin Harvey brought in 5 bass weighing 13.49 lbs to take 1st Place PLUS the BF at 4.08 lbs! Add in the Side Pot and they earned $2,130.00!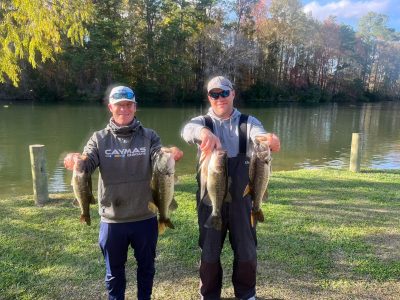 2nd Place James Skelton & Matt Baker 12.69 lbs!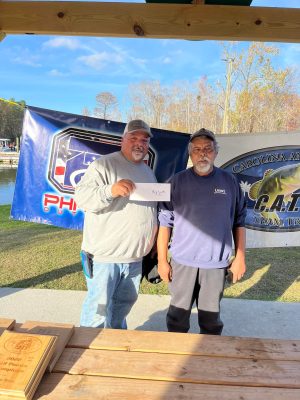 Ervin & Glenn Varner 3rd 9 lbs even!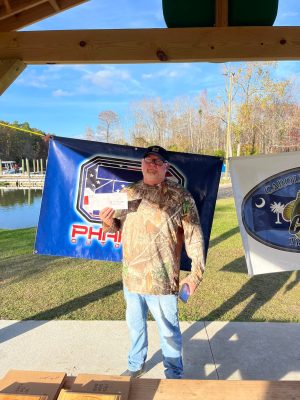 David Bowman & Roger Dennis 4th 8.55 lbs!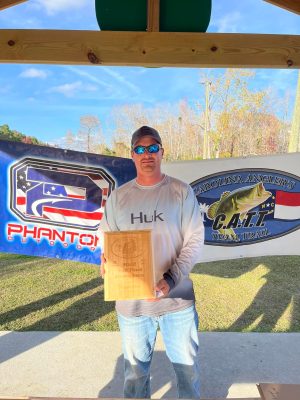 Kyle Welch & James Fender Cooper River Fall Point Champs!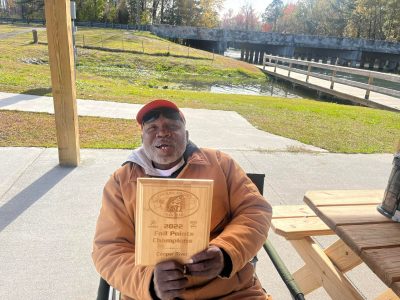 Lonnie with the hardware!
| | | | |
| --- | --- | --- | --- |
| Team | BF | Weight | Winnings |
| Johnathan Brindle – Justin Harvey | 4.08 | 13.19 | $2,130.00 |
| James Skelton – Matt Baker | 3.93 | 12.69 | $800.00 |
| Ervin Varner – Glenn Varner | 3.51 | 9.00 | $400.00 |
| David Bowman & Roger Dennis | 2.26 | 8.55 | $200.00 |
| Willie Weatherford – Auston McConnell | 3.00 | 7.79 | |
| Dale Hanna – Shawn Hanna | 0.00 | 7.57 | |
| Elvis Black – Brian Crosby | 2.08 | 7.42 | |
| Wayne Ackerman – Chris Harley | 2.55 | 7.35 | |
| Jimmy Bihlear – TJ Bancroft | 0.00 | 6.98 | |
| Brian Surowiec – Walter Cumbee | 2.37 | 6.79 | |
| Chad Pennell – Vann Pennell | 0.00 | 6.67 | |
| Kyle Welch James Fender | 0.00 | 6.25 | |
| Timothy Tyson | 0.00 | 6.17 | |
| David Driggers | 1.50 | 5.73 | |
| David Kelly – Brad Mathews | 0.00 | 4.93 | |
| John Campbell – Jared Bowles | 0.00 | 4.57 | |
| Gavin Miles | 0.00 | 3.69 | |
| Dewayne Reine | 0.00 | 3.42 | |
| Michael Craven – Justin Craven | 0.00 | 0.00 | |
| Zac Wagner – Scott Wagner | 0.00 | 0.00 | |
| Phil Westbury | 0.00 | 0.00 | |