Next up is the Cooper River Fall Final November 26th at Cypress Gardens!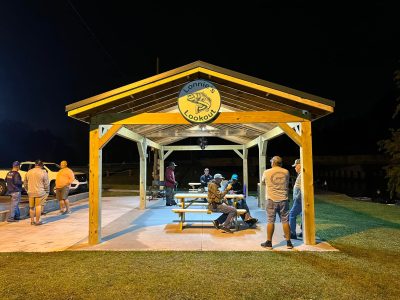 We have 41 Teams eligible to enter the Fall Final! Kyle Welch & James Fender win the points and will earn FREE entry at the Final Plus Blast off #1 PLUS 2 Point Champs Plaques PLUS $125.00!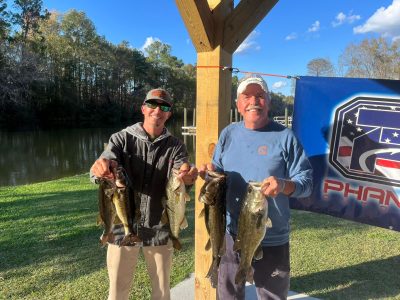 Chad Pennell & Vann Pennell win the Cooper River with 5 bass weighing 13.59 lbs  and weighed the BF at 5.32 lbs! Total Winnings $1,245.00!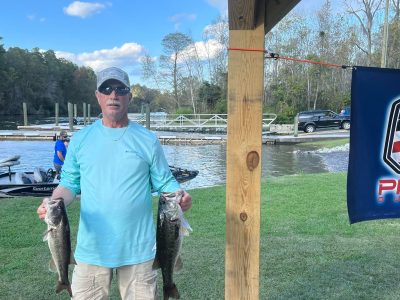 2nd Place Dwayne Reine with 12.87 lbs!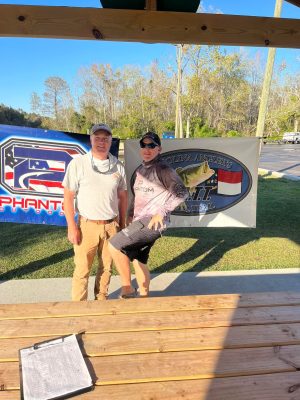 Scott Perrine & Greg Walker 3rd with 12.00 lbs!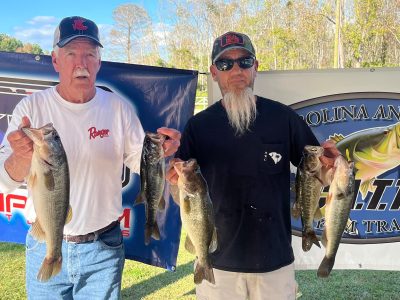 David Kelly & Brad Mathews 4th with 11.93 lbs!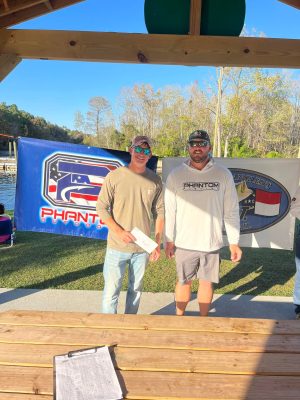 5th Place Matt Judy & Corey Casey 10.85 lbs!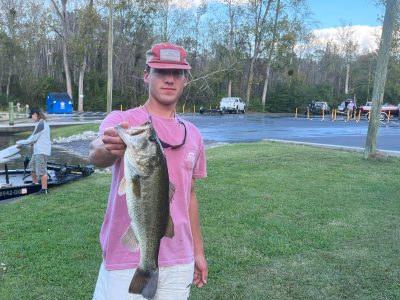 Another healthy Cooper River bass!
| | | | | |
| --- | --- | --- | --- | --- |
| Team | BF | Weight | Winnings | Points |
| Chad Pennell – Vann Pennell | 5.32 | 13.59 | $1,245.00 | 110 |
| Dwayne Reine | 4.65 | 12.87 | $270.00 | 109 |
| Scott Perrine – Greg Walker | 3.56 | 12.00 | $160.00 | 108 |
| David Kelly – Brad Mathews | 4.26 | 11.93 | $115.00 | 107 |
| Matt Judy – Justin Harvey | 3.02 | 10.85 | $95.00 | 106 |
| John Campbell – Jared Boles | 3.29 | 9.85 | | 105 |
| James Fender – Kyle Welch | 4.52 | 9.68 | | 104 |
| Dale Hanna – Shawn Hanna | 2.71 | 8.61 | | 103 |
| Justin Craven – Michael Craven | 0.00 | 8.37 | | 102 |
| Wayne Ackerman – Chris Harley | 2.31 | 8.10 | | 101 |
| Elvis Black – Brian Crosby | 0.00 | 8.07 | | 100 |
| Miles Gavin | 0.00 | 8.00 | | 99 |
| Jimmy Bihlear – TJ Bancroft | 0.00 | 7.84 | | 98 |
| Todd Thompson – Jimmy King | 0.00 | 7.70 | | 97 |
| Phil Westbury | 0.00 | 6.74 | | 96 |
| John Baylis | 0.00 | 6.44 | | 95 |
| James Bryan – Trey Bryan | 0.00 | 6.29 | | 94 |
| William Odom – James Odom | 4.12 | 5.90 | | 93 |
| Willie Weatherford – Auston McConnell | 0.00 | 5.67 | | 92 |
| Shane Jones – Brayden Jones | 0.00 | 5.63 | | 91 |
| James Skelton – Matt Baker | 0.00 | 5.29 | | 90 |
| Roger Dennis –  Davie Bowman | 0.00 | 5.15 | | 89 |
| Darrel Knies | 0.00 | 4.03 | | 88 |
| Zac Wagner | 0.00 | 0.00 | | 78 |
| Randy Gibson – Bubba Dennis | 0.00 | 0.00 | | 78 |
| Brian Surewic – Walter Cumbee | 0.00 | 0.00 | | 78 |
| Jonathan Brindle – Justin Harvey | 0.00 | 0.00 | | 78 |
| Timothy Tyson | 0.00 | 0.00 | | 78 |
| Lance Lambert – Marvin Carter | 0.00 | 0.00 | | 78 |
| Total Entrys | | | $1,450.00 | |
| BONUS $ | | | $600.00 | |
| Total Paid At Ramp | | | $1,885.00 | |
| Cooper River 2022 Fall Final Fund | | | $140.00 | |
| 2022 Fall Cooper River Point Champs | | | $125.00 | |
| 2022 CATT Championship Fund | | | $0.00 | |
| Cooper River 2022 Fall Final Fund Total | | | $535.00 | |