Next Cooper River CATT is Oct 23 at Cypress Gardens! We had another great crowd this past weekend so come on out and join us!

The 2021 PHANTOM OUTDOORS Invitational Classic will take place on Lake Hartwell Nov 5-6 and we are guaranteeing $10,000.00 to 1st Place!
Green Pond Landing & Event Center – 470 Green Pond Rd, Anderson, SC 29625
A team or solo angler must fish 2 CATT events to Qualify! You may fish the Invitational solo or with your partner or alternate partner your team used in any CATT event.
You can get in your 2 events by fishing any CATT Fall 2020,  CATT Spring 2021, CATT Summer 2021 & CATT Fall 2021!
Go to the Division page and tap on 2021 Phantom Outdoor Invitational Classic!
Michael & Justin Craven took 1st Place with 5 bass weighing 14.98 lbs They earned $875.00!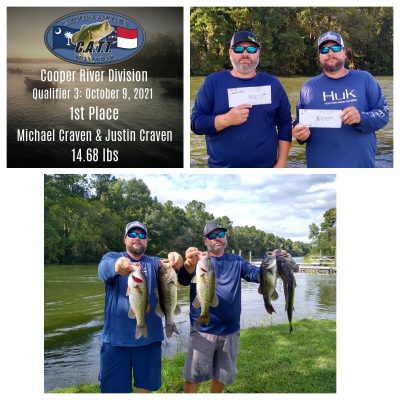 2nd Place went to John Campbell with 5 bass weighing 14.21 lbs!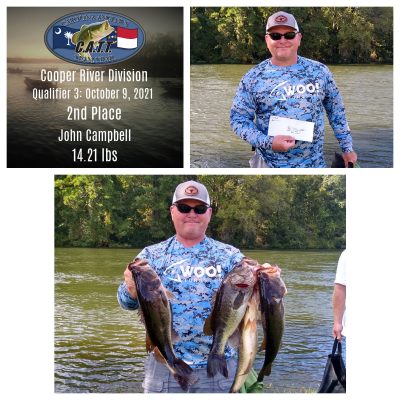 Glen Garner & Ervin Garner claimed 3rd with 13.13 lbs and weighed in the Academy BF at 5.93 lbs!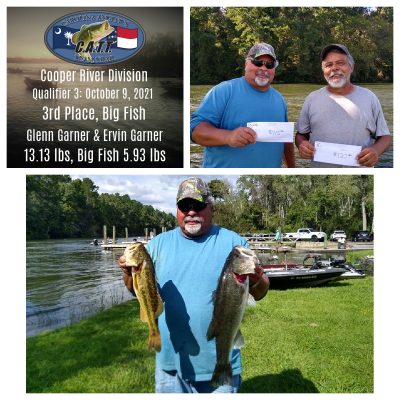 Chance Powell & Land Powell took 4th with 12.61 lbs!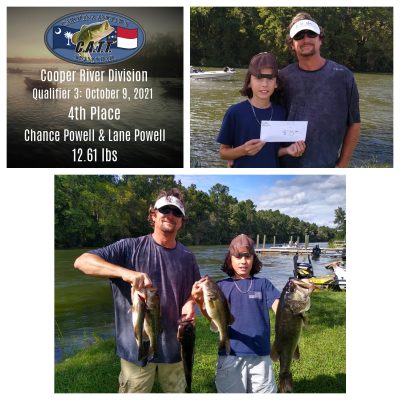 | | | | | |
| --- | --- | --- | --- | --- |
| Team | BF | Weight | Winnings | Points |
| Michael Craven Justin Craven | 0.00 | 14.98 | $875.00 | 110 |
| John Campbell | 0.00 | 14.21 | $230.00 | 109 |
| Glen Garner Ervin Garner | 5.93 | 13.13 | $235.00 | 108 |
| Chance Powell Lane Powell | 0.00 | 12.61 | $75.00 | 107 |
| Kyle Welch James Fender | 0.00 | 10.00 | | 106 |
| Andy Rutledge | 0.00 | 9.00 | | 105 |
| Bubba Dennis Randy Gibson | 0.00 | 8.41 | | 104 |
| Cody Wilson | 0.00 | 8.08 | | 103 |
| James Skelton | 0.00 | 7.74 | | 102 |
| Ron & Sonya Terwilliger | 0.00 | 7.33 | | 101 |
| Brian Crosby | 0.00 | 6.98 | | 100 |
| Brian Surowiec Walter Cumbee | 0.00 | 6.85 | | 99 |
| Darrel Knies | 0.00 | 6.67 | | 98 |
| Terry Silliman Michael Bowers | 0.00 | 6.27 | | 97 |
| David Driggers Darrel Glenn | 0.00 | 4.82 | | 96 |
| Casey Leach Charlene Leach | 0.00 | 4.04 | | 95 |
| Willie Weatherford Carlos Canals | 0.00 | 3.12 | | 94 |
| Johnny Watkins Aaron Watkins | 0.00 | 3.00 | | 93 |
| John Ford Sr John Ford Jr | 0.00 | 0.00 | | 83 |
| Nathan Mixson | 0.00 | 0.00 | | 83 |
| Billy Brinson Todd Thompson | 0.00 | 0.00 | | 83 |
| Matt Baker Charlie Baker | 0.00 | 0.00 | | 83 |
| Brian Howard Robert McConnell | 0.00 | 0.00 | | 83 |
| Total Entrys | | | $1,150.00 | |
| BONUS $ | | | $400.00 | |
| Total Paid At Ramp | | | $1,415.00 | |
| Cooper River 2021 Fall Final Fund | | | $125.00 | |
| 2022 CATT Championship Fund | | | $10.00 | |
| Cooper River 2021 Fall Final Fund Total | | | $390.00 | |
| 2022 CATT Championship Fund | | | $0.00 | |