Next Cooper River CATT is Oct 24 at Cypress Gardens!
Another good crowd! 23 teams entered and John & Grace Campbell come out on top with 18.65 lbs! They also weighed in the BF at 6.01 lbs!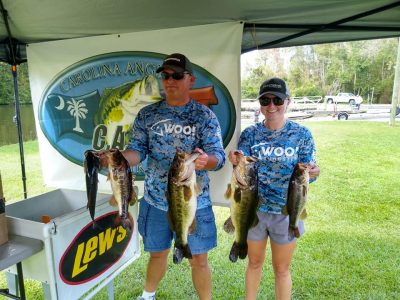 Randy Gibson & Bubba Dennis took 2nd!
James Fender & Kyle Welch 3rd!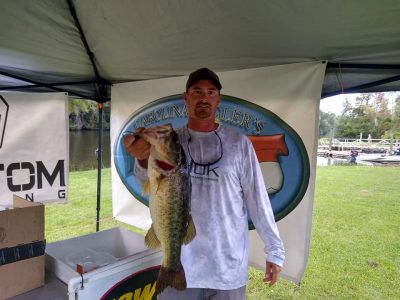 Matt & Andrew Baker claimed 4th!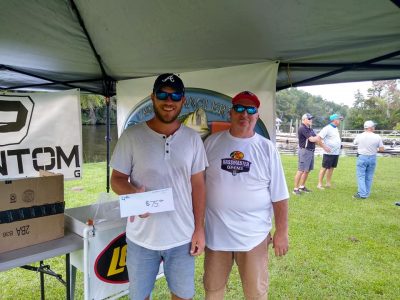 | | | | | |
| --- | --- | --- | --- | --- |
| 23 Teams | BF | Weight | Winnings | Points |
| John Campbell – Grace Campbell | 6.01 | 18.65 | $550.00 | 110 |
| Bubba Dennis – Randy Gibson | 0.00 | 18.43 | $230.00 | 109 |
| James Fender – Kyle Welch | 0.00 | 13.90 | $120.00 | 108 |
| Matt Baker – Andrew Baker | 0.00 | 12.39 | $75.00 | 107 |
| Kimbo Black – Brian Crosby | 0.00 | 11.17 | | 106 |
| Frank Cantley | 0.00 | 10.50 | | 105 |
| Michael Craven – Justin Craven | 0.00 | 8.12 | | 104 |
| Terry Silliman – Ronald Young | 0.00 | 7.82 | | 103 |
| Jared Boles | 0.00 | 7.28 | | 102 |
| Joseph Giampa | 0.00 | 7.24 | | 101 |
| Matt Murphy – Jamie Lucarelli | 0.00 | 7.19 | | 100 |
| Nick Lambert – Lance Lambert | 0.00 | 6.67 | | 99 |
| Cory Burbage | 0.00 | 6.32 | | 98 |
| Phil Westbury – Luke Westbury | 0.00 | 5.87 | | 97 |
| Darrell Knies | 0.00 | 5.76 | | 96 |
| Clay Kolb – Jeff Peralta | 0.00 | 5.15 | | 95 |
| Joseph Scott | 0.00 | 2.95 | | 94 |
| Brian Riley – Gene Youngs | 0.00 | 2.47 | | 93 |
| James Ray Jr Robison – William Gregory | 0.00 | 0.00 | | 92 |
| Dale Hanna – Shawn Hanna | 0.00 | 0.00 | | 92 |
| Gavin Miles | 0.00 | 0.00 | | 92 |
| Dale Lovelace | 0.00 | 0.00 | | 92 |
| Casey Leach | 0.00 | 0.00 | | 92 |
| Total Entrys | | | $1,150.00 | |
| BONUS $ | | | $150.00 | |
| Total Paid At Ramp | | | $975.00 | |
| 2020 Chatuge Lake Fall Final Fund | | | $135.00 | |
| 2020 CATT Championship/Phantom Fund | | | $0.00 | |
| 2020 Chatuge Lake Final Fund Total | | | $705.00 | |
| 2020 CATT Championship/Phantom Fund Total | | | $4,750.00 | |