Stay tuned guys 2021 East schedule coming soon!
The 2020 Academy CATT  Championship will take place on Kerr Lake November 7-8, 2020 and we are guaranteeing $10,000.00 to 1st Place!
Nutbush Ramp Kerr Lake State Park – 115 Jack Wade Farm Road, Henderson, NC
Either NC & VA License are valid. You do not need both.
**2018 & 2019 1st Place Winners Have Taken Home $25,000.00!
A team or solo angler must fish 2 CATT events to Qualify!
You can get in your 2 events by fishing any CATT Fall 2019 and CATT Spring/Summer/Fall 2020! Any CATT event after June 2, 2019 will count!
How To Qualify
Must enter 2 CATT Events to be eligible! Enter 1 or more CATT event as a team – Entering solo or with a Sub also counts toward your teams Championship Qualification! The 2 events do not have to be in the same CATT Trail! If you entered the 2019 CBC Classic on Santee Cooper you are eligible to enter!  or if you enter 2 – 2020 CBC Qualifiers!
Click on the  link for more info!
Larry Thomas & Gerald Elks win the East Final and  take home $2,240.00 with 5 bass weighing 16.35 lbs on the Roanoke River in NC!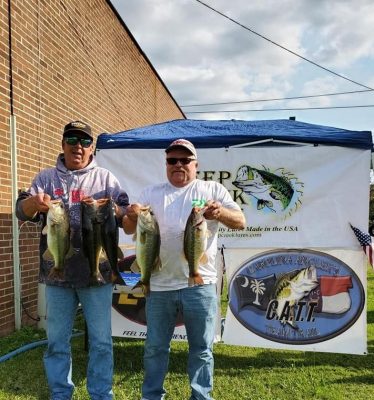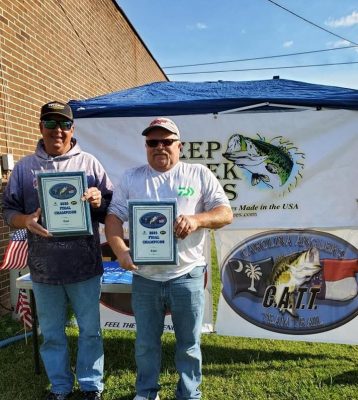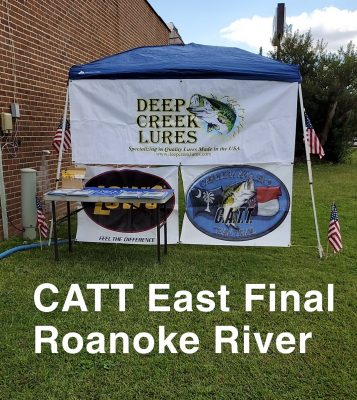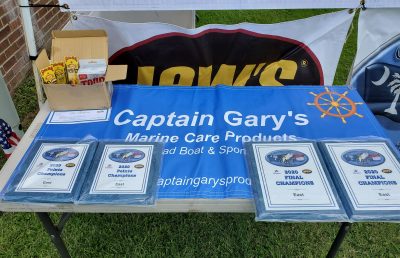 | | | | |
| --- | --- | --- | --- |
| 13 Teams | BF | Weight | Winnings |
| Larry Thomas – Gerald Elks | 0.00 | 16.35 | $2,240.00 |
| Zeb West – Danny Stallings | 3.94 | 14.70 | $700.00 |
| Danny Wood – Nathanuel Lucas | 4.87 | 14.59 | |
| Josh Brown | 5.75 | 13.32 | $36.00 |
| JA Williferd – Donald Jernigan | 0.00 | 11.88 | |
| Will James – Mike James | 6.87 | 11.59 | $84.00 |
| Bobby Clark – Tommy Hughes | 0.00 | 11.53 | |
| Dale Winstead – Rick Morris | 0.00 | 11.10 | |
| Danny Flynn – James Ormond | 0.00 | 10.95 | |
| Paul King – Bradley Stain | 0.00 | 10.79 | |
| Mike White – Dana Moore | 2.65 | 9.17 | |
| Richard Lewis – Steve Vann | 0.00 | 0.00 | |
| Chris Minton – Curt Honican | 0.00 | 0.00 | |