Guys we are picking up steam on the Roanoke River! We have close to 30 team eligible to enter the September 8th East Final! You only have to enter 1 Qualifier to be eligible to enter!
Next East Qualifier is June 23rd! Water Street Lighthouse Landing!
JR Milligan & Jamie Phelps took the win with 5 bass weighing 20.76 lbs! They secured the BONUS $ as well and took home $1,355.00!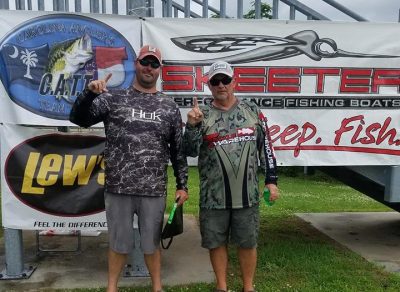 2nd went to James Ormond & Danny Flynn with a limit weighing  18.68 lbs and they collected $450.00!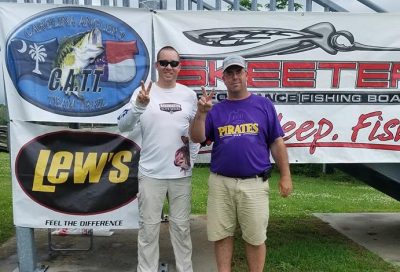 Taking 3rd were Jason Tripp & Adam Darby with 5 bass weighing up at 16.14 lbs! They earned $200.00!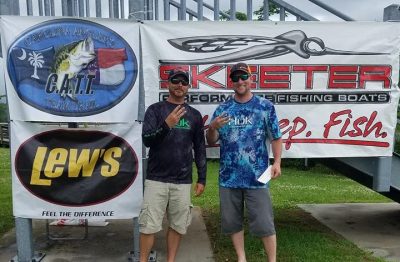 | | | | | |
| --- | --- | --- | --- | --- |
|  19 Teams | Big | Total | Total |   |
| Team | Fish | Weight | Winnings | Points |
| JR Milligan – Jamie Phelps  BONUS $ | 5.14 | 20.76 | $1,355.00 | 110 |
| James Ormond – Danny Flynn | 5.90 | 18.68 | $450.00 | 109 |
| Jason Tripp – Adam Darby | 5.33 | 16.14 | $200.00 | 108 |
| Larry Thomas – Gerald Elks | 4.63 | 16.14 |   | 107 |
| Mike Ellis – Mark Faircloth  2nd BF | 6.02 | 15.88 | $57.00 | 106 |
| JA Williford – Justin Chamblee | 4.07 | 14.51 |   | 105 |
| Steve Vann – Richard Lewis   1st BF | 6.26 | 14.50 | $133.00 | 104 |
| Thomas Dew – Lee King | 4.94 | 14.07 | | 103 |
| Charles Weatherby – Michael Hanon | 0.00 | 13.53 | | 102 |
| Hal Caldwell – Larry Gunn | 3.21 | 13.08 | | 101 |
| Tyler Jones – Kain Jones | 3.96 | 12.68 | | 100 |
| Norwood Logon – Darrell Peele | 3.98 | 12.60 | | 99 |
| Joe Varnell | 4.81 | 11.23 | | 98 |
| Walt Goff – Allen Campbell | 3.33 | 10.74 | | 97 |
| Jeff Galloway | 2.64 | 10.00 | | 96 |
| Greg Creech – Chris McDuffie | 4.67 | 7.64 | | 95 |
| Max & Monica Altman | 3.03 | 6.40 | | 94 |
| John Kellett | 0.00 | 0.00 | | 93 |
| Dean Jones – Ray Burress | 0.00 | 0.00 | | 93 |
| Total Entrys |   |   | $2,280.00 | |
| BONUS $ |   |   | $380.00 | |
| Total Paid At Ramp |   |   | $2,195.00 | |
| East 2018 Final Fund |   |   | $390.00 | |
| 2018 CATT Championship Fund |   |   | $75.00 | |
|   |   |   |   | |
| 2018 East Final Fund Total |   |   | $1,055.00 | |
| 2018  CATT Championship Fund Total |   |   | $4,765.00 | |