Next up is the 2019 East Final October 19th! Next year guys we will tweak the East some to get the numbers up! Stay Tuned!
Larry Thomas & Gerald Elks win the East points and will fish the 2020 Qualifiers Free!
Congratulations to Adam Haithcock and Greg Taylor for taking 1st place with 15.41 lbs and a check for $525. They also won the side pot $180, and 1st big fish 5.60 lbs and a check for $70 for a grand total of $775. Great job guys!!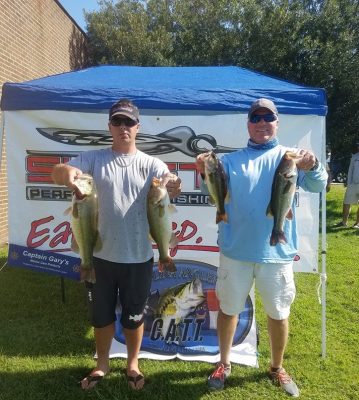 Congratulations go to our point leaders Larry Thomas and Gerald Elks for winning 2nd place with 12.42 lbs and a check for $250.
Congratulations to Zeb West for winning 2nd big fish 4.06 lbs and a check for $30. Apparently Zeb didnt think his fish was going to place and left early. We'll see you at the final with your check Zeb.
Tim and I want to thank everyone who fished with us this year. We enjoyed spending one Saturday a month with you guys. See you at the finals next month and we're excited for bigger things in 2020.
| | | | | |
| --- | --- | --- | --- | --- |
| | Big | Total | Total | |
| 11  Teams | Fish | Weight | Winnings | Points |
| Adam Haithcock – Greg Taylor | 5.60 | 15.41 | $775.00 | 110 |
| Larry Thomas – Gerald Elks | 3.29 | 12.42 | $250.00 | 109 |
| Charles Weathersby – Mike Henson | 3.99 | 11.71 | | 108 |
| Mike James – Will James | 0.00 | 11.22 | | 107 |
| Vincent Povaysay – Danny Hall | 0.00 | 11.20 | | 106 |
| Zeb West – Harold Herring | 4.06 | 9.00 | $30.00 | 105 |
| Mike White – Dana Moore | 0.00 | 1.86 | | 104 |
| Daniel Leggett | 0.00 | 0.00 | | 103 |
| Stacey Light – Mike Asher | 0.00 | 0.00 | | 103 |
| Derrick Whitmore | 0.00 | 0.00 | | 103 |
| Michael Chlomoudis – JA Williford | 0.00 | 0.00 | | 103 |
| Total Entrys | | | $1,200.00 | |
| BONUS $ | | | $180.00 | |
| Total Paid At Ramp | | | $1,055.00 | |
| East 2019 Final Fund | | | $275.00 | |
| 2019 CATT Championship/Phantom Fund | | | $50.00 | |
| 2019 East Final Fund Total | | | $1,615.00 | |
| 2020 CATT Championship/Phantom  Fund Total | | | $405.00 | |