Next up is the 2023 East Spring Final June 24th on the Roanoke River! We have 77 teams eligible to enter the East Spring Final! To view the East points, go to the East Division page and scroll down!
We had a record 45 teams enter! Thanks guy and we appreciate the support!
Coming up July 8th on the Roanoke River out of Water St Lighthouse Ramp! The Phanton Outdoors Open! $5,000 1st Place with 50 teams entered! Tap on the link for entry info!  2023 Phantom Outdoors Open Series – Carolina Anglers Team Trail (cattteamtrail.com)
Larry Thomas and Will James win the East Spring Points and will fish the Final FREE PLUS a $100 Lews/Strike King Gift Card!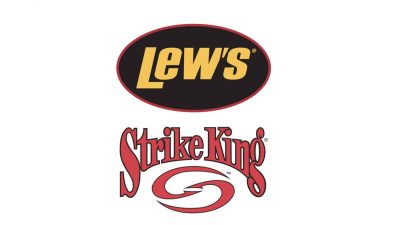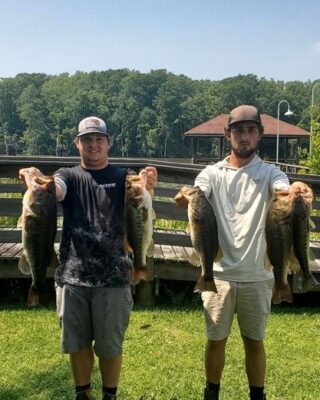 Holden Northcott & Austin Hughes win the Roanoke River this past weekend with 5 bass weighing 22.47 lbs! They also weighed the Academy BF at 7.28 lbs! Total it all up and they took home $1,887.50!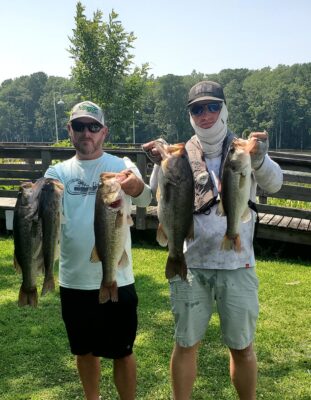 Jason Tripp & Adam Baldwin 2nd with 21.52 lbs worth $777.50!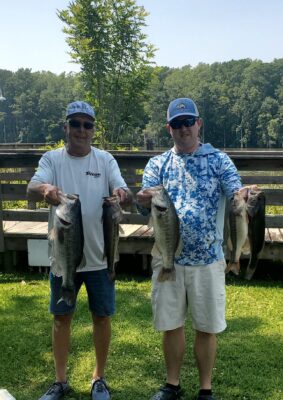 Larry Thomas & Will James 3rd with 17.14 lbs!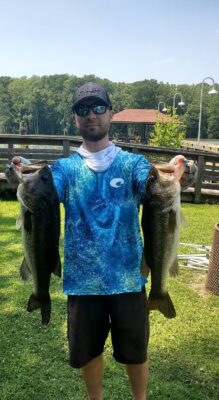 Cody & Marty Mathews 4th with 16.28 lbs!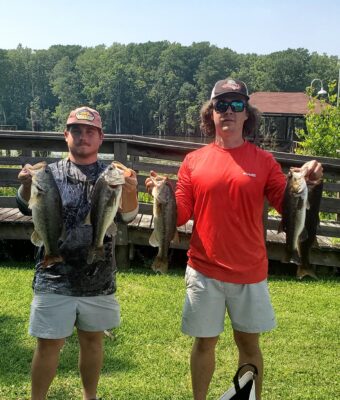 Drew Matthews & Cole Bedard 5th with 16.28 lbs!
| | | | | |
| --- | --- | --- | --- | --- |
| Team | BF | Weight | Winnings | Points |
| Holden Northcott – Austin Hughes | 7.28 | 22.47 | $1,887.50 | 110 |
| Jason Tripp – Adam Baldwin | 6.16 | 21.52 | $777.50 | 109 |
| Larry Thomas – Will James | 5.71 | 17.14 | $350.00 | 108 |
| Cody Mathews – Marty Mathews | 4.79 | 16.28 | $225.00 | 107 |
| Drew Matthews – Cole Bedard | 0.00 | 14.00 | $160.00 | 106 |
| Jason White – Charles Weathersbee | 6.45 | 13.21 | $255.00 | 105 |
| Greg Creech – Chris McDuffie | 5.09 | 12.79 | $110.00 | 104 |
| Jamie Lancaster – Jesse Lancaster | 3.55 | 12.72 | $100.00 | 103 |
| Shane Craft – Will Hobgood | 0.00 | 12.68 | $90.00 | 102 |
| Houston Cash – Chase Davis | 4.98 | 12.53 | | 101 |
| Spencer Barrow – Thomas Craft | 0.00 | 12.18 | | 100 |
| Brian Haddock – James Ormond | 0.00 | 12.12 | | 99 |
| Steve Vann – Skippy Lewis | 4.83 | 11.85 | | 98 |
| Keith Johnson – Corey Herndon | 0.00 | 11.62 | | 97 |
| Brandon Pierce – Stacy Hobson | 0.00 | 11.14 | | 96 |
| Andrew Skinner – Eric Robinson | 0.00 | 10.11 | | 95 |
| Jerry Hardy – Rickey Britt | 4.52 | 10.11 | | 94 |
| Shawn Dunlap – Ken Kipler | 0.00 | 10.00 | | 93 |
| Stacey Light – Mike Wenthe | 0.00 | 9.95 | | 92 |
| Clayton Boyette | 0.00 | 9.50 | | 91 |
| Jason Pittman – Jeremy Hodge | 0.00 | 9.26 | | 90 |
| Tracey King – David Price | 0.00 | 8.65 | | 89 |
| Danny Flynn – Brad Elks | 0.00 | 8.37 | | 88 |
| Mike White – Dana Moore | 5.85 | 8.26 | | 87 |
| Alan Hawkins – Brandon Johnson | 0.00 | 7.60 | | 86 |
| Ryan Harris | 0.00 | 7.32 | | 85 |
| Donald Luther – Mike Kannan | 0.00 | 7.15 | | 84 |
| Edward Hackney – Wilson Johnson | 0.00 | 5.91 | | 83 |
| Wayne Stallings – Zeb West | 0.00 | 5.21 | | 82 |
| Bruce Dail – Kayle Dail | 0.00 | 3.84 | | 81 |
| DR Thornton – Jerry Bragg | 0.00 | 0.00 | | 71 |
| Jody Sykes | 0.00 | 0.00 | | 71 |
| Bobby Clark – Tommy Hughes | 0.00 | 0.00 | | 71 |
| Joshua Pike – Earl Pike | 0.00 | 0.00 | | 71 |
| Joe varnell – Jonathan Heath | 0.00 | 0.00 | | 71 |
| Nathaniel Lucus – Danny Wood | 0.00 | 0.00 | | 71 |
| Joseph Lures – Coby Lathum | 0.00 | 0.00 | | 71 |
| Michael Hinson – Jeff Stoop | 0.00 | 0.00 | | 71 |
| Wayne Harris | 0.00 | 0.00 | | 71 |
| Matt Marchant – John Jenkins | 0.00 | 0.00 | | 71 |
| Eugene Foushee – Frankie Jordan | 0.00 | 0.00 | | 71 |
| Daryl Peele – Max Stephens | 0.00 | 0.00 | | 71 |
| Dean Jones – Levi Jones | 0.00 | 0.00 | | 71 |
| David Chamblee | 0.00 | 0.00 | | 71 |
| Travis Mewborn – Tanner Beamer | 0.00 | 0.00 | | 71 |
| Total Entrys | | | $3,600.00 | |
| BONUS $ | | | $925.00 | |
| Total Paid At Ramp | | | $3,955.00 | |
| CATT | | | $50.00 | |
| East 2023 Spring Final Fund | | | $470.00 | |
| 2023 CATT Championship Fund | | | $50.00 | |
| 2023 East Spring  Final Fund Total | | | $1,720.00 | |