Next up is the East Fall Final Dec 18th at the Roanoke River launching for Water Street – Light House Landing!
Larry Thomas & Will James win the points and will fish the Fall Final Free!
Don Luther & Mike Kannon win at the Roanoke River with 5 bass weighing 15.36 lbs worth $1,050.00!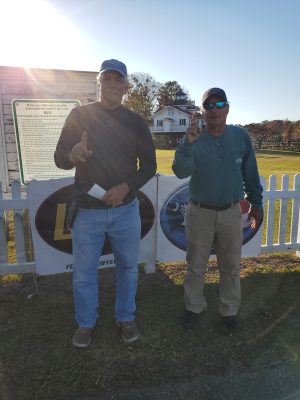 Brandon Owens & Jason Tripp took 2nd with 14.97 lbs!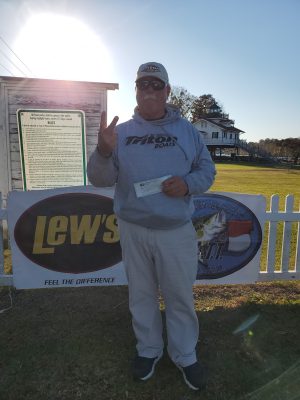 Larry Thomas & Will James finished 3rd with 14.07 lbs!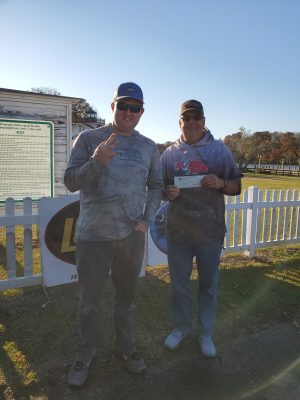 4th went to Mike & Ray Layton with 13.99 lbs!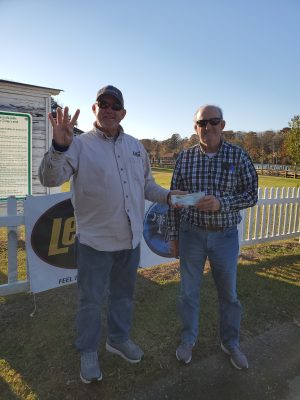 Last money spot went to Houston Cash & Chase Davis with 13.85 lbs!

| | | | | |
| --- | --- | --- | --- | --- |
| Team | BF | Weight | Winnings | Points |
| Don Luther – Mike Kannon | 3.62 | 15.36 | $1,050.00 | 110 |
| Brandon Overton – Jason Tripp | 5.37 | 14.97 | $475.00 | 109 |
| Larry Thomas – Will James | 3.97 | 14.07 | $200.00 | 108 |
| Mike Layton – Ray Layton | 3.44 | 13.99 | $110.00 | 107 |
| Houston Cash – Chase Davis | 3.47 | 13.85 | $100.00 | 106 |
| Bobby Clark – Tommy Hughes | 4.61 | 13.83 | $75.00 | 105 |
| Jason Smith – Jacob Smith | 3.81 | 12.83 | | 104 |
| Kevin Jones – Tyler Jones | 4.02 | 12.02 | | 103 |
| Jeff Stoop – Mike Hinson | 4.07 | 11.84 | | 102 |
| Trey Nanny – Brook Brissette | 0.00 | 11.54 | | 101 |
| Monte Morgan – Spencer Barrow | 0.00 | 11.41 | | 100 |
| John Jenkins – Jane Jones | 0.00 | 10.58 | | 99 |
| Jeffey Davis | 3.29 | 10.32 | | 98 |
| Zeb West – Wayne Stallings | 3.85 | 10.16 | | 97 |
| David Price – Tracey King | 0.00 | 9.34 | | 96 |
| Chris Beechum – Manny Salman | 2.84 | 9.25 | | 95 |
| Danny Flynn – James Ormond | 0.00 | 8.80 | | 94 |
| Mike James – Luke James | 0.00 | 8.77 | | 93 |
| Wyatt Lee – Blake Ross | 0.00 | 5.28 | | 92 |
| Daryl Peele – Steve Bishop | 0.00 | 3.62 | | 91 |
| Michael White – Dana Moore | 0.00 | 2.21 | | 90 |
| Jim Dick – Greg Dick | 0.00 | 0.00 | | 80 |
| Charles Weathersby – Mark Wahler | 0.00 | 0.00 | | 80 |
| Billy Owens – Jim Britt | 0.00 | 0.00 | | 80 |
| Joe Varnell | 0.00 | 0.00 | | 80 |
| Total Entrys | | | $2,000.00 | |
| BONUS $ | | | $500.00 | |
| Total Paid At Ramp | | | $2,010.00 | |
| East 2021 Fall Final Fund | | | $390.00 | |
| 2022 CATT Championship Fund | | | $50.00 | |
| 2021 East Fall Final Fund Total | | | $1,325.00 | |