Next East Fall Qualifier is November 13th at the Roanoke River – Water St. Lighthouse Landing! This is your last chance to qualify to enter the East Final December 18th! 1st Place at the Final is $2,000.00!
Mark Your Calendar!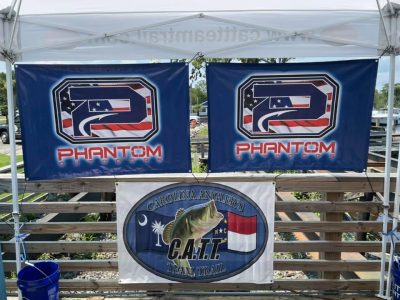 Kerr Lake Nutbush Ramp Oct 30, 2021
NO MEMBERSHIP REQUIRED!
NO OFF LIMITS!
Normal CATT Rules Apply!
Pre Pay on Line or at Ramp Morning of!
$5,000 1st Place based on 50 teams entering!
Entry Fee: $200 ($210 at the ramp)
Enter 1 or more side pots or none! Optional!
Platinum BONUS $100 (Paying 3 Places)
Gold BONUS $50 (Paying up to 3 Places)
Silver BONUS $25 (Paying up to 2 Places)
Blastoff # Determined by Order of Payment!
Safe light – 3 PM weigh in.
Paying 2 Big Fish Places and 1 Place for Every 7 Teams Entered!
No Pros!
Ronnie Britt & Jerry Hare toot the top spot with 5 bass weighing 15.54 lbs!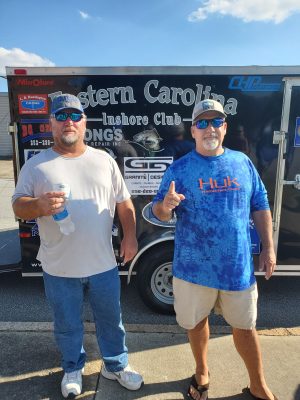 Jordan & Josh Brown claimed 2nd with 15.10 lbs!
3rd went to Chris McDuffie & Greg Creech with 14.08 lbs! They also weighed in the BF at 6.57 lbs!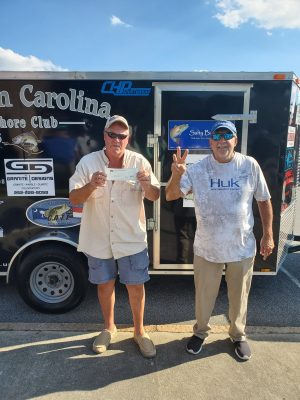 Last money spot went to Nate Kilgore with 13.99 lbs!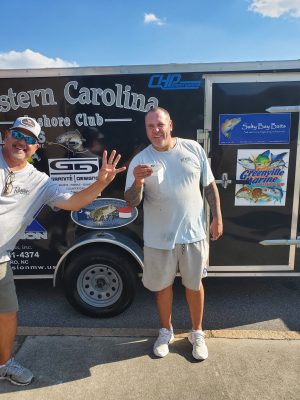 2nd BF went to Land & Rob Weaver!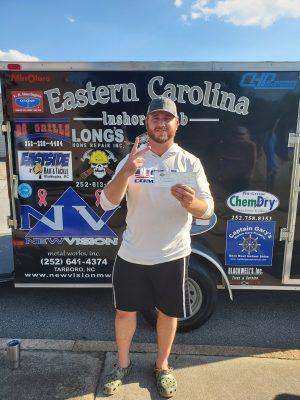 | | | | | |
| --- | --- | --- | --- | --- |
| Team | BF | Weight | Winnings | Points |
| Ronnie Britt – Jerry Hare | 0.00 | 15.54 | $880.00 | 110 |
| Jordan Brown – Josh Brown | 0.00 | 15.10 | $300.00 | 109 |
| Chris McDuffie – Greg Creech | 6.57 | 14.08 | $297.00 | 108 |
| Nate Kilgore | 0.00 | 13.99 | $100.00 | 107 |
| Land Weaver – Rob Weaver | 5.87 | 13.98 | $63.00 | 106 |
| Larry Thomas – Will James | 4.19 | 11.90 | | 105 |
| Daryl Peele – Steve Bishop | 3.97 | 10.84 | | 104 |
| Don Luther – Mike Kannon | 4.62 | 10.71 | | 103 |
| John Parrish – Joje Richardson | 5.12 | 10.69 | | 102 |
| Zeb West – Wayne Stallings | 3.89 | 10.12 | | 101 |
| Houston Cash – Chase Davis | 0.00 | 9.77 | | 100 |
| David Price – Tracey King | 0.00 | 9.11 | | 99 |
| Jim Dick – Greg Dick | 3.54 | 8.87 | | 98 |
| Billy Owens – Jim Britt | 4.08 | 7.65 | | 97 |
| Michael White – Dana Moore | 0.00 | 6.14 | | 96 |
| Shane Zelazo | 0.00 | 0.00 | | 86 |
| Jeff Stoop – Mike Hinson | 0.00 | 0.00 | | 86 |
| Charles Weathersby – Jason Small | 0.00 | 0.00 | | 86 |
| JA Williford – Mike Chlomoudis | 0.00 | 0.00 | | 86 |
| Thomas Craft – Spencer Craft | 0.00 | 0.00 | | 86 |
| Mike James – Luke James | 0.00 | 0.00 | | 86 |
| Total Entrys | | | $1,680.00 | |
| BONUS $ | | | $380.00 | |
| Total Paid At Ramp | | | $1,640.00 | |
| East 2021 Fall Final Fund | | | $370.00 | |
| 2022 CATT Championship Fund | | | $50.00 | |
| 2021 East Fall Final Fund Total | | | $935.00 | |
| 2022 CATT Championship Fund Total | | | $0.00 | |