**Remember guys you have to enter 3 CATT Qualifiers to be able to enter the June 2-3 CATT Championship on Kerr $10,000 1st Place! You can make your 3 by having fished any FALL 2017 CATT Trails and by fishing any SPRING CATT Trails—the 3 don't have to be in the same Division!
You only have to enter 2 Kerr Qualifier to be eligible to enter the Kerr Final!
The Gaston CATT Qualifiers GUARANTEE a minimum of $1,000.00 to 1st Place!
The Gaston Final GUARANTEES a minimum of $2,500.00 to 1st Place!
Next and last CATT Gaston Spring Qualifier is May 19th at Summit Landing ( Lee's Creek)! Lets get 50 and pay back a huge bag of cash!
The 2nd event on Gaston Lake this spring yielded some great bags again, as our 30 boat field brought in some solid bags!
24 of our 30 boat field brought in limits, with 11 of the 24 bags breaking the 15lb mark!…
Congratulations to the WINNING team of Shane Doughtie & Evan White with 20.14lbs!!! They won a total of $1,550!!!($1,250 1st plus $300 Bonus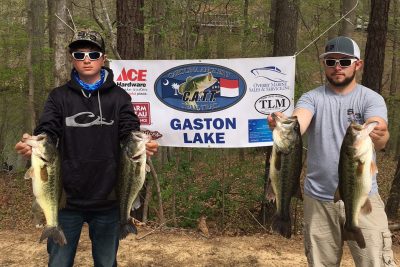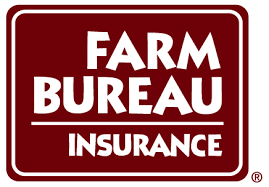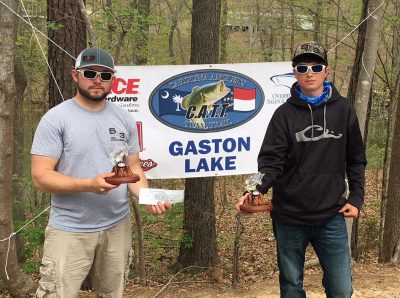 2nd place was none other than the always solid team of JT Palmore & Bobby Crisman with 19.63lbs!!! they took home $775 total.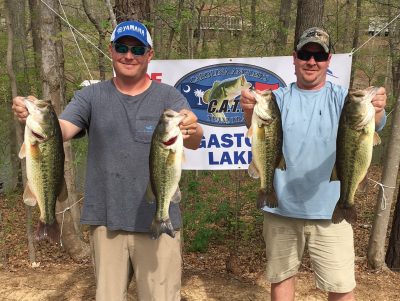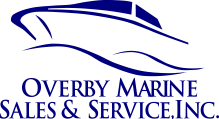 The Money Winners!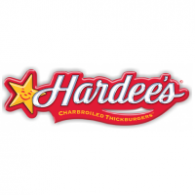 Check out the pictures at the bottom of the results!
| | | | | |
| --- | --- | --- | --- | --- |
|   | Big | Total | Total |   |
| 30 Teams | Fish | Weight | Winnings | Points |
| Shane Doughtie- Evan White    1st BONUS $ | 4.49 | 20.14 | $1,550.00 | 110 |
| Jt Palmore- Bobby Crisman     2nd BONUS $ | 4.90 | 19.63 | $775.00 | 109 |
| Justin Miles | 4.42 | 18.43 | $325.00 | 108 |
| Wesley Bennett- Chris Bishop    3rd BONUS $ | 5.45 | 17.88 | $325.00 | 107 |
| Jerry Cullom- Billy Patrick | 4.55 | 17.10 | $220.00 | 106 |
| Chuck Murray- Randy Groves | 5.74 | 16.64 | $120.00 | 105 |
| Mike Pendleton- Richard Chattin | 4.05 | 16.43 | | 104 |
| Bubba Haywood- David Fry            2nd BF | 5.99 | 16.34 | $87.00 | 103 |
| David Enos- Carl Enos                       1st BF | 7.28 | 16.30 | $203.00 | 102 |
| Adam & Gene Richardson | 0.00 | 15.35 | | 101 |
| Chase Johnson- Gary Johnson | 4.07 | 15.13 | | 100 |
| Patrick Wooten – Phillip Sykes | 4.28 | 14.51 | | 99 |
| Michael Whitehurst – Donna Wilson | 3.74 | 14.47 | | 98 |
| Michael Chlomoudis- Marty Warren | 0.00 | 14.41 | | 97 |
| Flash Butts- Shawn Hammack | 0.00 | 14.21 | | 96 |
| Scott Golden- Jesse Medlin | 5.30 | 14.21 | | 95 |
| Joey Scott- Derek Ogburn | 3.77 | 13.91 | | 94 |
| Scott Griffin- Kyle Griffin | 0.00 | 12.53 | | 93 |
| Ivan & Janet Morris | 3.88 | 12.35 | | 92 |
| Brandon Hendricks- Mike Brown | 0.00 | 10.86 | | 91 |
| Michael Gardner- Ryan Brown | 0.00 | 10.39 | | 90 |
| Allen White- Mike Vaughan | 0.00 | 9.22 | | 89 |
| Rich Hartman – Mark Brown | 0.00 | 7.49 | | 88 |
| John Jackon – Lee Gay | 0.00 | 6.82 | | 87 |
| Gregory Kropp-Kevin Scholar | 0.00 | 0.00 | | 86 |
| Keith Langford – Garrett Thomas | 0.00 | 0.00 | | 86 |
| Ricky Todd- Andy Liles | 0.00 | 0.00 | | 86 |
| Ray Cooke- Gene Woodard | 0.00 | 0.00 | | 86 |
| Ty Langston- Aaron Collen | 0.00 | 0.00 | | 86 |
| James Joyner- Lucas Puckett | 0.00 | 0.00 | | 86 |
| Total Entrys |   |   | $3,480.00 | |
| BONUS $ |   |   | $600.00 | |
| Total Paid At Ramp |   |   | $3,605.00 | |
| Gaston 2018 Spring Final Fund |   |   | $425.00 | |
| 2018 CATT Championship Fund |   |   | $50.00 | |
| 2018 Gaston Spring Final Fund Total |   |   | $805.00 | |
| 2018 CATT Championship Fund Total |   |   | $4,175.00 | |