The 2018 Gaston Final is Oct 6-7 at Summit Landing (Lee's Creek)! You must have entered at least 2 Gaston 2018 Qualifiers to be eligible to enter the Gaston Final! You may fish solo! Thanks for fishing guys! We will be awarding Lews Products at the Final!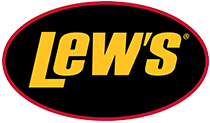 2019 CATT Championship June 1-2 Kerr Lake!
$10,000.00 1st Place GUARANTEED!
(Stay Tuned – 1st Place $$ May be Increased!)
New Nutbush Ramp – Kerr State Park!
A team or solo angler must fish 3 CATT events to Qualify!
You can get in your 3 events by fishing any CATT Fall 2018 and CATT Spring 2019! (Events after June 2018 Championship date count towards 2019)
The 3 events do not have to be in the same CATT Trail!
Thanks to these sponsors of the 2-18 Gaston CATT Trail!
1st Place team! Jesse Medlin & Scott Golden!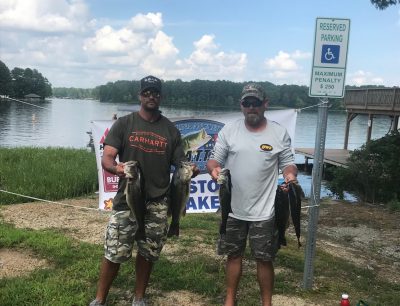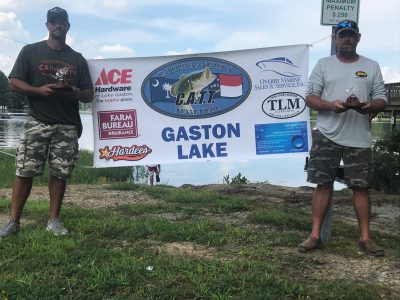 Thanks to Ivan & Janet Morris at the Glass Baron for provided the very nice trophies at the CATT Gaston events!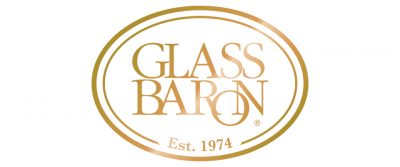 JT Palmore & Bobby Crisman win the points and will fish the 2019 Gaston Qualifiers Free!
| | | | | |
| --- | --- | --- | --- | --- |
| | Big | Total | Total | |
| 18 Teams | Fish | Weight | Winnings | Points |
| Jessie Medlin- Scott Golden  2nd BF | 5.70 | 18.69 | $1,051.00 | 220 |
| Jt Palmore- Bobby Crisman   1st BONUS | 0.00 | 13.97 | $705.00 | 218 |
| Keith Joyce- Mark Roberson   2nd BONUS | 0.00 | 13.21 | $335.00 | 216 |
| Chuck Murray- Randy Groves  3rd BONUS | 0.00 | 13.00 | $120.00 | 214 |
| Ryan Harrell | 0.00 | 12.01 | | 212 |
| Scott Griffin- Kyle Griffin  1st BF | 5.85 | 11.02 | $119.00 | 210 |
| Adam Richardson – Gene Richardson | 0.00 | 10.97 | | 208 |
| Ivan Morris- Janet Morris | 0.00 | 10.89 | | 206 |
| Mikey Anderson- Cody Backus | 0.00 | 10.69 | | 204 |
| Shane Doughtie- Evan White | 0.00 | 10.13 | | 202 |
| Chase Clark- Randy Braughman | 4.92 | 9.42 | | 200 |
| Wesley Bennett- Chris Bishop | 0.00 | 9.10 | | 198 |
| John Jackson- Lee Gay | 0.00 | 5.63 | | 196 |
| Ryan Braughman- Cason Price | 0.00 | 3.00 | | 194 |
| Greg Kropp- Kevin Scholar | 0.00 | 2.76 | | 192 |
| Kevin Williams- Pat Williams | 0.00 | 0.00 | | 190 |
| Eric Schell Todd Smith | 0.00 | 0.00 | | 190 |
| Justin Miles | 0.00 | 0.00 | | 190 |
| Total Entrys | | | $2,040.00 | |
| BONUS $ | | | $560.00 | |
| Total Paid At Ramp | | | $2,330.00 | |
| Gaston 2018 Spring Final Fund | | | $345.00 | |
| 2019 CATT Championship Fund | | | $50.00 | |
| 2018 Gaston Spring Final Fund Total | | | $1,710.00 | |