We had a great crowd at the 1st 2018 Spring Lake Hickory Qualifier with 25 teams squaring off for 8 hours! Our next Lake Hickory Qualifier is May 19th at Whittenburg! Come on out and join us!
Patrick Houpe & Jesse Smith took 1st Place with 5 bass weighing 21.33 lbs! Kick in the BONUS $ and they took home $950.00! Great Job guys!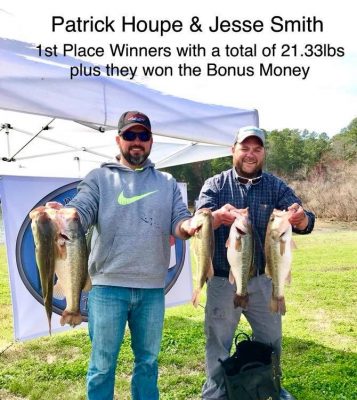 2nd went to Vince Parker & Mark Parker with 5 bass weighing 20.73 lbs and they earned $300.00!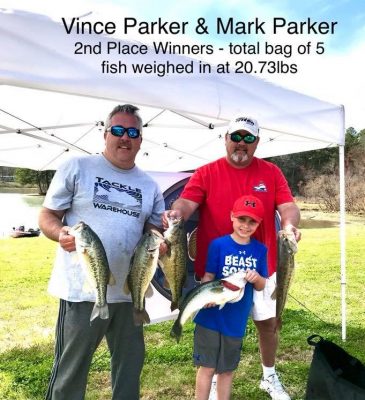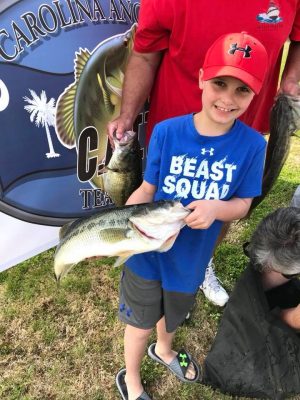 Jason Lowman & Heath Settle claimed 3rd with 5 bass weighing 19.42 lbs and they collected $200.00.
Andrew Crotts & Alex Hufan finished 4th with 18.29 lbs and they weighed the 1st Academy BF at 5.72 lbs! They received $285.00 and an Academy Gift Card!

Rodney Morrow & Mike Bryant took 5th with 15.83 lbs and took home $100.00
2nd BF went to Shae Jones & Adam Greer with a 5.49 lb bass worth $75.00!
| | | | | |
| --- | --- | --- | --- | --- |
| 25 teams | Big | Total | Total |   |
| Team | Fish | Weight | Winnings | Points |
| Jessie Smith – Patrick Houpe      BONUS $ | 4.58 | 21.33 | $950.00 | 110 |
| Vince Parker – Mark Parker | 5.21 | 20.73 | $300.00 | 109 |
| Jason Lowman – Heath Settle | 4.99 | 19.42 | $200.00 | 108 |
| Andrew Crotts – Alex Huffan             1st BF | 5.72 | 18.29 | $285.00 | 107 |
| Rodney Morrow – Mike Bryant | 3.63 | 15.83 | $100.00 | 106 |
| Dave Leonard – Brian Davis | 2.95 | 12.19 | | 105 |
| Aric Dwyer – Robert Anderson | 3.89 | 11.04 | | 104 |
| Rodney Sisk – Branson Sisk | 3.29 | 10.59 | | 103 |
| Chris Richey – George Bost | 4.34 | 8.19 | | 102 |
| Doug Punch – Rocky Franklin | 4.31 | 5.81 | | 101 |
| Shae Jones – Adam Greer              2nd BF | 5.49 | 5.49 | $75.00 | 100 |
| Kevin Lynch – Kenneth Kanipe | 0.00 | 5.30 | | 99 |
| Adam Filmore – James Salloum | 2.74 | 4.44 | | 98 |
| Brian Travis | 2.61 | 4.25 | | 97 |
| Michael Steele – Kelly Yoak | 0.00 | 0.00 | | 96 |
| Tony Nelson – Terry Herman | 0.00 | 0.00 | | 96 |
| Tim Chapman – Marcus Leech | 0.00 | 0.00 | | 96 |
| Steve Dayton | 0.00 | 0.00 | | 96 |
| Larry Houser | 0.00 | 0.00 | | 96 |
| Petey Bost – Danny Bost | 0.00 | 0.00 | | 96 |
| Dwight Dellinger | 0.00 | 0.00 | | 96 |
| Doug Tyson – Travis Greene | 0.00 | 0.00 | | 96 |
| Jerry Craig | 0.00 | 0.00 | | 96 |
| Wayne Spencer – Brian Dancy | 0.00 | 0.00 | | 96 |
| Larry Yancey – Milton Yancey | 0.00 | 0.00 | | 96 |
| Total Entrys |   |   | $2,000.00 | |
| BONUS $ |   |   | $400.00 | |
| Total Paid At Ramp |   |   | $1,910.00 | |
| Hickory 2018 Spring Final Fund |   |   | $440.00 | |
| 2018 CATT Championship Fund |   |   | $50.00 | |
|   |   |   |   | |
| 2018 Hickory Spring Final Fund Total |   |   | $440.00 | |
| 2018  CATT Championship Fund Total |   |   | $3,400.00 | |

#Goodwillnwnc
Thanks to Goodwill Northwest, North Carolina we are able to award BONUS $ to our Veterans at the Lake Hickory CATT Spring Trail!
***Team must consist of 1 Veteran
 
 
 
 
1st Veteran Team in the Points – $450.00
 
 
 
2nd Veteran Team in the Points – $300.00
Place
Team
17-Mar
19-May
30-Jun
7-Jul
Total
1
Andrew Crotts – Alex Huffan
107
107
2
Doug Punch – Rocky Franklin
101
101
3
Steve Dayton
96
96
4
Petey Bost – Danny Bost
96
96
5
Larry Yancey – Milton Yancey
96
96