The next and last 2018 James River Qualifier will be Sept 15 launching out of Osbourne! This is a Double Point event! 
To be eligible to enter the James River Final a Team Must fish 4 of 7 Qualifiers! We have 52 teams that have entered at least 4 after Saturdays Qualifier…23 teams have entered 3 so with 1 more Qualifier to go we could have a total of  75 teams eligible to enter the James River Final. If we have 75 Teams enter the James River Final the payout will top $16,000.00! Thanks for a great 1st year on the James!
Fishing solo once & with sub once counts toward teams Qualification. You may fish solo and you can Qualify solo for the James River Final!
Ray Hogge & Donnie Daniel weighed in a fat sack of James River bass tipping the scales at $23.41 lbs! Ad in the 2nd BF at 6.33 lbs and they took home $2,104.00! This was win #2 on the James River for Ray and Donnie!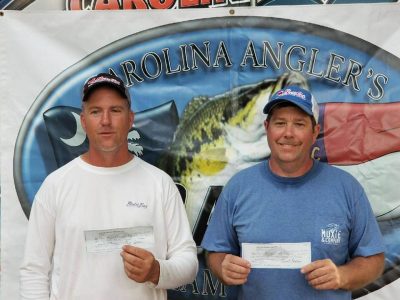 Brian Green & Jeff Parrish took 2nd with 18.77 lbs and walked away with $1,320.00!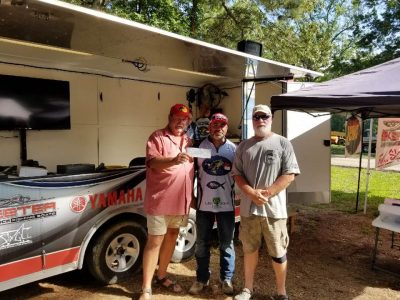 Leidy Clark & Donna Clark finished 3rd with 18.44 lbs and weighed in the BF at 7.41 lbs! They collected $1,281.00!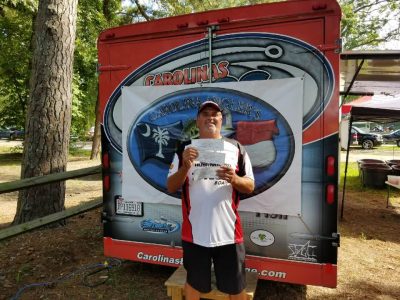 | | | | | |
| --- | --- | --- | --- | --- |
| | Big | Total | Total | |
| 58 Teams | Fish | Weight | Winnings | Points |
| Ray Hogge and Donnie Daniel  2nd BF | 6.33 | 23.41 | $2,104.00 | 220 |
| Brian Green and Jeff Parrish   1st BONUS | 5.41 | 18.77 | $1,320.00 | 219 |
| Leidy Clark and Donna Clark   1st BF & 2nd BONUS | 7.41 | 18.44 | $1,281.00 | 218 |
| Kelly Pratt and Josh Wright | 0.00 | 16.40 | $555.00 | 217 |
| Guy Fairweather and Jared Williams | 0.00 | 15.94 | $410.00 | 216 |
| Bobby Harris and Robby Harris | 5.48 | 15.79 | $310.00 | 215 |
| Dave Allen and Clayton Mullins | 0.00 | 15.41 | $240.00 | 214 |
| Don Bowman and Mike Wright | 0.00 | 15.35 | $195.00 | 213 |
| Richard Bates and Chad Hold | 0.00 | 15.20 | $180.00 | 212 |
| Tri Nguyen and Tevinn Rollins | 6.18 | 15.17 | $150.00 | 211 |
| Harrison Baker and Chase Huffman | 0.00 | 15.12 | $130.00 | 210 |
| Joe Krevonick and Johnny Bell | 0.00 | 14.90 | | 209 |
| Marshall Johnson and Ryan Lochinet | 5.65 | 14.48 | | 208 |
| Jerry Britt and Howard Austin | 0.00 | 14.28 | | 207 |
| Chris Fiore and Mikey Oley | 0.00 | 13.98 | | 206 |
| Robert Hindes and David Cole | 0.00 | 13.39 | | 205 |
| Eric Rowe and Mike Rowe | 0.00 | 13.01 | | 204 |
| Jason Bishop and Craig Shelton | 0.00 | 12.90 | | 203 |
| Don Gregg and Kirk Hi1derbrand | 0.00 | 12.73 | | 202 |
| Burley Langford and Brian Langford | 0.00 | 12.71 | | 201 |
| Nelson Marshall and Ron Studer | 0.00 | 12.23 | | 200 |
| Rob Uzzle and Hunter Atkins | 0.00 | 11.97 | | 199 |
| Jeff Koch and Tommy Powroznik | 0.00 | 11.93 | | 198 |
| Trey Goodman and Tim Chaffin | 0.00 | 11.91 | | 197 |
| Mickey Anderson | 0.00 | 11.66 | | 196 |
| Tommy Little and Robert Bruguiere | 0.00 | 11.75 | | 195 |
| Mike Martinez and William Allen | 0.00 | 11.47 | | 194 |
| Edward Jordan Sr and Edward Jordan Jr | 0.00 | 11.35 | | 193 |
| Torrey Aiken | 3.72 | 11.08 | | 192 |
| David Heavenridge | 0.00 | 10.96 | | 191 |
| Brandon Hill and Kevin King | 0.00 | 10.93 | | 190 |
| Mike Hinkley and Bernie Drimal | 3.57 | 10.80 | | 189 |
| Francis Martin and Ray Griffin | 0.00 | 10.72 | | 188 |
| Harvey Reece and Anthony Withers | 3.46 | 10.56 | | 187 |
| Andy Semonco and Wayne Adams | 0.00 | 10.55 | | 186 |
| Brian Snipes and Chris Cockrell | 0.00 | 10.28 | | 185 |
| Matt Funk and Cody Griffey | 0.00 | 9.95 | | 184 |
| Matthew Kite and Mike Custer | 0.00 | 9.89 | | 183 |
| John Doyle and Wayne Taylor | 0.00 | 9.69 | | 182 |
| David Carney and Andy Bollhorst | 0.00 | 9.64 | | 181 |
| David Fox and Roger Walters | 0.00 | 9.17 | | 180 |
| Richard Powell anfd Bubba Johnson | 0.00 | 8.61 | | 179 |
| Ryan Drewery and Wayne Drewery | 0.00 | 8.52 | | 178 |
| Jim Harrison and Cole Jarrett | 0.00 | 8.42 | | 177 |
| Avery Neely | 0.00 | 8.35 | | 176 |
| Matt Pulley and Brett Stewart | 0.00 | 8.17 | | 175 |
| Michael Green | 0.00 | 8.14 | | 174 |
| Randy Ruffin | 0.00 | 8.10 | | 173 |
| Mike Caul and Alexis Caul | 0.00 | 7.43 | | 172 |
| Jonathan Dickerson and Aaron Keener | 0.00 | 6.34 | | 171 |
| Carl Johnson and Bobby Harlow | 0.00 | 0.00 | | 170 |
| Stacy Sasser and Edward Hancock | 0.00 | 0.00 | | 170 |
| Linwood Shores | 0.00 | 0.00 | | 170 |
| William Clements and Chris Simons | 0.00 | 0.00 | | 170 |
| Steve Roberts and Jeffrey Banko | 0.00 | 0.00 | | 170 |
| Trey Dotson | 0.00 | 0.00 | | 170 |
| Casey Logan and Keaton Dalton | 0.00 | 0.00 | | 170 |
| Billy Orr and John Parson | 0.00 | 0.00 | | 170 |
| Total Entrys | | | $6,960.00 | |
| BONUS $ | | | $540.00 | |
| Total Paid At Ramp | | | $6,875.00 | |
| James River 2018 Final Fund | | | $625.00 | |
| 2019 CATT Championship Fund | | | $0.00 | |
| 2018 James River Final Fund Total | | | $3,210.00 | |
| 2019 CATT Championship Fund Total | | | $965.00 | |