We had some fun this Fall on the James River! Talked to Bart and he's going to add the Fall Trail again in 2021! Stay Tuned. The 2021 James River Trail is posted! Let's go fishing!
Ray Hogge & Donnie Daniel smoked the field with 5 bass weighing 18.65 lbs and they weighed in the BF at 5.19 lbs! They took home $1,670.00 with ONLY 11 teams entered! Ya can't beat that payback!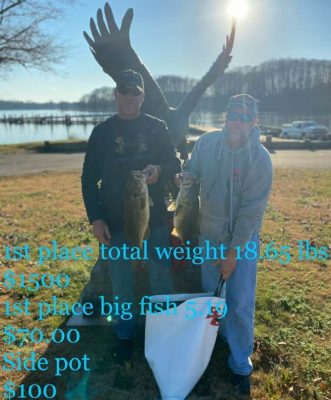 Steve Colger & Sammy Yates took 2nd with 7.51 lbs and collected $500.00!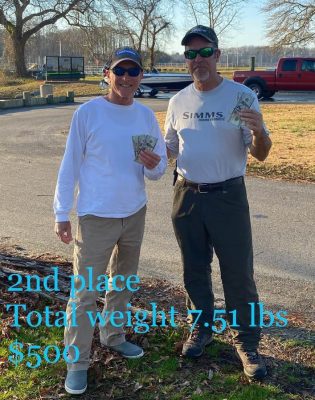 See you in 2021!
| | | | |
| --- | --- | --- | --- |
| Teams | BF | Weight | Winnings |
| Ray Hogge – Donnie Daniel | 5.19 | 18.65 | $1,670.00 |
| Steve Colger – Sammy Yates | 3.73 | 7.51 | $500.00 |
| David Bivens – Clay Lewis | 4.48 | 6.11 | |
| Mike Gunn – Frank Pridemore | 2.98 | 6.10 | |
| Matt Kite – Chris McDaniel | 0.00 | 6.00 | |
| Jay Teasley – P Jones | 0.00 | 5.73 | |
| Roger & Renee Walters | 0.00 | 5.62 | |
| Charles Ramer – Paul Brock | 0.00 | 2.57 | |
| Richard Griswold | 0.00 | 0.00 | |
| Steve Webb – Stacey Vasser | 0.00 | 0.00 | |
| Chris Corrington – Jarrad Williams | 0.00 | 0.00 | |