Next James River CATT is August 10th at Riverfront Park!
Howard Austin and Mark Austin bring in 19.27 lbs and take home $2,000.00!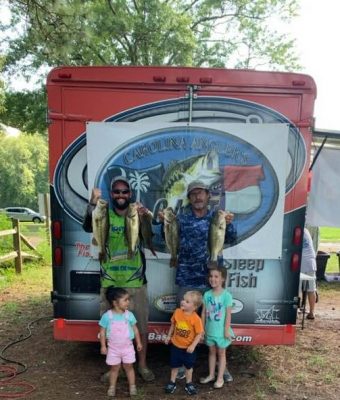 Ronnie Slaughter and Landon Tucker 2nd with 18.73 lbs! $1,000.00!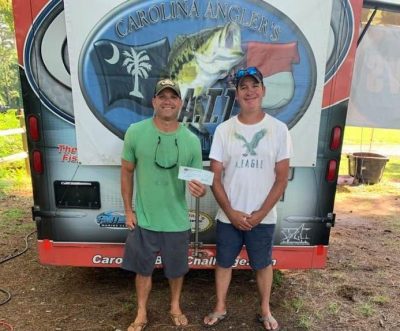 3rd Place Marshall Johnson and Ryan Lachnie with 18.45 lbs! $945.00!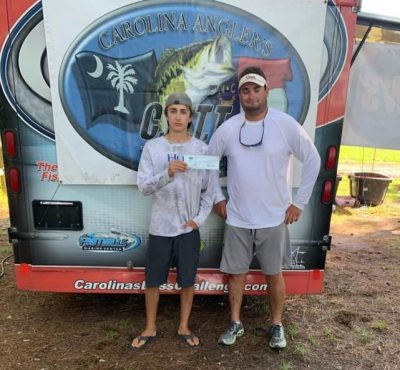 1st BF Kelly Robinette 6.25 lbs! $755.00!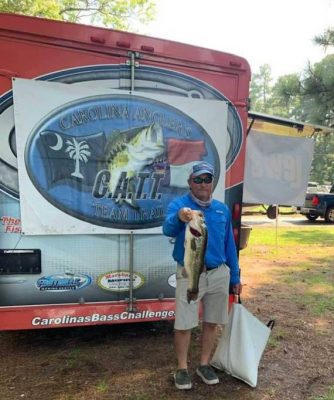 | | | | | |
| --- | --- | --- | --- | --- |
| Team Names | BF | Weight | Winnings | Points |
| Howard Austin and Mark Austin | 4.39 | 19.27 | $2,000.00 | 220 |
| Ronnie Slaughter and Landon Tucker | 0.00 | 18.73 | $1,000.00 | 219 |
| Marshall Johnson and Ryan Lachniet | 6.00 | 18.45 | $945.00 | 218 |
| William Clement and Jimmy Cornett | 4.55 | 17.68 | $600.00 | 217 |
| Kelly Pratt and Josh Wright | 0.00 | 17.40 | $830.00 | 216 |
| Doug Wharton and Ben Kendrick | 0.00 | 17.07 | $375.00 | 215 |
| Kelly Robinette | 6.25 | 16.09 | $755.00 | 214 |
| Guy Fairweather and Jared Williams | 0.00 | 14.84 | $250.00 | 213 |
| Joey Carr | 0.00 | 14.76 | $200.00 | 212 |
| Ryan Drewery and Wayne Drewery | 0.00 | 14.37 | $175.00 | 211 |
| Chris Bryant and Matt Dunnigan | 0.00 | 14.24 | $150.00 | 210 |
| Andy Semonico and Wayne Andrews | 3.99 | 14.11 | $360.00 | 209 |
| Brandon Hill and Kevin King | 5.61 | 14.23 | $120.00 | 208 |
| Chris Atwell and Gary Atwell | 0.00 | 13.95 | | 207 |
| Aaron Sadler and Cameron Lamm | 5.54 | 13.09 | | 206 |
| Trey Goodman and Tim Chaffin | 0.00 | 12.99 | | 205 |
| Ray Hogge and Donnie Daniel | 0.00 | 12.98 | | 204 |
| Francis Martin and Ray Griffin | 0.00 | 12.93 | | 203 |
| Wayne Taylor and John Doyle | 0.00 | 12.73 | | 202 |
| Robert Whitehurst and Parker Hinks | 0.00 | 12.68 | | 201 |
| Mike Caul and Alexis Caul | 0.00 | 12.52 | | 200 |
| Leidy Clark and Ricky West | 0.00 | 12.47 | | 199 |
| Stacy Vasser | 3.78 | 12.31 | | 198 |
| Ray Cobb and Mark Moretz | 0.00 | 12.24 | | 197 |
| Justin Hodges | 0.00 | 12.19 | | 196 |
| Craig Ferguson and Tim Byers | 0.00 | 12.04 | | 195 |
| Linwood Shores | 0.00 | 11.92 | | 194 |
| Drake Hunley | 0.00 | 11.89 | | 193 |
| Donnie Bowman and Mike Wright | 0.00 | 11.84 | | 192 |
| Bobby Harris and Robby Harris | 0.00 | 11.64 | | 191 |
| Tripp Mister | 4.46 | 11.81 | | 190 |
| Audie Murphy and Monte Aleman | 0.00 | 11.49 | | 189 |
| Dave Carney and Andy Bollhurst | 5.79 | 11.47 | | 188 |
| Jimmy Taylor and Ralph Taylor | 0.00 | 11.35 | | 187 |
| Mark Inman and T Dorton | 0.00 | 11.29 | | 186 |
| James Funk and Matt Funk | 0.00 | 11.21 | | 185 |
| Walter Emerson and Brody Webb | 0.00 | 10.91 | | 184 |
| Will Vickery amd Dee Kidd | 0.00 | 11.12 | | 183 |
| John Conway | 0.00 | 10.77 | | 182 |
| Chris Burnett and Chris Powell | 0.00 | 10.64 | | 182 |
| Mike Martinez and William Allen | 0.00 | 10.86 | | 180 |
| Bud Mason and Charles Crowder | 0.00 | 10.45 | | 179 |
| Ben Knapp and Rodney Manson | 0.00 | 10.29 | | 178 |
| Jake Eheart and Eathan Morrison | 0.00 | 9.51 | | 177 |
| Roger Walters and David Fox | 0.00 | 8.85 | | 176 |
| Burley Langford and Brian Langford | 0.00 | 8.82 | | 175 |
| Bo Boltz and Mickey Anderson | 0.00 | 8.19 | | 174 |
| John Barnes | 0.00 | 8.16 | | 173 |
| Bryan Keane | 0.00 | 8.12 | | 172 |
| Jeff Valentin and Daryl Moody | 0.00 | 7.87 | | 171 |
| Caleb Burress | 0.00 | 7.61 | | 170 |
| Rob Uzzle and Chris Woodfin | 0.00 | 7.46 | | 169 |
| Brian Snipes and Chris Cockrell | 0.00 | 7.30 | | 168 |
| Mike Hinkley and Matt Pulley | 0.00 | 5.86 | | 167 |
| Steve Webb and Lance Taylor | 0.00 | 5.49 | | 166 |
| Harvey Reece and Anthony Weithers | 0.00 | 0.00 | | 165 |
| Richard Bates and Chad Holms | 0.00 | 0.00 | | 165 |
| RJ Davis and Zachery Bruss | 0.00 | 0.00 | | 165 |
| Nelson Marshall and Ron Studer | 0.00 | 0.00 | | 165 |
| Jamie Nealy and Greg Ball | 0.00 | 0.00 | | 165 |
| Luke Carson and Darren Zoller | 0.00 | 0.00 | | 165 |
| Clayton Robines and Wayne Garrett | 0.00 | 0.00 | | 165 |
| Ty Fisher and Matt Chisholm | 0.00 | 0.00 | | 165 |
| Matthew Kite | 0.00 | 0.00 | | 165 |
| Robert Godsey and Jack Oliva | 0.00 | 0.00 | | 165 |
| Total Entrys | | | $7,800.00 | |
| BONUS $ | | | $550.00 | |
| Total Paid At Ramp | | | $7,760.00 | |
| James River 2019 Final Fund | | | $475.00 | |
| 2019 CATT Championship Fund | | | $85.00 | |
| 2019 James River Final Fund Total | | | $2,775.00 | |
| 2019 CATT Championship Fund Total | | | $1,850.00 | |