To be Eligible to Enter the James River Final You Must fish 4 of 7 James River Qualifiers! Last Qualifier is a Double Point Event!
Fishing solo once & with sub once counts toward teams Qualification. You may fish solo and you can Qualify solo for the James River Final.
Next James River Qualifier is Aug 25 at Riverfront Park!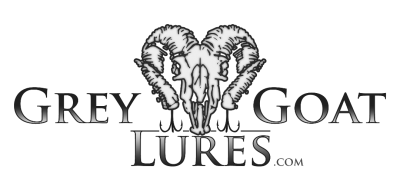 Guy Fairweather had a great day on the James bringing in 5 bass weighing 18.46 taking the win worth $2,150.00! Guy was fishing out of his new Triton and will also collect some Triton Gold cash! Add another $7,000.00 and Guy took home $9,150.00!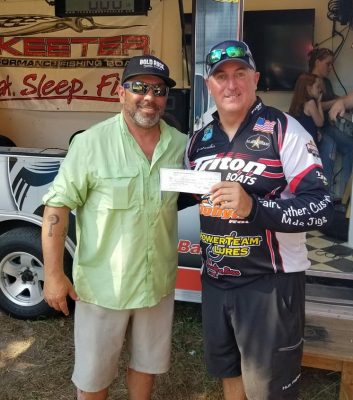 2nd Place John Doyle & Eugene Carter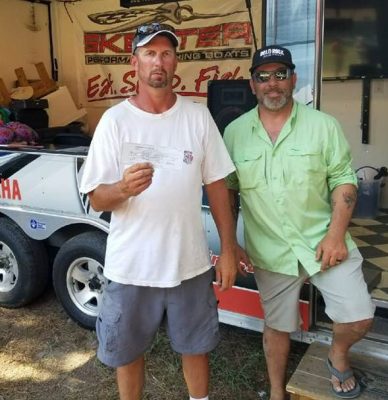 3rd Dave Allen & Clayton Mullins
4th Don Bowman & Mike Wright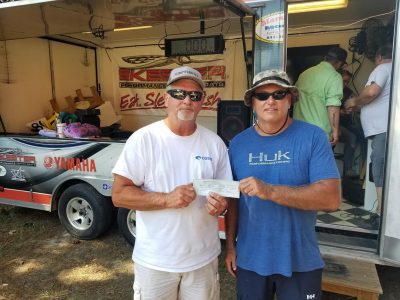 5th Mikey Anderson & Bo Boltz                                                 1st BF 8.07 lbs! Tripp & Rick Mistr!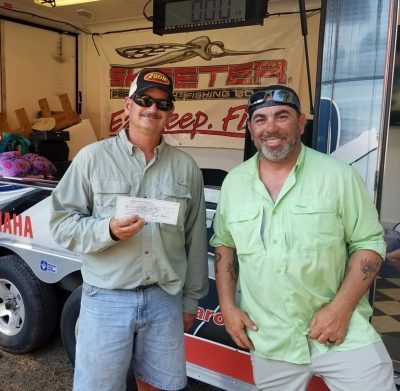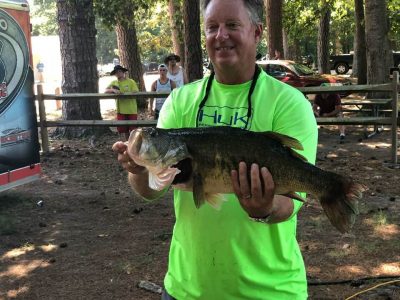 2nd BF 7.60 lbs! Dave Allen & Clayton Mullins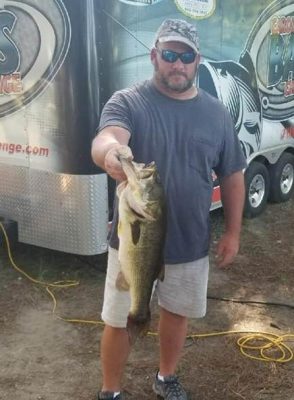 Big
Total
Total
72 Teams
Fish
Weight
Winnings
Points
Guy Fairweather   Triton Gold
6.49
18.46
$9,150.00
220
John Doyle – Eugene Carter
6.77
18.35
$1,100.00
219
Dave Allen-Clayton Mullins  2nd BF-1st BONUS $
7.60
17.83
$1,401.00
218
Don Bowman – Mike Wright
6.49
17.75
$625.00
217
Mickey Anderson – Bo Boltz
4.50
16.46
$515.00
216
Tim Chaffin – Trey Goodman
4.29
16.30
$415.00
215
Mike Rowe – Eric Rowe
4.17
15.85
$315.00
214
Tripp Mistr – Rick Mistr  

1st BF

8.07
15.85
$779.00
213
Jason Bishop – Craig Shelton
4.54
15.59
$250.00
212
Edward Jordan Sr – Edward Jordan Jr
4.13
15.46
$225.00
211
Ryan Drewery – Wayne Drewery
0.00
15.12
$200.00
210
Matthew Kite
6.06
15.04
$160.00
209
Marshall Johnson – Ryan Lachinet
0.00
14.87
$140.00
208
Kelly Pratt – Joshua Wright
0.00
14.66
$125.00
207
Brian Cheek – Craig Cheek
0.00
14.50
206
Dave Carney – Andy Bollhorst
0.00
14.30
205
Andy Semonco – Wayne Adams   2nd BONUS $
5.85
14.29
$220.00
204
Kelly Robinette – David Barlow
0.00
13.89
203
Jerry Britt – Howard Austin
0.00
13.84
202
Eddie Griggs – Bryan Elrod
0.00
13.76
201
Brandon Hill – Kevin King
0.00
13.68
200
Leidy Clark – Donna Clark
0.00
13.63
199
Michael Shears – Wayne Eastwood
3.74
13.28
198
Ricky Powell – Bubba Johnson
0.00
13.25
197
Ray Hogge – Donnie Daniel
0.00
12.96
196
Richard Bates – Chad Holms
3.26
12.76
195
Burley Langford – Brian Langford
5.22
12.40
194
David Heavenridge – Cody Heavenridge
0.00
12.32
193
Bobby Harris – Robby Harris
0.00
12.19
192
Mike Caul – Alexis Caul
4.67
12.12
191
Justin Hodges – Scott Harvey
0.00
12.05
190
Bobby Pinner – Tripp Pinner
0.00
12.02
189
Torrey Aiken – Craig Fagan
0.00
11.87
188
Audie Murphy – Chris Toone
0.00
11.82
187
Harvey Reese – Anthony Weithers
0.00
11.76
186
Tim Garner – Eric Johnson
0.00
11.57
185
Don Gregg – Trey Gregg
0.00
11.29
184
Ron Studer – Nelson Marshall
0.00
11.19
183
James Webb – Daniel Webb
3.96
11.16
182
Noah Gilley – Craig Hula
0.00
11.13
181
Matt Pulley – Brett Stewart
0.00
11.01
180
William Clements – Chris Simons
0.00
10.87
179
David Fox – Roger Walters
0.00
10.79
178
Travis Heath – Barry Cobb
0.00
10.44
177
Francis Martin – Paul Martin
0.00
10.30
176
John Korne – Joe Westfalll
0.00
10.23
175
Stacy Sasser – Edward Hancock
0.00
9.62
174
Brian Snipes – Chris Cockrell
0.00
9.43
173
Lynnwood Shores – Charlie Towler
0.00
9.11
172
Matt Noraas
0.00
8.44
171
Robert Whithurst – Parker Hinks
0.00
8.03
170
Mike Hinkley – Bernie Drimal
0.00
7.39
169
Jimmy Condrey – James Condrey
0.00
7.21
168
Avery Neely
0.00
6.96
167
Randy Ruffin – Seth Flynt
0.00
6.96
166
Brian Green – Jeff Parrish
0.00
6.80
165
 Brandon Smith – Brian Brooks
0.00
6.60
164
Jonathan Ceasar
0.00
6.14
163
Ernest Howell – Reuben Green
0.00
2.22
162
Michael Green
0.00
0.00
161
Carl Johnson – Bobby Harlow
0.00
0.00
161
Mike Baldwin – Randy Taylor
0.00
0.00
161
Will Vickery – Dee Kidd
0.00
0.00
161
Jonathan Dicherson and Aaron Keene
0.00
0.00
161
Trey Dotson
0.00
0.00
161
Luke Elliston – Jacob Kupselaitis
0.00
0.00
161
Kenny Wright – Charlie Seymour
0.00
0.00
161
Charles Kline – James Griffin
0.00
0.00
161
Michael Oley – Shaun Clarke
0.00
0.00
161
Robert Stinger – Shawn Burnett
0.00
0.00
161
Ben Knapp – Jeff Knapp
0.00
0.00
161
John Parson – Billy Orr
0.00
0.00
161
Total Entrys
$8,640.00
BONUS $
$630.00
Total Paid At Ramp
$15,620.00
James River 2018 Final Fund
$650.00
2019 CATT Championship Fund
$0.00
2018 James River Final Fund Total
$2,585.00
2019 CATT Championship Fund Total
$745.00