**Remember guys you have to enter 3 CATT Qualifiers to be able to enter the June 2-3 CATT Championship on Kerr. $10,000 1st Place! You can make your 3 by having fished any FALL 2017 CATT Trails and by fishing any SPRING CATT Trails—the 3 don't have to be in the same Division!
**Also to be eligible to enter the 2018 James River Final —-  Must fish 4 of 7 Qualifiers to Fish Final. Fishing solo once & with sub once counts toward teams Qualification. You may fish solo and you can Qualify solo for the James River Final.
We had a great group entering the 1st 2018 James River CATT Qualifier! 90 teams entered and we paid back over $11,000.00!
Next James River CATT Qualifier is April 21st at Osborne!  
Matt Funk fishing solo brought in a 5 bass limit weighing 25.49 lbs to take the win! In his bag he also had the 1st BF weighing 8.02 lbs! Matt will also receive $300 by being enrolled in the Phoenix First Flight Program! All total Matt collected $3,330.00!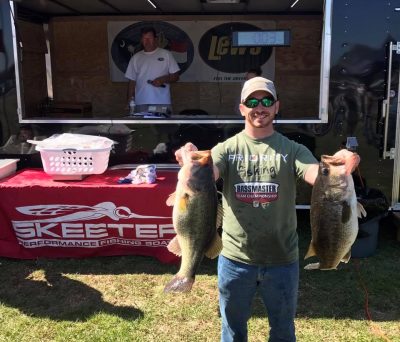 2nd went to Edward Jordan Sr. & Edward Jordan Jr. with 5 bass weighing 20.17 lbs! They took home $1,200.00!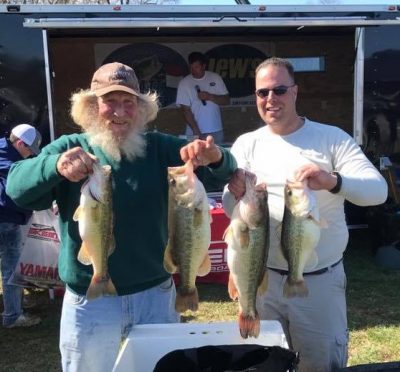 Matt Pulley & Steven Whitaker claimed 3rd with another fat bag of James River bass weighing up at 19.73 lbs! They also earned the 1st BONUS $ pushing their total winnings to $1,435.00!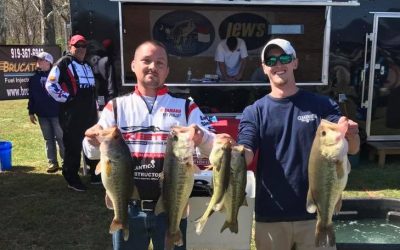 4th went to Brandon Hill & Kevin King with 5 bass weighing 19.66 lbs! Brandon & Kevin weighed in the 2nd BF at 6.66 lbs and took the 2nd BONUS $ for a grand total of $1,320.00!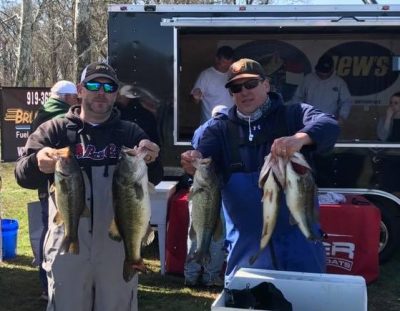 We paid back a total of 18 places! Full results below and more pics below the results! Thanks for fishing!
| | | | | |
| --- | --- | --- | --- | --- |
| 90 Teams | Big | Total | Total |   |
| Team | Fish | Weight | Winnings | Points |
| Matt Funk    1st BF | 8.02 | 25.49 | $3,330.00 | 220 |
| Edward Jordan Sr and Edward Jordan Jr | 6.64 | 20.17 | $1,200.00 | 219 |
| Matt Pulley and Steven Whitaker   1st BONUS $ | 6.06 | 19.73 | $1,435.00 | 218 |
| Brandon Hill – Kevin King    2nd BONUS $ & 2nd BF | 6.66 | 19.66 | $1,320.00 | 217 |
| Scott Rogers -Butch Connor   3rd BONUS $ | 6.13 | 18.37 | $785.00 | 216 |
| Bob Heinds – David Cole | 4.72 | 18.18 | $475.00 | 215 |
| Mike Caul and Alexis Caul | 0.00 | 17.42 | $425.00 | 214 |
| Luke Elliston and Jacob Kupselaitis | 5.48 | 17.41 | $375.00 | 213 |
| Mike Martinez – William Allen | 0.00 | 17.16 | $350.00 | 212 |
| Landon Tucker – Marcello Passalacqua | 0.00 | 17.02 | $315.00 | 211 |
| John Doyle – Eugene Carter | 5.50 | 16.97 | $275.00 | 210 |
| Torrey Aiken and Craig Fagan | 4.06 | 16.69 | $225.00 | 209 |
| Brian Snipes and Chris Cockrell | 4.96 | 16.53 | $200.00 | 208 |
| Brian Green and Jeff Parrish | 0.00 | 15.84 | $175.00 | 207 |
| Ricky Powell and Bubba Johnson | 4.88 | 15.81 | $160.00 | 206 |
| William Clements and Chis Simons | 0.00 | 15.49 | $150.00 | 205 |
| John Hinkley and Bernie Dremer | 0.00 | 15.47 | $140.00 | 204 |
| Kelly Robinette and Dave Collins | 0.00 | 15.37 | $120.00 | 203 |
| Jared Williams – Guy Fairweather | 4.42 | 15.28 | | 202 |
| Cullen Hoover – Mark Eubank | 0.00 | 14.74 | | 201 |
| Brandon Vaughn – Dustin Felts | 0.00 | 14.55 | | 200 |
| Wilson Burton and Jeff Powers | 0.00 | 14.54 | | 199 |
| Kyle Owen – Connor Harrison | 0.00 | 14.39 | | 198 |
| Danny Ashton – Tim Ashton | 3.69 | 14.27 | | 197 |
| Wayne Vaughn – Mitch Blankinship | 0.00 | 13.97 | | 196 |
| Kevin Best – BK Durham | 0.00 | 13.71 | | 195 |
| Ray Hogge – Kevin Whitehurst | 4.39 | 13.47 | | 194 |
| Mathew Kite – Mike Custer | 0.00 | 13.27 | | 193 |
| Nicholas Bodsford – Ricky Bodsford | 0.00 | 13.24 | | 192 |
| Jason Bishop | 5.94 | 13.22 | | 191 |
| Tommy Little – Robert Bruquiere | 0.00 | 13.10 | | 190 |
| Steve Lamm and Jesse Johnson | 3.90 | 13.09 | | 189 |
| Chris Atwell and Gary Atwell | 0.00 | 13.07 | | 188 |
| Luke Carson – Brian Bersik | 0.00 | 12.95 | | 187 |
| Jason Bishop and Craig Shelton | 0.00 | 12.75 | | 186 |
| Jimmy Condrey – James Condrey | 0.00 | 12.74 | | 185 |
| Avery Neely | 0.00 | 12.64 | | 184 |
| Jonathan Ceaser – Ryan Broymer | 3.40 | 12.61 | | 183 |
| John Koren – Joe Westfall | 0.00 | 12.27 | | 182 |
| Eddie Griggs – Bryan Elrod | 0.00 | 12.02 | | 181 |
| David Fox Sr – Roger Walters | 0.00 | 11.95 | | 180 |
| Ryan Drewery and Wayne Drewery | 0.00 | 11.90 | | 179 |
| Steve Webb and Jim Harrison | 3.50 | 11.85 | | 178 |
| David Allen – Clayton Mullins | 0.00 | 11.80 | | 177 |
| Mike Baldwin and Randy Taylor | 0.00 | 11.52 | | 176 |
| John Barnes and Ryan Barksdale | 0.00 | 11.40 | | 175 |
| Kelly Pratt and Joshua Wright | 0.00 | 11.03 | | 174 |
| Ron Struder and Nelson Marshall | 0.00 | 11.02 | | 173 |
| Brandon Smith – Brian Brooks | 0.00 | 10.84 | | 172 |
| Audie Murphy -Chris Toone | 0.00 | 10.76 | | 171 |
| Joe Krevonick and Raymond Narron | 0.00 | 10.43 | | 170 |
| Chris Bryant – Matt Dunnigan | 0.00 | 10.36 | | 169 |
| Mike Rowe – Eric Rowe | 0.00 | 10.32 | | 168 |
| Andy Semonco and Wayne Adams | 0.00 | 10.24 | | 167 |
| Aaron Sadler – Carl Sadler | 0.00 | 10.18 | | 166 |
| Donnie Meade – Travis Daniels | 0.00 | 10.14 | | 165 |
| Noah Gilley – Craig Hula | 0.00 | 10.00 | | 164 |
| Don Bowman and Mike Wright | 0.00 | 9.93 | | 163 |
| David Heavenridge – Cody Heavenridge | 0.00 | 9.83 | | 162 |
| Leidy Clark and Ricky West | 0.00 | 9.37 | | 161 |
| Edward Milton – TJ Milton | 0.00 | 9.29 | | 160 |
| Tim Garner – Martin Villa | 0.00 | 8.93 | | 159 |
| Ryan Amick and Bryan Radcliff | 0.00 | 8.75 | | 158 |
| Kevin Poley and Richard Hall | 0.00 | 8.28 | | 157 |
| Carl Johnson and Bobby Harlow | 0.00 | 7.98 | | 156 |
| Jeff Lodge and Nicholas Lopashanski | 0.00 | 7.34 | | 155 |
| Harvey Reese and Anthony Weithers | 0.00 | 7.31 | | 154 |
| Stacy Sasser and Edward Hancock | 3.88 | 7.29 | | 153 |
| Zach Whitt | 0.00 | 7.27 | | 152 |
| Willy Hicks | 0.00 | 6.84 | | 151 |
| Curtis Combs – CJ Combs | 0.00 | 6.39 | | 150 |
| Travis Heath and Barry Cobb | 0.00 | 6.31 | | 149 |
| Eddie Duffie and Rob Tyler | 0.00 | 5.70 | | 148 |
| Burley Langford and Brian Langford | 0.00 | 5.30 | | 147 |
| Chris Fiore and Mikey Oley | 0.00 | 4.76 | | 146 |
| Ernest Howell and Reuben Greene | 0.00 | 4.03 | | 145 |
| Justin Hodges and Scott Harvey | 0.00 | 2.81 | | 144 |
| Jeff Hamilton and Trey Goodman | 0.00 | 0.00 | | 143 |
| Bobby Harris and Robby Harris | 0.00 | 0.00 | | 143 |
| Michael Green | 0.00 | 0.00 | | 143 |
| Joey Cook and Noah Peters | 0.00 | 0.00 | | 143 |
| Adam Weaver and Mike Mozingo | 0.00 | 0.00 | | 143 |
| Will Vickery and Dee Kidd | 0.00 | 0.00 | | 143 |
| Trey Dotson and Alan Dodge | 0.00 | 0.00 | | 143 |
| Tripp Mistr – Rick Mistr | 0.00 | 0.00 | | 143 |
| Greg Bradcliff | 0.00 | 0.00 | | 143 |
| Ted Lempke – Mike Nobles | 0.00 | 0.00 | | 143 |
| Linwood Shores – Ed Loughran | 0.00 | 0.00 | | 143 |
| Bo Bultz Jr – Mickey Anderson | 0.00 | 0.00 | | 143 |
| John Desrochers – Tom Cormroy | 0.00 | 0.00 | | 143 |
| Total Entrys |   |   | $10,800.00 |   |
| BONUS $ |   |   | $1,170.00 |   |
| Total Paid At Ramp |   |   | $11,155.00 |   |
| James River 2018 Final Fund |   |   | $750.00 |   |
| 2018 CATT Championship Fund |   |   | $75.00 |   |
|   |   |   |   |   |
| 2018 James River Final Fund Total |   |   | $750.00 |   |
| 2018 CATT Championship Fund Total |   |   | $3,650.00 |   |