Next James River CATT is May 7th at Osbourne!
We will post a make up date soon  for the March 12th Qualifier we cancelled!
Tripp & Brent Mistr top the 63 boats field with 5 bass weighing 25.36 lbs! They took home $2,000.00 for the win and another $500.00 by being registered in the Phoenix First Flight Program! Great job guys!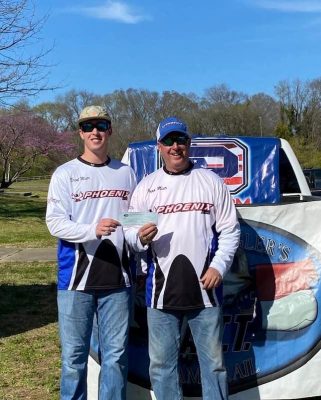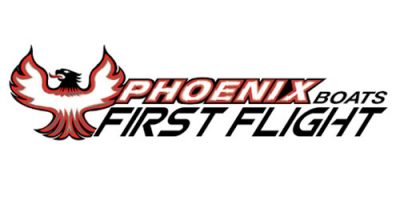 Mike Martinez & Williams claimed 2nd with 20.75 lbs worth $1,325.00!
BF was 8.07 lbs weighed in b y Clyde Baldwin & Jeff Davis!
Check out the rest of the money winners!

| | | | | |
| --- | --- | --- | --- | --- |
| Team | BF | Weight | Winnings | Points |
| Tripp Mistr – Brent Mistr | 6.73 | 25.36 | $2,500.00 | 110 |
| Mike Martinez – William Allen | 0.00 | 20.75 | $1,325.00 | 109 |
| Rob Uzzle * | 0.00 | 18.11 | $700.00 | 108 |
| Chaz Carrington – Nathaniel Kilgore* | 0.00 | 17.16 | $600.00 | 107 |
| Ryan Drewery – Wayne Drewery* | 0.00 | 17.11 | $435.00 | 106 |
| Trey Goodman – Tim Chaffin* | 0.00 | 16.95 | $335.00 | 105 |
| Clyde Baldwin – Jeff Davis* | 8.07 | 16.06 | $734.00 | 104 |
| Michael Brannon – Jacob Compton * | 6.79 | 15.98 | $230.00 | 103 |
| Jared Sutton – Nick Passalacqua | 0.00 | 15.96 | $200.00 | 102 |
| Luke Nickert – Jared Bass | 0.00 | 15.56 | $165.00 | 101 |
| Luke Carson – Darrin Zollar * | 0.00 | 15.46 | $140.00 | 100 |
| Jake Kidd – Jesse Kidd* | 0.00 | 15.07 | $135.00 | 99 |
| James Condrey – Jimmy Condrey* | 5.57 | 14.84 | | 98 |
| Greg Cooper – Billy Allen | 0.00 | 13.54 | | 97 |
| Howard Austin – Mark Austin* | 0.00 | 13.24 | | 96 |
| Neal Allen – Rodney Allen* | 0.00 | 13.00 | | 95 |
| Chris Bryant  – Matt Dunnigan * | 0.00 | 12.80 | | 94 |
| Curtis Combs SR – CJ Combs* | 0.00 | 12.78 | | 93 |
| Rick Mistr – Tom Owens* | 5.36 | 12.55 | | 92 |
| Stacy Vasser – Jonathan Ceaser * | 0.00 | 12.47 | | 91 |
| Jeff Valentine – Daryl Moody* | 0.00 | 12.36 | | 90 |
| Marshall Johnson – Ryan Lachinet* | 0.00 | 12.32 | | 89 |
| Craig Ferguson – Tim Byers* | 0.00 | 12.05 | | 88 |
| James Tilley – Andy Walker* | 0.00 | 11.88 | | 87 |
| Mickey Anderson – Bo boltz | 0.00 | 11.81 | | 86 |
| Brian Brooks – Donnie Meade* | 0.00 | 11.78 | | 85 |
| Rusty Alley – Dan Robinson * | 0.00 | 11.03 | | 84 |
| Kevin Davis – Melissa Davis* | 0.00 | 10.79 | | 83 |
| Kelly Robinette – David Barlow* | 0.00 | 10.77 | | 82 |
| Rick Rodriguez – Chuck Rackely | 0.00 | 10.72 | | 81 |
| Charles Kline – Jay Griffen | 0.00 | 10.54 | | 80 |
| Bryan Keane – Evan Anderson* | 0.00 | 10.46 | | 79 |
| Ken Pressley – Mike Kicks* | 0.00 | 10.44 | | 78 |
| Dave Carney – Andy Bollhorst* | 0.00 | 10.43 | | 77 |
| Paul Martin – Francis Martin* | 0.00 | 10.39 | | 76 |
| Wayne Tyler – Ed Jordan* | 0.00 | 10.24 | | 75 |
| Ray Hogge – Donnie Daniels* | 0.00 | 9.82 | | 74 |
| Jordan Heineman – Steve Heineman* | 0.00 | 9.57 | | 73 |
| Don Warren – Chuck Comer | 0.00 | 9.08 | | 72 |
| Chris McDaniel – Matt Kite* | 0.00 | 8.79 | | 71 |
| Joey Cooke – Justin Hall* | 0.00 | 8.61 | | 70 |
| Neil Jernigan – BK Kelly* | 0.00 | 8.35 | | 69 |
| Ricky Meyers – Jimmy Kerns* | 0.00 | 8.23 | | 68 |
| Jamie Nealy – Greg Ball | 0.00 | 8.08 | | 67 |
| Joseph Krevoncik – Noah Witt* | 0.00 | 7.89 | | 66 |
| Jeff Lulow – Billy Edwards* | 7.50 | 7.50 | $186.00 | 52 |
| Aaron Lucy – Reed Clay * | 0.00 | 7.15 | | 65 |
| Roger Walters – Renee Walters* | 0.00 | 6.85 | | 64 |
| Charles Ramer – Ernest Ramer* | 0.00 | 5.83 | | 63 |
| William Woodel – Walter Woodel* | 0.00 | 2.52 | | 62 |
| Corry Dunnavent – Kennon Ball* | 0.00 | 0.00 | | 52 |
| Guy Fairweather – Chris Brill* | 0.00 | 0.00 | | 52 |
| Josh Durham – Zach Durham* | 0.00 | 0.00 | | 52 |
| Joey DeLuke – Chris DeLuke* | 0.00 | 0.00 | | 52 |
| Jeff Hamilton – Jason Bishop* | 0.00 | 0.00 | | 52 |
| Todd Fisher – Matt Chisholm* | 0.00 | 0.00 | | 52 |
| Kevin Best – BK Kelley* | 0.00 | 0.00 | | 52 |
| Linwood Shores* | 0.00 | 0.00 | | 52 |
| Frank Poirier – Brian Durham* | 0.00 | 0.00 | | 52 |
| Robbie Harris | 0.00 | 0.00 | | 52 |
| Bubba Whiteurst – John Conway | 0.00 | 0.00 | | 52 |
| Landon Tucker – Ronnie Slaughter | 0.00 | 0.00 | | 52 |
| Total Entrys | | | $7,440.00 | |
| BONUS $ | | | $325.00 | |
| Total Paid At Ramp | | | $7,185.00 | |
| 2022 James River Spring Final Fund | | | $480.00 | |
| 2022 CATT Championship Fund | | | $50.00 | |
| 2022 James River Spring Final Fund Total | | | $480.00 | |