Next James River CATT is August 29th Osbourne!
CATT GOLD – $120 Entry $130 at Ramp
Final – $160 Entry $170 at Ramp
Optional Sidepot – $50
James River Membership – $35 Per Person
Blastoff Position is Determined By Order Of Payment
Must fish 3 of 6 Qualifiers to Fish Final
Fishing solo once & with sub once counts toward teams Qualification
You may fish solo and you can Qualify solo for the James River Final!
Marshall Johnson & Ryan Lachniet are HOT! They scored their 2nd win on the James River with 5 bass weighing 23.91 lbs and weighed in the 1st BF at 7.62 lbs! They have a big lead in the points also! Great job guys!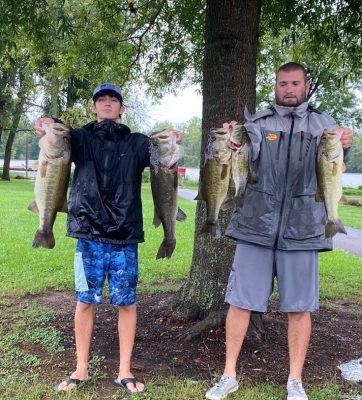 Check out the rest of the winners!
| | | | | |
| --- | --- | --- | --- | --- |
| 48 Teams | BF | Weight | Winnings | Points |
| Marshall Johnson- Ryan Lachniet* | 7.62 | 23.91 | $2,366.00 | 110 |
| David Bivvins-Clay Lewis | 6.48 | 22.10 | $870.00 | 109 |
| Ray Hogge- Donnie Daniel * | 6.77 | 21.85 | $714.00 | 108 |
| Jared Williams* | 0.00 | 18.94 | $450.00 | 107 |
| Jason Bishop- Jeff Hamilton* | 0.00 | 17.93 | $505.00 | 106 |
| James Condrey- Jimmy Condrey | 0.00 | 17.88 | $240.00 | 105 |
| Jeffrey Valentin- Daryl Moody* | 0.00 | 17.24 | $220.00 | 104 |
| Charles James- John Conway* | 0.00 | 16.84 | $150.00 | 103 |
| Chase Huffman-Harison Baker | 0.00 | 16.67 | $130.00 | 102 |
| Wayne Andrew- Andy Semonco | 6.51 | 15.10 | | 101 |
| Joseph Carr- Larry Whitt* | 0.00 | 15.09 | | 100 |
| Jay Teasley- Patrick Jones | 0.00 | 14.70 | | 99 |
| Matt Funk- Pete Kenny* | 0.00 | 14.07 | | 98 |
| Richard Bates-Scott Randall* | 0.00 | 14.00 | | 97 |
| Steve Webb- Stacy Vassar* | 4.65 | 13.57 | | 96 |
| Clayton Robens- Nathan Seymore* | 0.00 | 13.34 | | 95 |
| Tommy Little- Jerry Heffler | 0.00 | 13.03 | | 94 |
| Trey Goodman-Tim Chaffin* | 0.00 | 12.81 | | 93 |
| Brian Brooks- Avery Powelson* | 0.00 | 11.93 | | 92 |
| Jacob Moore* | 0.00 | 11.52 | | 91 |
| Kelly Robbinet- David Barlowe* | 0.00 | 10.96 | | 90 |
| Ryan Drewery- Wayne Drewery* | 0.00 | 10.85 | | 89 |
| Kevin King – Brandon Hill | 0.00 | 10.70 | | 88 |
| Dave  Carney-Andy Bollhorst* | 0.00 | 10.48 | | 87 |
| Blake Condrey- Codey Griffith* | 0.00 | 10.43 | | 86 |
| Bryan Keane- Even Anderson* | 0.00 | 10.35 | | 85 |
| Charles Ramer- Ernest Revels* | 0.00 | 10.26 | | 84 |
| Walter Emerson- Brody Webb* | 0.00 | 9.91 | | 83 |
| Travis Heath- Kevin Gregory* | 0.00 | 9.53 | | 82 |
| Chris Cockrell- Brian Snipes* | 0.00 | 9.12 | | 81 |
| Chris Wingfield- Benny Wingfield* | 0.00 | 9.02 | | 80 |
| Luke Carson- Darin Zollar* | 0.00 | 8.81 | | 79 |
| Curtis- CJ Combs* | 0.00 | 8.69 | | 78 |
| Alex King- Joe Bullock* | 0.00 | 6.62 | | 77 |
| James Tilley- Andy Walker(kevin Davis sub) | 0.00 | 3.34 | | 76 |
| Tim Byers- Craig Ferguson* | 0.00 | 0.00 | | 75 |
| Jamei Nealy- Greg Ball* | 0.00 | 0.00 | | 75 |
| Audie Murphy- Monte Aleman* | 0.00 | 0.00 | | 75 |
| Jeffrey Banko- Erik Wilkinson* | 0.00 | 0.00 | | 75 |
| John Barnes* | 0.00 | 0.00 | | 75 |
| William Clements- Jimmy Cornett* | 0.00 | 0.00 | | 75 |
| Gregg Fernandez* | 0.00 | 0.00 | | 75 |
| Jonathan Ceaser- Lou Britos* | 0.00 | 0.00 | | 75 |
| Ted Lempke | 0.00 | 0.00 | | 75 |
| Kevin Best- BeeKee Kelly | 0.00 | 0.00 | | 75 |
| Matthew Kite- Brandon Palmor | 0.00 | 0.00 | | 75 |
| Mike Martinez- William Allen | 0.00 | 0.00 | | 75 |
| Edward Milton- Thomas Milton | 0.00 | 0.00 | | 75 |
| Total Entrys | | | $5,640.00 | |
| BONUS $ | | | $450.00 | |
| Total Paid At Ramp | | | $5,645.00 | |
| James River 2020 Final Fund | | | $395.00 | |
| 2020 CATT Championship Fund | | | $50.00 | |
| 2020 James River Final Fund Total | | | $1,265.00 | |
| 2020 CATT Championship Fund Total | | | $4,370.00 | |