Next & Last 2023 CATT James River Qualifier will be Sept 16th at Hopewell Marina! Check the James River Points at the bottom of the James River Division Page! If you need one more Qualifier to be eligible to enter the James River Final Sept 16th is your last chance!

Must fish 3 of 7 Qualifiers to Fish Final
2023 James River Point Winners Receive Free Entry into All 2024 James River Qualifiers Excluding the Final!
2nd In the James River Points $500
3rd In the James River Points $250
4th In the James River Points $150
5th In the James River Points $100
A polygraph was administered and all teams were good!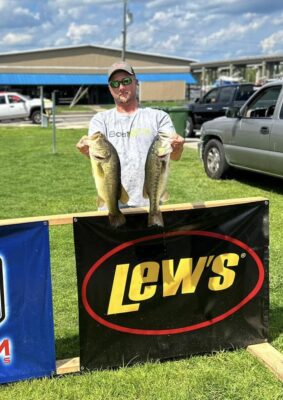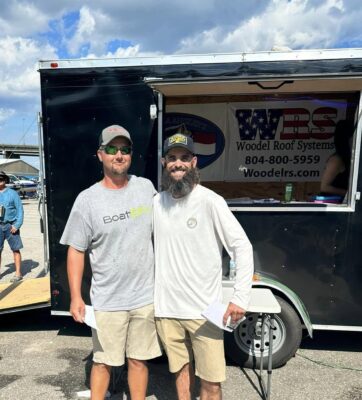 Garrett Geouge weighed in 5 bass at 20.24 lbs taking 1st Place and a check for the amount of $1,900.00!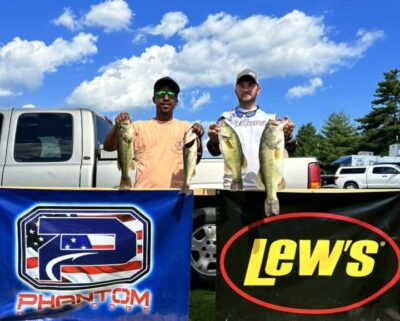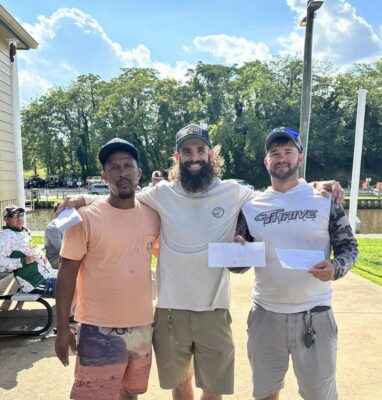 John Koren & Johnnie Spencer claimed 2nd with 5 bass weighing in at 15.64 lbs worth $1,435.00!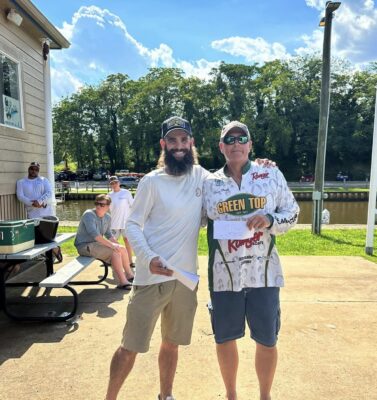 Donnie Meade & Travis Daniles 3rd with 14.68 lbs!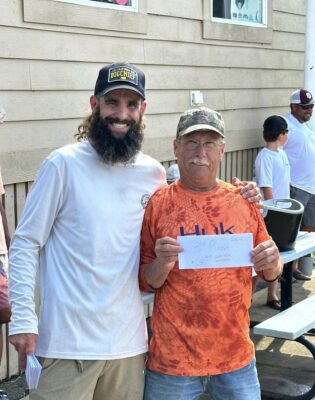 Francis Martin claimed 4th with 14.18 lbs!
| | | | | |
| --- | --- | --- | --- | --- |
| Team | BF | Weight | Winnings | Points |
| Garrett Geouge | 5.84 | 20.24 | $1,900.00 | 110 |
| John Koren – Johnnie Spencer | 5.94 | 15.64 | $1,435.00 | 109 |
| Donnie Meade – Travis Daniels | 0.00 | 14.38 | $630.00 | 108 |
| Francis Martin | 0.00 | 14.18 | $530.00 | 107 |
| Billy Allen – Craig Cheek | 0.00 | 13.91 | $720.00 | 106 |
| Joseph Carr – Bob Timberlake | 0.00 | 13.65 | $300.00 | 105 |
| Aaron Lucy – Reid Clay | 0.00 | 13.49 | $355.00 | 104 |
| Tommy Little – Robert Bruguiere | 0.00 | 13.48 | $190.00 | 103 |
| Rodney Manson – Robert Lewis | 5.97 | 13.44 | $343.00 | 102 |
| Eric Picucci – Micah Mitten | 0.00 | 13.39 | $145.00 | 101 |
| Blake Miles – Daniel Jenkins | 0.00 | 13.03 | $125.00 | 100 |
| Luke Carson – Hayden Coyner | 6.88 | 13.02 | $392.00 | 99 |
| Griffin Roberts – Nicholas Bodsford | 0.00 | 12.91 | | 98 |
| Tim Chaffin – Trey Goodman | 0.00 | 12.70 | | 97 |
| Ed & Ed Jordan | 0.00 | 12.63 | | 96 |
| James Tilley | 0.00 | 12.63 | | 95 |
| Cory Dunnavant – Kennon Ball | 0.00 | 12.46 | | 94 |
| Howard Austin – Mickey Anderson | 0.00 | 12.39 | | 93 |
| Greg Cooper – Dave Bivins | 0.00 | 12.38 | | 92 |
| Kelly Robinette – David Barlow | 0.00 | 12.29 | | 92 |
| Wesley Farmer – Noah Adkins | 3.06 | 12.04 | | 90 |
| Ryan Drewery – Wayne Drewery | 0.00 | 11.74 | | 89 |
| Brian Brooks – Avery Powelson | 0.00 | 11.72 | | 88 |
| Jeff Valentin – Daryl Moody | 0.00 | 11.57 | | 87 |
| Scottie Melton – Shawn Smith | 3.03 | 11.42 | | 86 |
| Bobby Baker – Chip Martin | 0.00 | 11.26 | | 85 |
| Audie Murphy – Monte Aleman | 0.00 | 10.48 | | 84 |
| Mike Caul – Bill Petzold | 0.00 | 10.39 | | 83 |
| Tom Owens – Rick Mistr | 0.00 | 10.11 | | 83 |
| Tripp Mistr – Brent Mistr | 0.00 | 10.08 | | 81 |
| Jason S. Bishop | 2.80 | 10.08 | | 80 |
| Charles James – John James | 0.00 | 10.03 | | 79 |
| Joey Cooke – Justin Hall | 0.00 | 9.55 | | 78 |
| Jamie Nealy – Greg Ball | 0.00 | 9.53 | | 77 |
| Dave Carney – John Dunn | 0.00 | 9.43 | | 76 |
| Marshall Johnson – Sammy Yates | 0.00 | 9.40 | | 75 |
| Brandon Cross – Robert Malcom | 0.00 | 9.36 | | 74 |
| Ron Struder – Mark Adams | 0.00 | 9.28 | | 73 |
| Donnie Harper – Randy Johnson | 0.00 | 9.25 | | 72 |
| Charles Ramer – Ernest Revels | 0.00 | 8.50 | | 71 |
| Stacy Vasser | 0.00 | 8.06 | | 70 |
| Curtis Combs – CJ Combs | 0.00 | 7.94 | | 69 |
| James Whitehead III – Lynn Hoeffer | 0.00 | 7.13 | | 68 |
| Brian Snipes – Chris Cockrell | 0.00 | 7.04 | | 67 |
| James Byrd | 0.00 | 6.66 | | 66 |
| Kevin Davis – Melissa Davis | 0.00 | 6.26 | | 65 |
| Chuck Comer – Don Warren | 0.00 | 5.97 | | 64 |
| Harvey Reese – Bobby Harris | 0.00 | 0.00 | | 54 |
| Duane Hodge – Brad Colgin | 0.00 | 0.00 | | 54 |
| Zack Whitt – Larry Whitt | 0.00 | 0.00 | | 54 |
| Craig Ferguson – Clay Ferguson | 0.00 | 0.00 | | 54 |
| Michael Brannon – Jacob Compton | 0.00 | 0.00 | | 54 |
| Rick Rodriguez – Dick Powers | 0.00 | 0.00 | | 54 |
| Bryce Henley – Hunter Pitts | 0.00 | 0.00 | | 54 |
| Wez Zabeyr – Mike Elswick | 0.00 | 0.00 | | 54 |
| Mathew Kite – Brandon Palmer | 0.00 | 0.00 | | 54 |
| Jake Kidd – Jesse Kidd | 0.00 | 0.00 | | 54 |
| Total Entrys | | | $6,720.00 | |
| BONUS $ | | | $900.00 | |
| CATT | | | $50.00 | |
| Total Paid At Ramp | | | $7,065.00 | |
| 2023 James River Spring Final Fund | | | $455.00 | |
| 2023 CATT Championship Fund | | | $50.00 | |
| 2023 James River Spring Final Fund Total | | | $2,750.00 | |