Next and last 2021 James River Qualifier is September 11 at Osbourne! We have over 70 teams who have qualified for the James River Final by entering 3 James River Qualifiers. There are over 30 who have entered 2 Qualifiers and we have 1 Qualifier left! Sept 11! Come join us!

With 1 Qualifier left these are the top 5 Teams in the Points!
2021 James River Point Winners Receive Free Entry Into All 2022 James River Qualifiers Excluding the Final! $840 Value
2nd $500
3rd $250
4th $150
5th $100
1 Ray Hogge – Donnie Daniels
2 Harris Baker- Chase Huffman
3 Jason Bishop- Jeff Hamilton
4 Kelly Robinette-David Barlow
5 Tim Chaffin- Trey Goodman
Tim Chaffin & Trey Goodman won a squeaker on the James River! They brought in a limit weighing 21.58 lbs good enough for 1st Place and $2,000.00!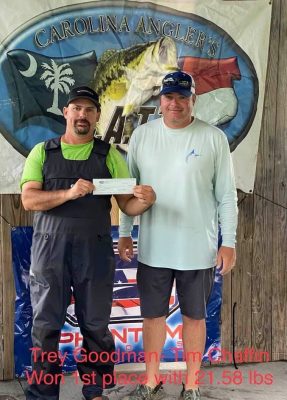 Some nice bags were weighed in and we appreciate you guys fishing the weather!
Check out the hunting apparel at Phantom Outdoors! Tap on the link to view and use PHANTOMCATT15 at checkout and earn 15% off!
| | | | | |
| --- | --- | --- | --- | --- |
| Team | BF | Weight | Winnings | Points |
| Trey Goodman – Tim Chaffin | 5.45 | 21.58 | $2,000.00 | 110 |
| Jason Bishop – Jeff Hamilton | 8.64 | 21.57 | $1,427.00 | 109 |
| Wayne Drewery – Ryan Drewery | 7.23 | 21.55 | $858.00 | 108 |
| David Bivens | 0.00 | 21.16 | $815.00 | 107 |
| Nathaniel Kilgore – Chaz Carrington | 0.00 | 19.15 | $425.00 | 106 |
| Donnie Meade – Travis Daniels | 0.00 | 18.85 | $325.00 | 105 |
| Cory Donnavant – Kennon Ball | 6.67 | 18.77 | $300.00 | 104 |
| Kelly Robinette – David Barlow | 0.00 | 18.70 | $225.00 | 103 |
| Ray Hogge – Donnie Daniel | 0.00 | 18.02 | $200.00 | 102 |
| Marc Vihnauek – Gaven Webb | 0.00 | 17.93 | $320.00 | 101 |
| Chase Huffman – Harrison Baker | 0.00 | 17.78 | $140.00 | 100 |
| Roger Walters – Renee Walters | 6.93 | 17.36 | $135.00 | 99 |
| Dave Carney – Andy Bolhorst | 5.85 | 17.34 | | 98 |
| Mickey Anderson – Howard Austin | 0.00 | 17.16 | | 97 |
| Chris Bryant – Matt Dunnigan | 4.41 | 17.00 | | 96 |
| Ed Milton – Tj Milton | 0.00 | 16.56 | | 95 |
| Robert Sutton – Austin Buisset | 0.00 | 15.52 | | 94 |
| Randy Ruffin – Jeff Ludlow | 0.00 | 15.34 | | 93 |
| Mathew Kite – Chris McDaniels | 0.00 | 15.25 | | 92 |
| Ben Knapp – Aydin Knapp | 0.00 | 14.72 | | 91 |
| Chuck Comer – Don Warren | 0.00 | 14.66 | | 90 |
| Guy Fairweather – Jared Williams | 0.00 | 14.18 | | 89 |
| Richard Bates – Scott Randall | 0.00 | 14.16 | | 88 |
| Marshall Johnson-Ryan Lachniet | 0.00 | 13.74 | | 87 |
| Jefferey Banko – Adam Weaver | 0.00 | 13.41 | | 86 |
| Bryan Keane – Evan Anderson | 0.00 | 13.00 | | 85 |
| Garrett Geouge – Mike Grogan | 0.00 | 12.72 | | 84 |
| Rusty Alley – Dan Robinson | 0.00 | 12.60 | | 83 |
| Curtis Combs – CJ Combs | 0.00 | 12.42 | | 82 |
| Roger Deluke – Joe Krevonick | 0.00 | 12.18 | | 81 |
| John Barnes | 0.00 | 12.12 | | 80 |
| Charles James – John Conway | 0.00 | 11.96 | | 79 |
| Drake Hundley – Stan Keyser | 0.00 | 11.74 | | 78 |
| Clyde Baldwin – Jeff Davis | 0.00 | 11.22 | | 77 |
| Walter Emmerson – Brody Webb | 0.00 | 11.18 | | 76 |
| Benny Hendricks – Ronnie Ketchum | 0.00 | 10.72 | | 75 |
| Charles Ramer – Ernest Revels | 0.00 | 10.33 | | 74 |
| Brandon Smith – Lee Smith | 0.00 | 10.28 | | 73 |
| Jeremy Maye – Malone Paris | 0.00 | 10.17 | | 72 |
| Zach Whitt – Larry Whitt | 0.00 | 10.14 | | 71 |
| Paul Martin – Francis Martin | 3.76 | 9.85 | | 70 |
| Barry Brandt Jr – Robert Brandt | 0.00 | 9.72 | | 69 |
| Rodney Allen – Neal Allen | 0.00 | 9.64 | | 68 |
| Avery Powelson – Brian Brooks | 0.00 | 9.54 | | 67 |
| Joseph Clarke – Trey Magee | 0.00 | 9.21 | | 66 |
| Jeffrey Valentin – Daryl Moody | 0.00 | 8.95 | | 65 |
| Burley Langford – Brian Langford | 0.00 | 8.77 | | 64 |
| Joey Cooke – Justin Hall | 0.00 | 7.46 | | 63 |
| Steve Vasser – Steve Webb | 0.00 | 7.01 | | 62 |
| Chris Cockrall – Brian Snipes | 0.00 | 6.59 | | 61 |
| Mike Gibson – Rocky Stone | 0.00 | 4.97 | | 60 |
| Allen Williams – Brad Redden | 0.00 | 4.37 | | 59 |
| Wayne Taylor – Ed Jordan | 0.00 | 0.00 | | 49 |
| Joe Carr – Bob Timberlake | 0.00 | 0.00 | | 49 |
| Ronald Slaughter – Landon Tucker | 0.00 | 0.00 | | 49 |
| Jessie Kidd – Jake Kidd | 0.00 | 0.00 | | 49 |
| Justin Faison – Matt Branzelle | 0.00 | 0.00 | | 49 |
| Linwood Shores | 0.00 | 0.00 | | 49 |
| Aaron Durham – Zach Durham | 0.00 | 0.00 | | 49 |
| Mike Caul – Bill Petzild | 0.00 | 0.00 | | 49 |
| Steve Colgan – Sammy Yates | 0.00 | 0.00 | | 49 |
| Josh Durham – Luke Durhan | 0.00 | 0.00 | | 49 |
| Robert Whitehurst – Parker Hinks | 0.00 | 0.00 | | 49 |
| Total Entrys | | | $7,440.00 | |
| BONUS $ | | | $400.00 | |
| Total Paid At Ramp | | | $7,170.00 | |
| James River 2021 Final Fund | | | $500.00 | |
| 2021 CATT Championship Fund | | | $50.00 | |
| 2021 James River Final Fund Total | | | $3,250.00 | |
| 2021 CATT Championship Fund Total | | | $0.00 | |