We've had a great season on the James River! We still have the James River Fall Trail coming up and so far CATT has paid back over
$108,000.00

on the James River! Thanks for the support guys! We will have the 2022 James River Posted very soon and let you know when you can start signing up! To view the 2021 James River Fall schedule go the James River Division page and scroll down! There is a Fall membership since none of the entry fees goes to CATT!
We concluded the 2021 James River Spring/Summer Trail this past Saturday with 56 teams entering the Final! Over $13,000.00 was on the table! Mike Grogan & Garrett Geouge took home $5,000.00 finishing at the top of the field with a 2 day total of 10 bass weighing 38.72 lbs! Great job guys!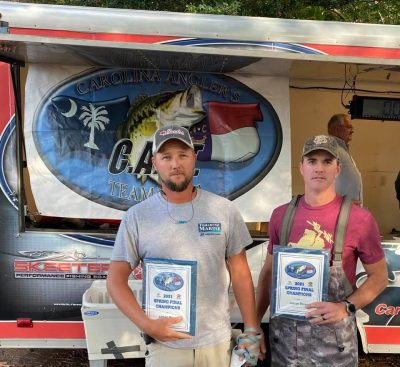 2nd Place went to Trey Goodman & Tim Chaffin with a 2 day total of 31.51 lbs! They earned $2,000.00!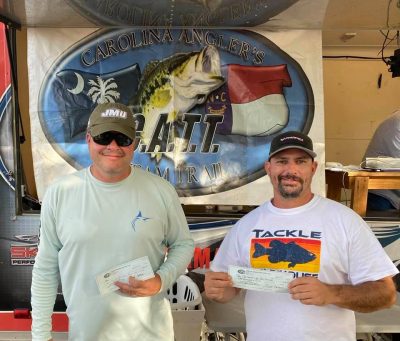 Howard & Mark Austin claimed 3rd with a 2 day total weight of 31.41 lbs and collected $1,600.00!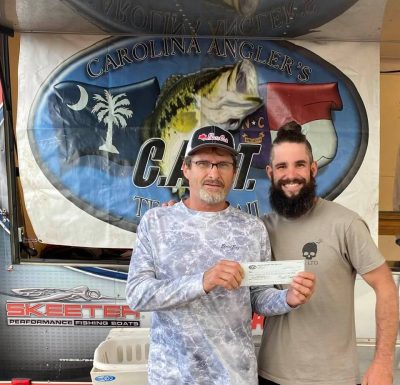 The 1st BF went to Mike & Jim Rowe and weighed 6.94 lbs!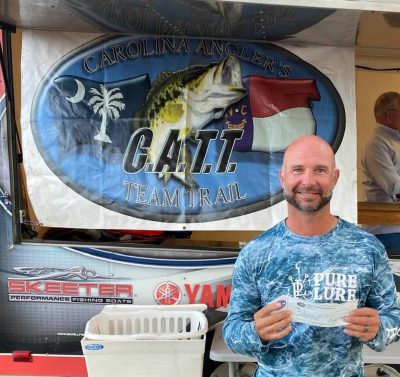 Ray Hogge & Donnie Daniel won the James River Points and will fish all 2022 James River Qualifiers Free!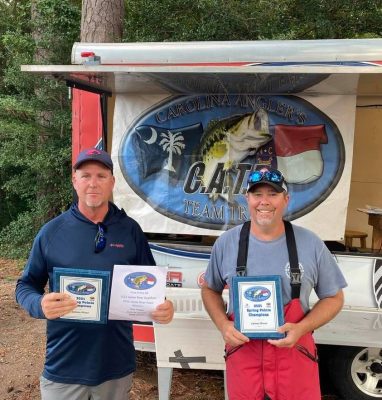 | | | | | | | |
| --- | --- | --- | --- | --- | --- | --- |
| | BF | Weight | BF | Weight | Total | Winnings |
| Team | Day 1 | Day 1 | Day 2 | Day 2 | Weight | |
| Mike Grogan – Garrett Geouge | 4.95 | 18.87 | 6.76 | 19.85 | 38.72 | $5,000.00 |
| Trey Goodman – Tim Chaffin | 0.00 | 13.18 | 6.68 | 18.33 | 31.51 | $2,000.00 |
| Mark Austin – Howard Austin | 0.00 | 19.69 | 0.00 | 11.72 | 31.41 | $1,600.00 |
| Wayne Drewery – Ryan Drewery | 0.00 | 16.07 | 0.00 | 13.87 | 29.94 | $1,300.00 |
| Tripp Mistr – Brent Mistr | 5.09 | 15.74 | 0.00 | 12.75 | 28.49 | $500.00 |
| Ray Hogg – Donnie Daniel | 0.00 | 15.20 | 0.00 | 13.24 | 28.44 | $400.00 |
| Richard Bates – Scott Randall | 0.00 | 10.96 | 6.19 | 16.94 | 27.90 | $500.00 |
| Mickey Anderson – Bo Bolts | 0.00 | 15.36 | 0.00 | 12.33 | 27.69 | $250.00 |
| Greg Ball – Jamie Nealy | 5.65 | 16.60 | 0.00 | 10.47 | 27.07 | $200.00 |
| Allen Williams – Brad Redden | 0.00 | 12.05 | 0.00 | 14.25 | 26.30 | $175.00 |
| Guy Fairweather – Jared Williams | 0.00 | 11.55 | 0.00 | 14.63 | 26.18 | |
| Jesse Kidd – Jake Kidd | 0.00 | 12.99 | 0.00 | 12.99 | 25.98 | |
| Steve Colgin – Sammy Yates | 0.00 | 15.50 | 0.00 | 9.74 | 25.24 | |
| Mike Rowe – Jim Rowe | 6.94 | 17.89 | 0.00 | 7.09 | 24.98 | $390.00 |
| Charles Ramer – Ernest Revels | 0.00 | 13.37 | 0.00 | 10.36 | 23.73 | |
| Clyde Baldwin – Jeff Davis | 0.00 | 9.36 | 5.82 | 14.02 | 23.38 | |
| Blake Condrey – Merle Condrey | 0.00 | 13.52 | 0.00 | 9.61 | 23.13 | |
| Chris Bryant – Matt Dunnigan | 0.00 | 13.93 | 0.00 | 9.10 | 23.03 | |
| Jason Bishop – Jaff Hamilton | 0.00 | 14.64 | 0.00 | 8.32 | 22.96 | $150.00 |
| Brian Snipes – Chris Cockrell | 0.00 | 8.85 | 0.00 | 13.83 | 22.68 | |
| Joey Cooke – Justin Hall | 0.00 | 11.79 | 0.00 | 10.41 | 22.20 | |
| Richard Mistr – Tom Owens | 0.00 | 8.22 | 0.00 | 12.61 | 20.83 | |
| Kelly Robinette – David Barlow | 0.00 | 9.38 | 0.00 | 11.44 | 20.82 | $500.00 |
| Tommy Little – Jerry Heffler | 0.00 | 9.15 | 0.00 | 11.67 | 20.82 | |
| Robert sutton – Mark Adams | 0.00 | 12.21 | 0.00 | 8.43 | 20.64 | |
| Brian Brooks – Avery Powelson | 0.00 | 9.77 | 0.00 | 10.55 | 20.32 | |
| Chase Huffman – Harrison Baker | 0.00 | 13.59 | 0.00 | 6.42 | 20.01 | $250.00 |
| Charles James – John Conway | 0.00 | 8.56 | 0.00 | 10.27 | 18.83 | |
| Chris Mcdaniel – Matt Kite | 0.00 | 13.90 | 0.00 | 4.75 | 18.65 | |
| Rusty Alley – Dan Robinson | 0.00 | 9.11 | 0.00 | 9.53 | 18.64 | |
| Jeff Valentin – Daryl Moody | 0.00 | 9.53 | 0.00 | 9.05 | 18.58 | |
| Brian Bersik – Justin Faison | 0.00 | 10.25 | 0.00 | 7.57 | 17.82 | |
| Josh Durham – Aaron Durham | 0.00 | 13.12 | 0.00 | 4.51 | 17.63 | |
| Duane Hodge – Brad Colgin | 0.00 | 10.06 | 0.00 | 6.60 | 16.66 | |
| Marshall Johnson – Ryan Lachniet | 0.00 | 8.40 | 0.00 | 8.25 | 16.65 | |
| Dave Carney – Andy Bolhorst | 0.00 | 11.39 | 0.00 | 4.45 | 15.84 | |
| Stacy Vasser | 0.00 | 7.12 | 0.00 | 8.26 | 15.38 | |
| Burley Langfor – Brian Langford | 0.00 | 9.78 | 0.00 | 5.20 | 14.98 | |
| Joseph Clarke – Trye Magee | 0.00 | 9.96 | 0.00 | 4.55 | 14.51 | |
| James Tilley – Andy Walker | 0.00 | 8.04 | 0.00 | 6.05 | 14.09 | |
| Chuck Comer – Don Warner | 0.00 | 5.08 | 0.00 | 7.98 | 13.06 | |
| Rogers Walters – Renee Walters | 5.61 | 12.64 | 0.00 | 0.00 | 12.64 | |
| Chaz Carrington | 6.92 | 11.95 | 0.00 | 0.00 | 11.95 | $170.00 |
| Luke Carson – Darrin Zollar | 0.00 | 11.49 | 0.00 | 0.00 | 11.49 | |
| John Barnes | 0.00 | 11.20 | 0.00 | 0.00 | 11.20 | |
| Michael Brannon – Jacob Compton | 0.00 | 10.76 | 0.00 | 0.00 | 10.76 | |
| Donnie Meade – Travis Daniels | 0.00 | 9.96 | 0.00 | 0.00 | 9.96 | |
| Bryan Keane – Evan Anderson | 0.00 | 7.16 | 0.00 | 2.66 | 9.82 | |
| Ben Kendrick – Doug Wharton | 0.00 | 9.37 | 0.00 | 0.00 | 9.37 | |
| Audie Murphy – Chris Dorman | 0.00 | 8.79 | 0.00 | 0.00 | 8.79 | |
| Curtis Combs – Cj Combs | 0.00 | 3.96 | 0.00 | 4.44 | 8.40 | |
| James Condor – Jimmy Condor | 0.00 | 7.84 | 0.00 | 0.00 | 7.84 | |
| Matt Funk – James Funk | 0.00 | 7.43 | 0.00 | 0.00 | 7.43 | |
| Todd Fisher – Matt Chisholm | 0.00 | 7.40 | 0.00 | 0.00 | 7.40 | |
| Paul Martin – Francis Martin | 0.00 | 6.98 | 0.00 | 0.00 | 6.98 | |
| Bubba whitehurst – Parker Hinks | 0.00 | 5.94 | 0.00 | 0.00 | 5.94 | |
| Total Entrys | | | | | | $8,960.00 |
| BONUS $ | | | | | | $500.00 |
| James River Final Fund | | | | | | $3,650.00 |
| Total Paid At Ramp | | | | | | $13,385.00 |
| Grand Total Paid 2021 James River | | | | | | $108,520.00 |